Jorge de Frutos: "Having Ronaldo as president is incredible"
The Segovians live their first experience in Primera, assigned at Real Valladolid by Real Madrid, and learn in each training.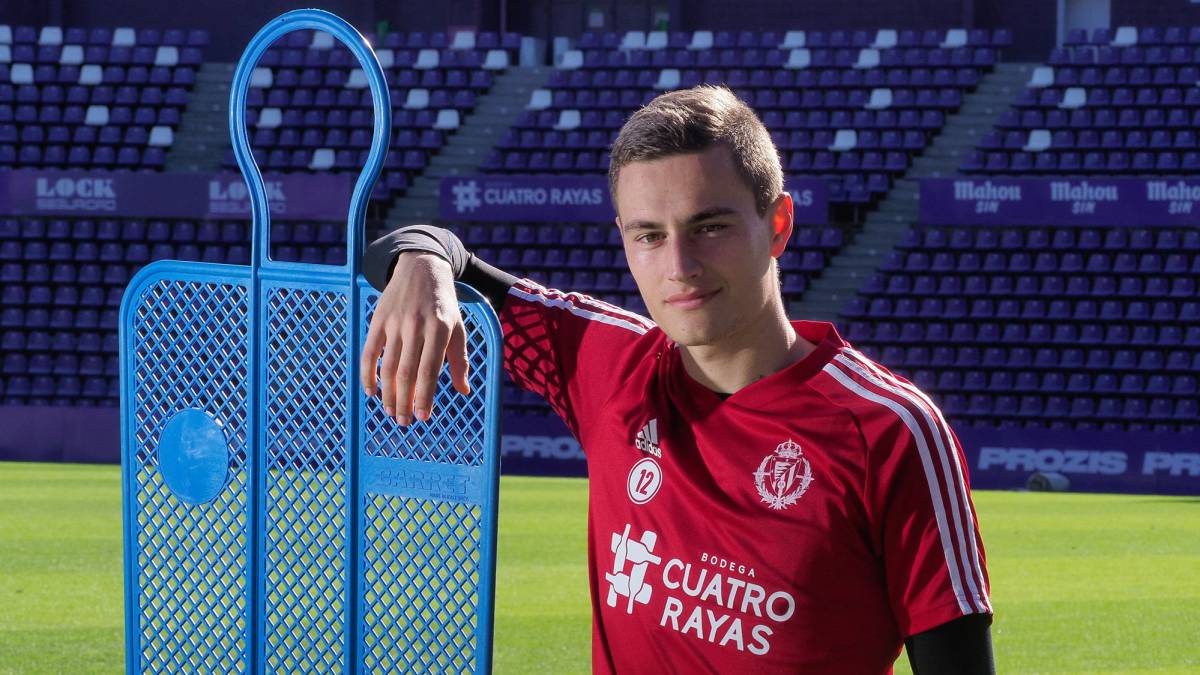 The Segovians live their first experience in Primera, assigned at Real Valladolid by Real Madrid, and learn in each training.
How are you in Valladolid?
Well, the truth is that very well in the city, which is quiet and beautiful, it is a very familiar club, the companions have welcomed me very well from the first moment.
What is the balance of these first months?
Positive. When I got here I knew it was going to be difficult, a First team arrived, I knew I had to work, it was hard for me to get on the list, but then I got to debut in San Mamés and very happy. It was amazing.
Was that the happiest day of your life?
Without a doubt, it was something incredible. You dream it since childhood and having achieved one of your dreams is very beautiful.
Things have not been easy for you, in the summer Sergio González told him that it would be better to look for minutes on another team ...
I knew it was a very big step from Second B to First, I was confident that with work I was going to be able to debut in First and so it was
Did they tell you something from Real Madrid?
No, I imagine that if they have brought me here it is because they trusted me, that I could play and little by little I am entering.
Many things have happened in a very short time ... from playing in Cantalejo, Sepúlveda to Primera, going through a signing for Real Madrid, in four, five years ...
The truth is that everything has been very fast, five years ago I was playing to have fun with friends in Cantalejo, Sepúlveda and then I went to do the tests with the Majadahonda, with the Division of Honor, and I stayed, went up and then signed for Castilla, I had a good season, and now here ... it is true, everything has been very fast, but I am very happy.
How is that assimilated?
For me it was a dream. When they told me that Real Madrid was interested in me, I didn't believe it. I have been with Real Madrid since I was a child and it is a dream to belong to the merengue club and have the opportunity to play in Real with Real Valladolid.
When you were offered to come on loan to Real Valladolid, did you think about it a lot?
No, every child's dream is to play in the First Division, he wanted to give me the opportunity, I didn't think about it and I came very happy.
From a distance, how do you see Real Madrid, which began the season doubtfully and now seems to be in a good moment again?
If there is one clear thing it is that Real Madrid can never doubt. There are the best players in the world and it is clear that they will get titles this season
Are you excited, since you couldn't play at the Bernabéu, play against Real Madrid in Zorrilla?
I want to have minutes every game. I would like to play against Madrid very much, but every minute against any team is very beautiful.
Do you consider that, footballically, it is growing?
Yes, of course. It shows a lot. In the end you are training with First Division players and with classmates you learn every day, but I still have to learn a lot.
What is it like to have Ronaldo as president? Did he call you to come to Valladolid?
For me it is amazing to have Ronaldo as president because he was my childhood idol. It is very close with the players. He called me before he signed, but not to convince me, but to chat for a while.
Photos from as.com