Jamie Vardy seeks to continue making History in the Premier League
Jamie Vardy, Leicester striker, registered a historic mark in 2016 when he scored in 11 straight games. Now he has the record again within reach.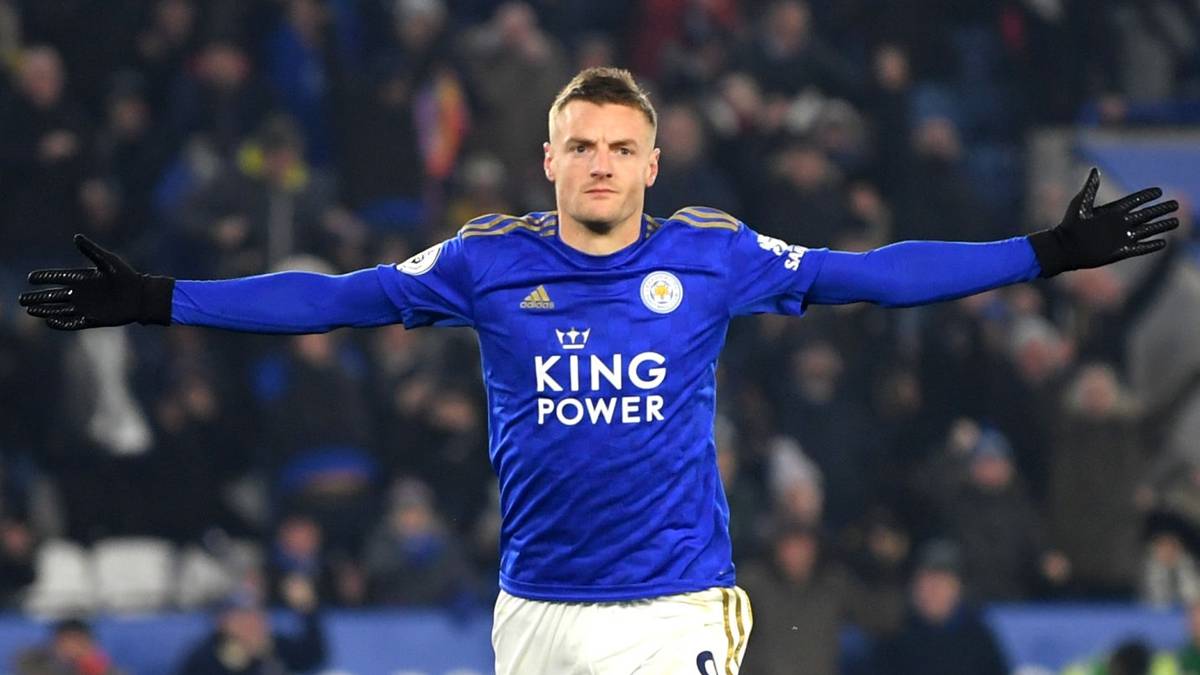 Jamie Vardy is shining with its own light in the Premier League 2019/20 with Leicester. The set of the King Power Stadium is signing a competitive start to the season that has astonished acquaintances and strangers in England. Not from fighting among the favorites for European places, they begin to consolidate in Champions League zone and aspirations are almost a sporting reality. Repeating the historical feat lived in 2016 seems like a chimera today, since the level that is shown by Liverpool by Jurgen Klopp seems to be at the level of very few in Europe. Therefore, every victory should be consumed slowly, savored as the most pleasant Swallows the best wine of the mercado.A project of the Leicester that maintains (as happened in 2016) the scoring smell of a Jamie Vardy that is unleashed, which is among the best strikers in the Premier League and that continues to offer a definition that makes it a vital piece for the Foxes . The English attacker maintains his sport hunger, his dynamism, his electricity, his high rate of pressure, that character that many in the British Isles relate to that of a greyhound in the middle of a race.Vardy's season doesn't seem coincidental. The striker has 8 consecutive games scoring, watching goal, and many begin to raise the possibility of making history again in English football. He already did it in 2015, when he scored in 11 games in a row, establishing a new scorer record that even made him receive the Guinness record. Since then, no one has managed to beat the Vardy brand, they have not even approached, and now, with his scoring streak the possibility that he himself can overcome it and register a new record begins to take on sports weight.VARDY GOLEADOR RECORD IN 2015 August 29, 2015, vs Bournemouth. September 13, 2015, vs Aston Villa. September 19, 2015, vs Stoke. September 26, 2015, vs Arsenal. October 3, 2015, vs Norwich .October 17, 2015, vs Southampton. October 24, 2015, vs. Crystal Palace. October 31, 2015, vs. West Bromwich Albion. November 7, 2015, vs. Watford. November 21, 2015, vs Newcastle. 28 November 2015, vs. Manchester United. The record was stopped on December 5, 2015, despite the fact that Leicester beat 0-3 against Swansea. That afternoon the scorer was Riyad Mahrez, who signed an imposing hat-trick. The dream of making history in the Premier League was still beating for the Foxes, but ended Jamie Vardy's goal scorer record. The new scorer brand was already a reality and thus challenged the rest to try to beat it.MATCHES FOLLOWED MARKING THIS SEASON October 19, 2019, vs. Burnley, October 25, 2019, vs. Southampton, November 3, 2019, vs. Crystal Palace, November 9, 2019, vs. Arsenal, November 23, 2019, vs. Brighton. December 1, 2019, vs Everton. December 4, 2019, vs. Watford. December 8, 2019, vs Aston Villa. Their scoring pace is one of the main keys of this Leicester that is surprising for its enormous sports potential. Those of Brendan Rodgers already oppose being runners-up seriously, oppose being one of the next representatives of English football in the Champions League. From there, to think that they can reach the unbeaten Liverpool is presented as a platonic scenario, but as long as there are mathematical options some football romantics will continue to wish for it to happen.In all this, surely, whether they are title objectives or continental objectives with a view to the next course, the figure of Jamie Vardy will be present. To think that Jamie Vardy, at the individual level, can make history implies, at the same time, that the Leicester could have optimal results to achieve the objectives set. NEXT 4 LEICESTER MATCHES IN PREMIER LEAGUE December 14, 2019, vs. Norwich City, December 21, 2019, vs. Manchester City, December 26, 2019, Liverpool, December 28, 2019, vs. West Ham. Now, the challenge to beat himself, to make history again against his own brand. It would be the icing to close the year 2019. The objective is important, since the possibility of achieving it begins to be real and it is vox populi that Vardy can achieve it again. Thus, their matches will again become a sports center almost of national interest to see if they achieve the historic record, or at least match it. Nothing simple, since it should mark in the next 4 days against a calendar that seems, a priori, demanding for Leicester with games against rivals like Manchester City or Liverpool, which adds a slight extra touch of epic and emotion. And the other question. If he broke the record, would he be able to overcome it and keep increasing the numbers? Many, automatically, think of the Vardy season and relate it to the next 2020 Eurocup, but the truth is that (unless unexpected personal decision) would not be possible, since on August 28, 2018 the English striker decided to announce his official withdrawal from international football and not to wear the England shirt again. A decision that attracted attention, first, by his age and, second, by the scoring level shown since 2016. However, it seems that, after several calls by coach Gareth Southgate in which he did not have him and some injury during the 2017/18 season, caused him to make the decision. Thus, despite his great scoring level this season, a priori, he would not be in the next selection tournament. Perhaps this good scoring ratio, coupled with some hypothetical contact by the FA, could change your mind, but a priori is not the most anticipated news.Meanwhile, each Leicester encounter will be closely followed by acquaintances at the King Power Stadium and by strangers across the British terrain, and beyond, on the other side, on the old continent.
Photos from as.com