"Espanyol has leaders, but they haven't seen each other in this situation"
Lardín was the parakeet scorer in the last victory of Espanyol in the Bernabéu, and sports director. With AS he talked about Campuzano, Mariano, Pau, Hermoso, Gallego ... And about life.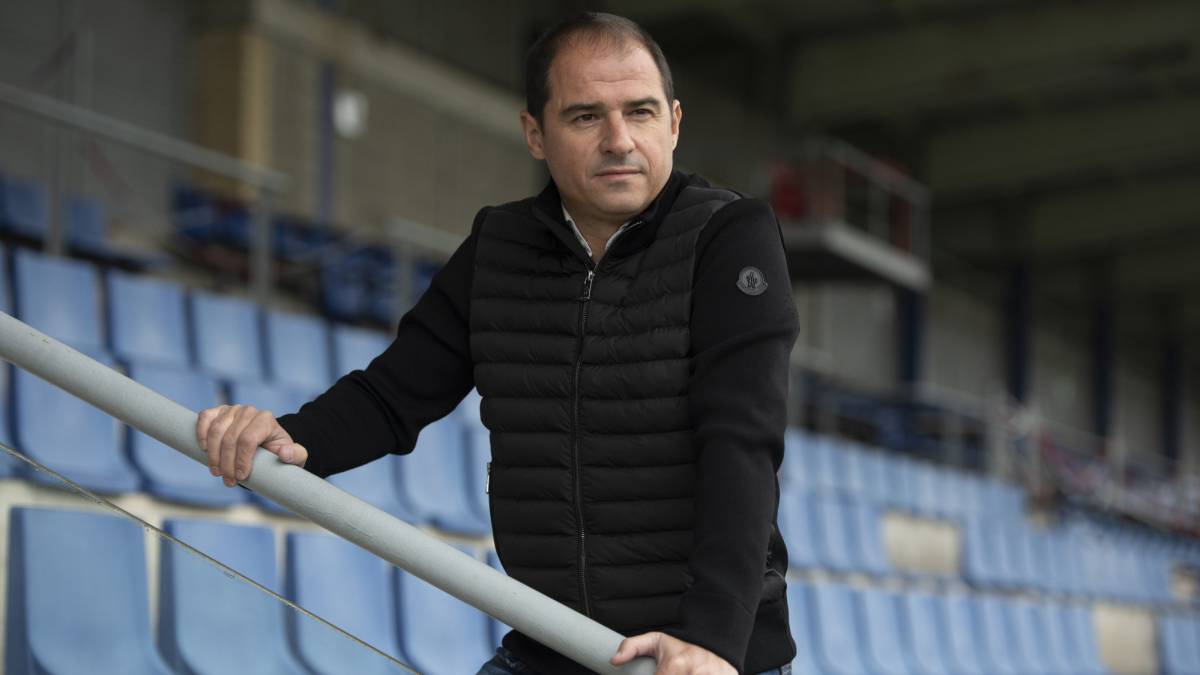 There is already at least one generation that has not seen Espanyol defeat Real Madrid at the Bernabéu.
Yes, it's already too many years. Winning at the Bernabéu is very difficult, many circumstances must occur, because some years we were very close but it was not achieved.
How did you get it?
In my opinion, we were a great team with a huge coach, young players with maturity and veterans with a young spirit, and each one was very clear about his role, aware of our virtues and defects. It was that game, but especially the year: we won three games of four at Real Madrid and I scored seven goals. Of record. I finished the season with 17 goals in LaLiga and four in the Cup, very much for a right-handed interior.
He says you were young, you were 21 years old, but with very clear ideas. Does it contrast with the current Espanyol and the "pipiolos" that Machín referred to on Sunday?
At that time, the youngest was me, but a descent and ascent had already passed, and I was already a captain. Raducioiu, Urzaiz or Brnovic arrived adding a lot, and here they met with Francisco, Pochettino, Herrera ... A team that had players who knew what they played and how they won in each field. Now, among young people, the one who has more baggage is Marc Roca. The rest must add to the project, but those who have to pull the car are veterans.
In other words, is leadership lacking?
We have leading players, who pull the others, but who have not seen themselves in a situation like this, which is very complicated and the legs tremble. When the game turns against you, you must play other football, and that is costing a lot.
As for Madrid, is the roster better now than that?
Then Madrid had a great team, but not as much as now, and that is no longer Christian. That Madrid had problems, had passed from Valdano to Arsenio Iglesias. Now he is a very difficult opponent to win, and he catches us right now. But being a game in which you give everything for lost, we have players to do damage.
Is it a matter of believing it, then?
Right now, what matters most is personality. Young people have it, but they lack minutes, and the elders must take it out.
Among those young soccer players is Campuzano. With you as sports director, he left for Real Madrid Castilla. A serious mistake?
Yes, it was my mistake because I did not measure the renewal times. I thought we had her close but when I spoke to her agent again it was too late. I said goodbye and I was wrong.
Speaking of frustrated renovations, Pau López recently acknowledged some failure in his departure ...
I always speak well of Pau, because I made his report to get on the first team and I always thought he would be one of the most important goalkeepers in Spain. I think he was wrong as an enemy because I used every possible means to renew it, looking for the good of Espanyol and because we knew it was a goal for the future, but it could not be. We talked about the stands, the bench, yes, but it was my obligation.
Another that escaped during its stage, specifically in 2017: Mariano Díaz.
Mariano wanted to come, he was walking with me through the stadium, I showed him the noble zone ... I tried to save time to see if the salary limit went down and we could sign it. But he couldn't wait, Olympique de Lyon arrived and took it. He wanted to play for Espanyol and we believed that he or Raúl de Tomás were the ideal scorer we needed.
On the positive side, it is Beautiful: you signed it at zero cost and it ended up being the highest sale of Espanyol, 25 million, although shared with Real Madrid.
I knew him from Madrid's base football and believed in him, because he saw that he could play center, side, pivot, he was left-handed, he was very well headed, he was fast and with an incredible game change. The bet was zero and I wanted to bring it yes or yes because I considered it an asset for Espanyol.
Do you think you have not been given enough value for it?
This is football! It has no memory. You spend a day doing an incredible task at the base to be a sports director and, when you're away, to be crap. I tried to do my job as well as possible. I am happy for Beautiful, but also for those of the B who went up: Aaron, Marc Roca, Navarro, Pipa, Víctor Gómez, Puado ...
Has the goal, after the sale of Borja Iglesias, been the great lack of planning this season?
I don't think so, because they foresaw that Calleri would score goals, but acclimatization and time are needed. Ferreyra is also a good scorer. But they have not been fine, they have been injured. Surely they had the forecast that Calleri and Ferreyra would do the goals of Borja Iglesias. It's about being patient, what happens is that football does not wait for anyone and passes over you.
Is it normal for the year of return to Europe to be sold for 40 and only 18 million invested?
Chen is a businessman and from the first day he advised of his 50-40-10 formula (to redistribute sales money on purchases, settle debts and improve the club, in that order. The Chinese vision is squared, he Go like this and that's fine. What I do prefer is to spend 30 million in summer than 20 in summer and 15 in winter, because now millions are desperate and they don't always have the same possibilities.
He commented that football does not wait for anyone. Is what happened to your friend David Gallego?
I still believe that David will be a great coach wherever he goes. He lacks experience to face a difficult situation like the one he lived in Espanyol, which went over him: play three competitions, prepare the previous ones of the Europa League, start in July ... Now you are seeing that the problem goes beyond a coach. Everyone focused on David and what happened happened, but football plays a return game.
Does that inexperience also facilitate a recall?
It's much easier. The coaches or sports directors of the house always charge less than one that comes from outside, it is a law of football although I do not understand it. And then there are the social networks, which harm both for good and for evil: the bad magnify it, and so with the good they can also be counterproductive. In that sense, David went from being God, to criticism, to disrespect. It was very ugly.
And you, do you want to remain linked to the world of football?
Yes, I still watch a lot of football and study offers. I am very calm.
Will we see him one day back at Espanyol?
Many things can happen in football and my predisposition will always be total, I will try to help Espanyol wherever I am. But right now, logically, it is complicated. We have trained professionals, a respected sports director and a sports general manager who makes decisions. In Spain nowadays Jordi Lardín has no place.
Photos from as.com