"Marc has already told me that he will tell me few things"
Alex Márquez says that his brother is well and that "jokingly", he has warned him that he will tell him few secrets because he has already seen him "fast in some curve".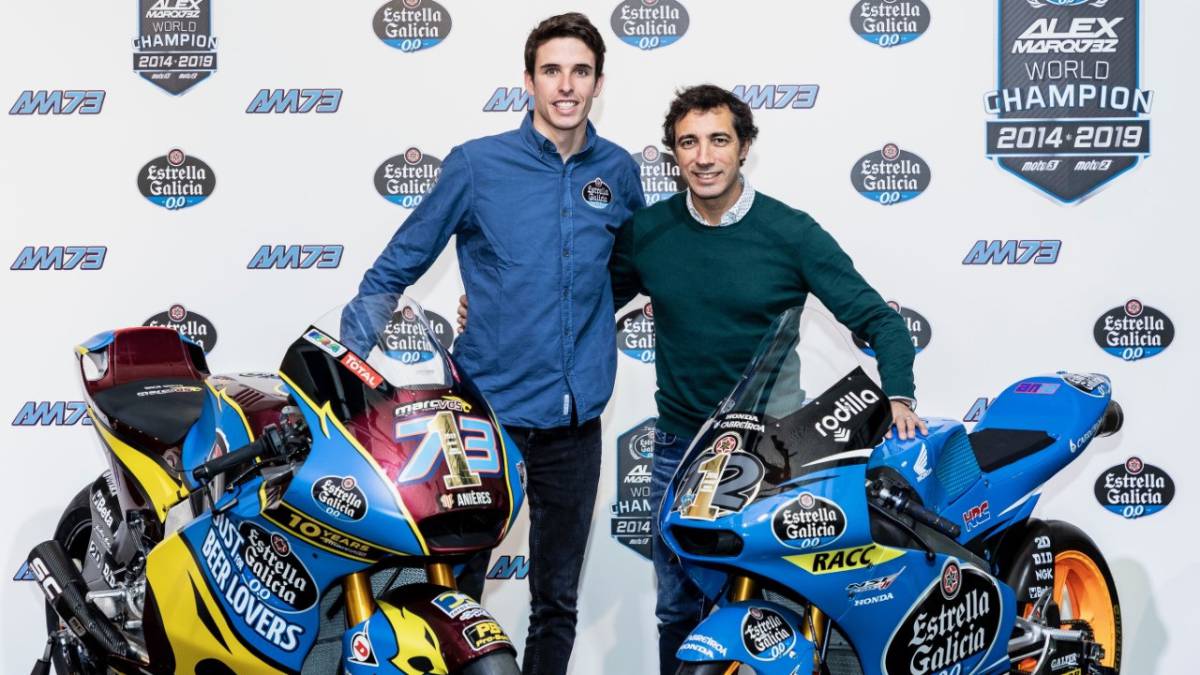 Visit from Álex Márquez to Madrid, to ride his brand-new Moto2 title, at the handlebar of the Kalex of the Estrella Galicia Marc VDS that has made him two-time champion of the world (he had already won the one of Moto3 in 2014), but also as a sound signing of MotoGP, in the role of Marc Márquez's new partner as a substitute for Jorge Lorenzo in the Repsol Honda box. He had to touch all the sticks, and he touched them, with the sympathy that characterizes him and with the responsibility to which he forces his new position.
Season 2019: "This year has been very beautiful and the goal has been met. We all work from pre-season for the dream, but the click came in Jerez. It is true that I fell there and that I went to 39 points, but I saw the potential that was to be gained by seeing how the whole team worked to fix the motorcycle. Then came Le Mans and three straight wins. Regularity in this category is the key to everything, I have also matured, I have had a very good team and, although I have failed more than I would have wanted, with two zeros, I had peace of mind from the box and I was competitive at all times and I knew how to finish races. "
Rivals for the title: "The difficult thing about this year has been to control all the rivals I've had, because there have been many and you couldn't focus on controlling one. There were five and in each race I changed, but since the beginning of the year I said Binder. I knew it would make a great second half of the season, but in the first we took margin. "
Augusto Fernández: "He is a very good pilot and he is one of those who squeezed us. He has everything to be champion. It is up to him and the team will put the maximum. If you are calm, you can surely get it.
Spain Champion in 2012: "Here it all started with the support of Estrella Galicia, which is essential for the base. I pursued the title for three years and in the end I could get it. From that Alex is the passion for motorcycling, work and the illusion to achieve dreams, and the desire to improve as a pilot and as a person ".
Moto3 Champion in 2014: "That title was very special. The first is always the first and now I value it much more. You are not aware with 18 years of what you get. It was a beautiful year, but also hard, in a new project with Honda. We became leaders in Aragon and were able to beat KTM, who were the kings of the category until that moment. This year we also made a pineapple very similar to that of then, because it was all new with the change of engine. In 2014 I won the title in Valencia, something that I do not wish anyone for the nerves that are passed, but it was all very beautiful ".
I advise Sergio García: "In the first half of the year, he saw what the World Cup was, because it was not the same where it came from, and now he will know what he has to do. The advice I give you is to remain the same, to maintain this dynamic that has shown at the end of the year and, thus, can aspire to be world champion. "
Alex Márquez Council of 2015: "Now that I know that I am a champion, I would say patience. In 2015 and 2016 they were the years in which I learned more, because I came to be champion of Moto3 and the spirits soar through the clouds, but that made me return to reality and continue to evolve. "
Marc to Álex in a 2018 announcement: 'We are waiting for you at MotoGP': "In the end life is for me to fulfill dreams and I remember the recording of that announcement. You work to get to MotoGP, although before you do it to go to Moto3 and Moto2. There was the opportunity in Valencia after being champion in Malaysia and now I am looking forward to facing new challenges. "
Test MotoGP 2014: "The motorcycle took me where I wanted. Honda told me that if I was a Moto3 champion, he would let me try my brother's Honda. It was two very exciting days, for the title and for getting on that motorcycle. "
Test MotoGP 2019: "I like that picture better, because it's already my motorcycle. I could match in two batches with Marc, both in Valencia and Jerez. Over time the situation will normalize, but it is already my motorcycle. If you sign during the year, you get the idea, but it has been a bit strange and unexpected, but the consequence of having achieved a Moto2 title. Such an opportunity presented itself and, when Emilio told me, I told him to go ahead. He also told me that it would be a difficult challenge, but I had to face it. "
Farewell of the Moto2 team: "There has not been a farewell, because they went home on Monday morning and I did not sign in the afternoon. The team will continue to work for another dream with Augusto and I will try to work for mine. Who knows if in the future our paths will not cross again. Moreover, I think they will cross again. "
Test Jerez: "I felt better, because I could already be with my technical team. Too bad the second day it started raining the two times I mounted the new tire. Let's see if winter passes quickly to get back on the bike. "
Moto 2020: "I had no logic that I would now test the 2020 motorcycle. It has fallen on Marc and Cal (Crutchlow) and they have drawn positive conclusions. We will have to talk in Malaysia to see what Honda's plan is, but I think it is to give us all the same. Meanwhile, the more information we have, the better. "
Marc's status: "Marc is better off this shoulder than the previous one, although he knows it will require the same time. I tried to get him some things, but he already joked that he will tell me few things because he saw me fast in some curve. In Jerez, we didn't even see each other in the box, because each one was with his team. Also, one thing is that they tell you things, and others do them. Nothing has changed. "
Specific work: "The training hours are the same, but you have to do specific work to try to be more complete. In MotoGP the trunk suffers more and must be locked. Last year, due to Marc's operation, I had to look for training alternatives with Vierge, Sergio García and someone else, and this year it will be the same. I have been told that one suffers a lot from the heat of Malaysia in MotoGP and will have to arrive prepared for the test.

Photos from as.com