Garitano-Mendilibar: friendship moved to a Basque derby
They meet on Saturday in San Mamés after being a teacher and disciple in Bilbao and Eibar. "You don't know what it was like to train him. If he got between his eyebrow and eyebrow, doing something had to be done," says Mendi.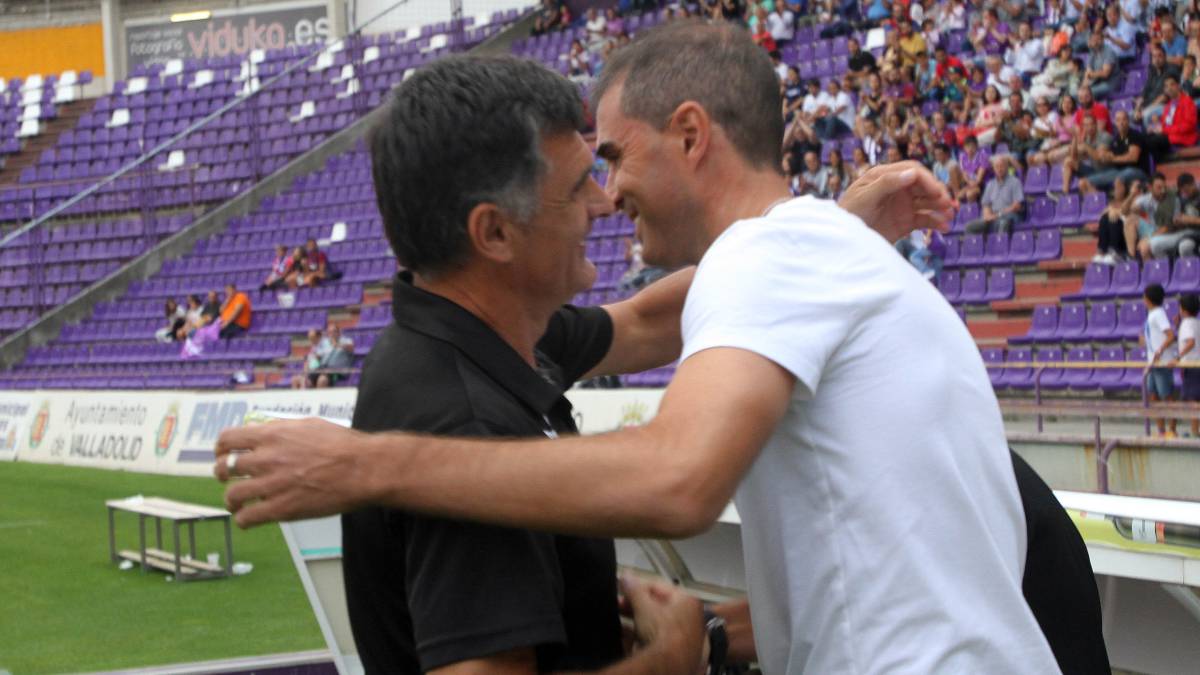 The Saturday derby in San Mamés between Athletic and Eibar brings together two friends. The relationship between Gaizka Garitano and Mendilibar goes beyond the friction between two Basque technicians separated by 40 kilometers. It will be the fifth confrontation in both. The two are joined by their time at Athletic and Eibar and it can be said that one is the teacher and the other his pupil. In the 2004-05 season, Mendi was the gunsmith's coach and Gaizka the captain of that team. Although he points out that he was at his command before "as coach of Bilbao Athletic and I as a discard of the first team." "A 'smokes', which hurts to say'", Apostles Mendi laughing.
The rojiblanco club has joined them in Lezama before seeing their faces in San Mamés. The Zaldibar coach remembers Gaizka as a player and describes him as a stubborn footballer. "You don't know what it was like to train him. If he got between his eyebrows and brows, something had to be done. But for the team he was a good player and a good person," he says. And Garitano does not keep the ball on his roof: "I learned a lot from him on the field. In the field it was very hard, it impregnated the team with great intensity. I told you 'God's' many times, but when I finished the job it was quite the opposite, a very good and close person ".
The swords are high for Saturday, with Athletic stinging for defeat at Villamarín and Eibar in a losing streak, with four straight losses, near the critical zone, two points down. After this talk, Gaizka Garitano and José Luis Mendilibar will not meet again until Saturday at half past six in the afternoon. "Good time for people because there is time to eat. On Saturday. And for those who win, there will be time to party too. It will be a nice day, San Mamés will be full. Let's see if there is a good game," concludes Mendilibar.
Eibar represents humility, the football of before. Birthdays at the time of Mendilibar were celebrated in the bars, "to eat some skewers drink some beers and each one to his house" and the card games encouraged the long bus trips, give way to praise. "Athletic is always there, being as always, and managing it like this, to continue like this is milk. Eibar I think he has had a bit of luck when he came up with Gaizka. At this moment it was just when the televisions began to give money and it matched everything, "explains Zaldibar's coach.
"Eibar is a smaller city, less media, and Athletic is a bigger club, with more budget. But by philosophy it is special. How they have grown, how they stay every year, and on top of that, being a good such a small city. They are like a family. Eibar is a beautiful case in football and so many years with Mendi in Primera is beautiful and special, "says Garitano.
Photos from as.com