Edgar Torronteras organizes this weekend a retro event in Recas with 150 pilots, many mythical. "In 20 minutes I had everyone's yes," he tells AS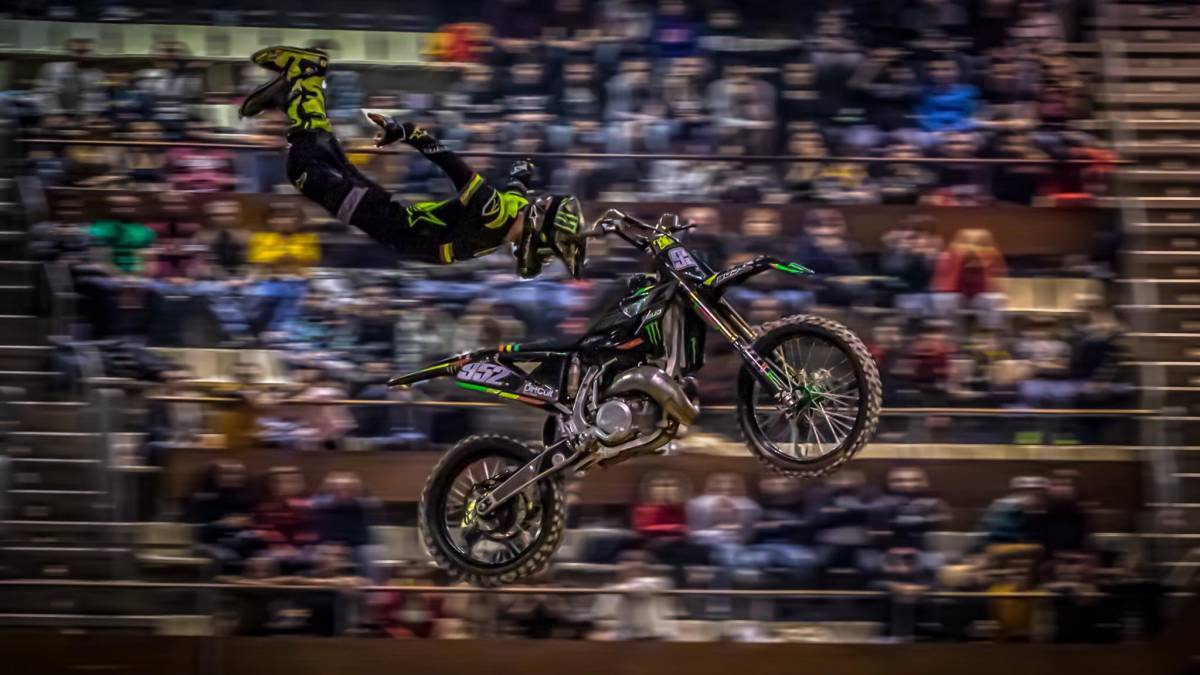 "I will not retire, I will remain in the elite until the body endures," says Edgar Torronteras to AS. The extraterrestrial of 'freestyle', the 'rider' who defied the law of gravity on a motorcycle before anyone continues to show 39. "I'm still in 'Nitro Circus', 'Masters of Dirt', 'Night of the Jumps', my show 'Solo Flow' ... I am very active with the best promoters in Europe so that people go to house with an open mouth ".
Catalan does not stop and his head is always machining new things. The last? A retro event in Recas (Toledo), tomorrow and Sunday, which promises to return to a time of brave. "I always had in mind to do something to run with my rivals / teammates throughout my career and thus remember old glories like Pablo Colomina, Josep Alonso, Óscar Vallés ... I opened a group in 'WhatsApp' and put all the numbers of the that we ran in the 70s, 80s, 90s and 2000s. I inquired if they would sign up for a motocross race that I organized and in 20 minutes I had everyone's yes. I thought: 'We're going to make a tremendous mess.' I negotiated with the owner of the Recas track, which made it very easy for me, and I paid for everything. And I decided the name of the event: 'All Stars 90'. In plan 'remember'. I opened registrations and we are more than 150 registered pilots. "
Postín post and mechanical equality: "We all had to run with 125cc 2T motorcycles so that it can be given to the handle. I am not going to put an uncle who 28 years ago left him with a 450 4T so that he does not last even half a turn. Everyone has got their second-hand motorcycle, online ... and they have been half prepared. I also loved the new generation and I have a grill of 15 young people (13 and 14 years old) who are emerging ".
Torronteras is fit or as his wife says "dry, Jon Secada effect" (laughs). And he explains: "I have a good genetics, I take care of myself, I swim a lot ...". Prepared physicist who hides a list of injuries that would frighten Dr. Frankenstein himself: head trauma, aneurysm, shoulder blade, clavicle, ribs, lungs, L1 chafada, sacrum, femur, tibia and fibula, knee ligaments, ankles ... " I also had an explosion of the right testicle. They take it away and nothing happens. The left one works and in fact I am a father. I have plates and screws through the body that do not prevent my joints from continuing to function, "explains
More serious he gets when he remembers that he was the pioneer of a discipline that now has a lot of impact: "I was the first in the world to create tricks. When I started there were McCarthy or Button who were Supercross drivers like me, but they kept doing more basic things and I evolved. From my tricks a very good generation of freestylers was born although as my father says: 'If you had patented them, you would be a millionaire'. But I do not regret anything. It is a pride and an example that if you want to live to the fullest and doing what you want you can do it by working hard. Fear or laziness are excuses. That is why I would like to tell my life well, which has been beautiful but hard. Let's see if 'Netflix' likes the idea to discover the whole truth, like when they screwed me up to show my face for everyone. "
Finally, Torronteras remembers a climax of 20 years ago: "In 1998 Travis Pastrana had won me by bureaucracy and sponsors in the first World Freestyle event. We complained and in 1999 there was a battle between the two at the MGM in Las Vegas to determine who was the best in the world. And I gave him for the hair. That does not mean that my relationship with him has always been exceptional. He calls me for his shows and at the end we have a beer, which I can now. "
Photos from as.com