Carles Durán: "The Cup? Our goal is permanence"
After a journey of more than a decade, threatening even the disappearance, the arrival of the technician in February 2018 has made the illusion of Joventut recover.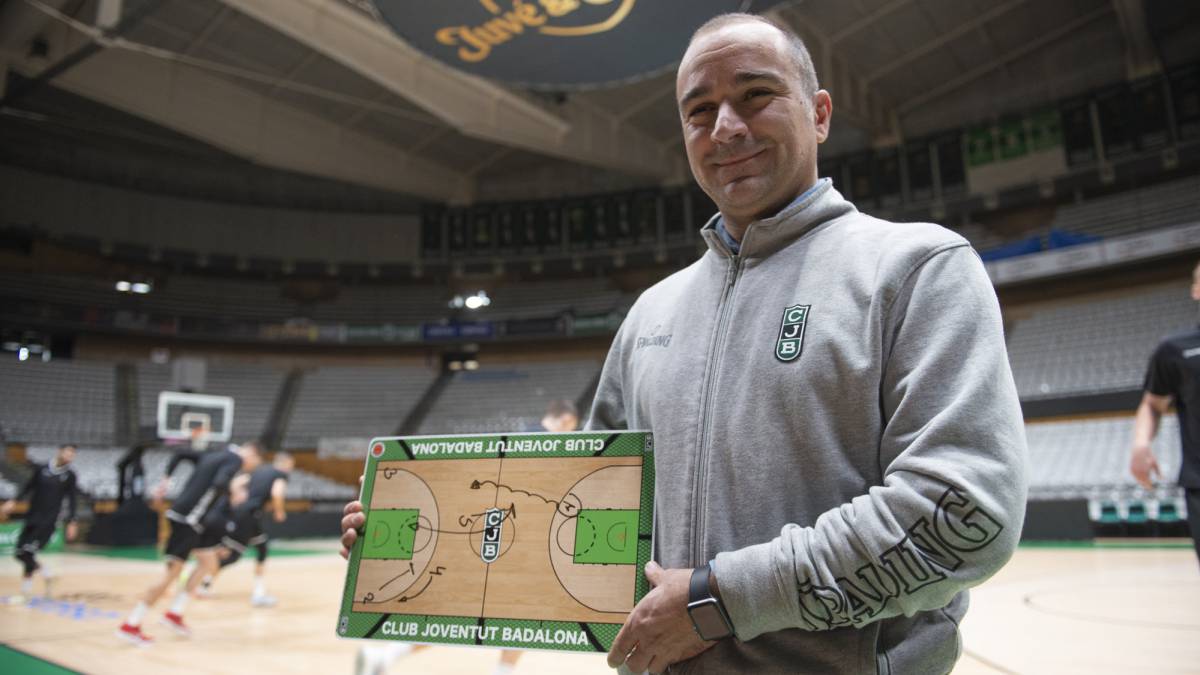 Seven wins in a row Are they in a cloud?
Not at all. We are happy because the victories encourage and if we are not happy now when we were going to be, but there is still a lot and we have to prove much more.
What do they have to prove?
Our first objective is permanence and we have to win more games to have it as soon as possible and that is why we cannot be in a cloud.
And you don't think about the Copa del Rey?
The goal that everyone now has is the Copa del Rey. Today we have it close, but I think it would be a mistake to set that goal. Our goal is to win the next game which, in this case, is that of Baskonia. And when, mathematically, we have closer to that goal of the Cup we will mark it; the important thing is to win the maximum possible matches before the end of the first round.
In less than two years, after reaching a team in decline, he saved him and last season he took him to the Copa del Rey and the Eurocup. Now they are fifth in the ACB. Are you a miracle coach?
None of that. At the beginning of this season it was also said that in this, without Laprovittola, we would not be able to compete and even when we had the first four defeats in a row it was questioned why the club had renewed me and they said it was wrong.
Was it difficult to prove that this is no accident?
I have a clear thing. I am the coach and I have a percentage of responsibility for what the team does and the only thing that I have tried since I arrived is to convey the essence of what I have learned in this house, that the team play joyfully and make people enjoy With our basketball. I don't think I'm doing anything extraordinary, I just do my job and give value to our business.
Speaking of which, it seems that Nenad Dimitrijevic, Albert Ventura or Xabi López-Aróstegui, MVP of last day, are exploding this season ...
Xabi's MVP was a plus for me, but both Dimitrijevic and Ventura are also doing very well. What I have tried since my arrival is to be more 'Penya' than ever and try to empower players that people have long said they could no longer play, as in the case of Alen Omic this year or Marko Todorovic last.
And how is that achieved?
Part of our fault is our technical director Jordi Martí who is bringing players who want to play for 'Penya' and Luke Harangody is a clear example. They said he was retiring and playing a great basketball.
Was it a problem for you to continue with Shawn Dawson's discharge?
He was not only a very important player and that this year he still had to have more gallons, especially since he had been with me for a year. He had understood our philosophy very well, as did Simon Birgander, who was an important player in the permanence process two seasons ago and has not played for almost a year, but I hope he will return soon.
And how have you overcome it?
Although it does not seem so, with the exits and injuries we are almost missing the one that was our five starter and what I think is that the team's work has made people not remember them now, but we have lost two important references apart from Laprovittola and Todorovic.
The transfer of Real Madrid by Klemen Prepelic (top scorer of the League with 22 points on average) is another decisive factor?
There is still a lot, what I can say is that Prepelic had many 'girlfriends' who wanted me to play with them. I do not want to say that Real Madrid did not want me to come to Joventut, but it also did not put much preference for me to come here, since Real Madrid was looking for the best economic option for them.
And why do you think he is in Penya?
Personally I think that one of the reasons he is here has been by choice, because of the good relationship with Jaka Lakovic who told him that he would feel very comfortable here. Anyway, I try to find the maximum performance of all players.
Did you expect me to give that performance?
I don't know where his future will be because he has the talent of a top-level player. The only thing I have asked is that in addition to being a scorer, something we already knew, that he tries to win the team; is the challenge that I asked for and that is assuming.
In reference to Alen Omic, which many people said was finished as a player. He is now the top rebounder in the League (8.8 rebounds on average) and the first in offensive rebound (3.5). How did you do it?
That is achieved by the Penya environment. We are a club that, although it has not been so in recent years, is a winning club with a great history. I think that if our atmosphere is good, and it has been that way for a year and a half, also with the economic tranquility that we have had, and if the players are clear that they want to continue being basketball players, Badalona is a perfect place to get it. We did it with Todorovic last year and that is what we are doing with Alen. So I have explained it to him and he is getting it.
Isn't it an added burden to play Eurocup?
Our idea is to play the Eurocup to have more games and for our young players to have more space for their development because playing in the ACB League is very complicated because of the level there is. To be able to play Eurocup we have seen it more as an opportunity than a burden. The only thing that costs is that people come more to the Palau Olímpic and if we get into the Top-16, we have a previous phase to deserve it, better.
Where do you think the secret of all this is?
At the moment we were able to be together, the team has entered into a very positive dynamic. We are the youngest team in the League and this also has its process to understand certain things. At the beginning, the losses frustrated us a lot, but in all the matches we have fought until the end and many victories have come in these final minutes. This speaks of the faith and maturity that we are demonstrating.
Photos from as.com