Bartomeu: "Three years could be enough for Valverde"
The president reviewed in Catalunya Ràdio and dropped that it may be the technician's last year although "it is not sold out". He also talked about Messi and the Classic.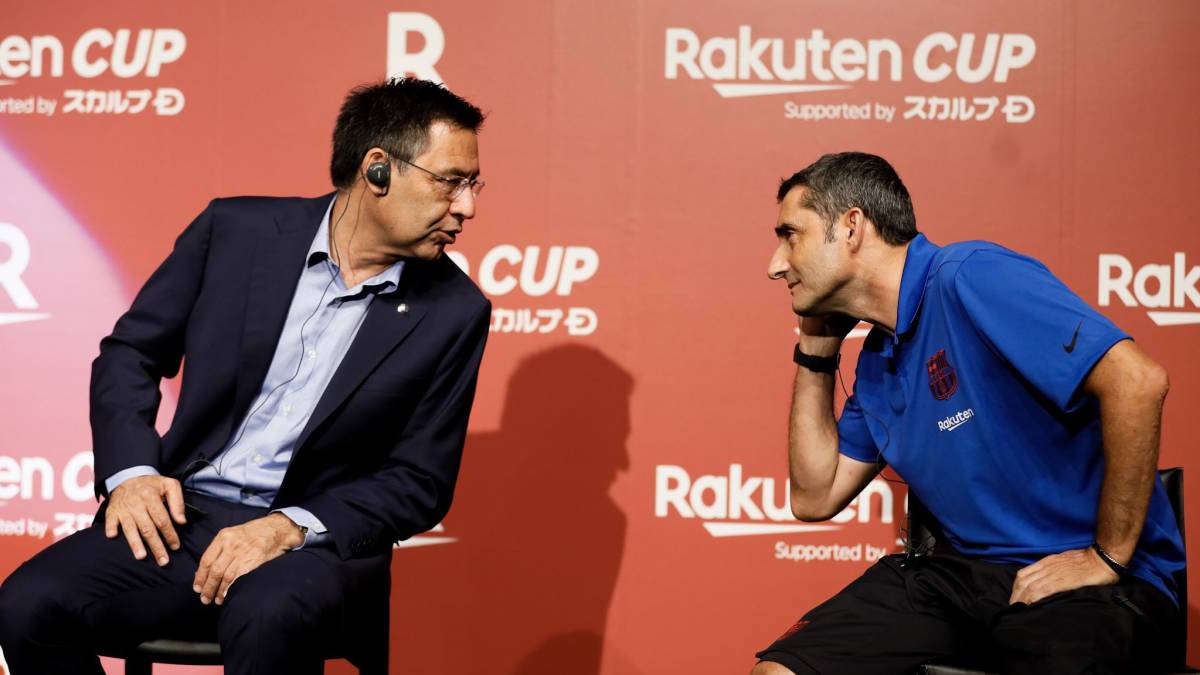 Josep Maria Bartomeu spoke this Saturday on the program El Suplement de Catalunya Rádio. This is much of the content of the interview. About Messi said: "Messi will sign the contracts you want." He also spoke of the Classic: "The Classic does not have to be suspended for any reason." And the elections: "No elections will be advanced" .. Do you enjoy this club in the box?
I really enjoy it. With the concern of the sports part. But since the arrival of Rijkaard, through Guardiola who was a sublime coach, Tito, Tata and Lucho, the Culés always enjoy great players with the umbrella of La Masia players.
Why was Barça made?
That comes from the family, since I was little. Since the end of the 60s already came to Camp Nou. My idol was Charly Rexach. I remember on the first day I came to the stadium. The green grass and I on TV didn't see it that way because it was black and white. It is a matter of children, grandchildren and must be followed.
What is Barça today?
When Gamper founded this club, he did it with values. Multisport, democratic and universal ambition. We are a global club, that is Barça. And there are many clubs that are dedicated to football and sports, but we do other activities through the Foundation, the Innovation Hub. I think it represents some values that others have and we are also owned by 140,000 members. Barça remains true to its past. And we have more than 350 million followers. We feel ownership of so many people makes us different.
-Do you like the game of Barça this season?
This and all. Each season is different and the game sometimes has to adapt to the players and coaches we have. I have been here since 2003 and we have been evolving. There are generations that remember the Dream Team as a reference, others to Guardiola. My reference team is the 0-5 team that won at the Bernabéu. But the game now is different from yesterday and different from tomorrow. We continue to have our possession and attack game DNA, with our pressure. Comparing it with other times is not correct, each one is different. We are living in a time when there are people who say we don't play well. Today we are in a situation of certain complexity where there is a generation of great players who have won everything and are thirty-odd years old, still able to play but with the withdrawal close. We must find meeting points, liaison between the players.-
Are you worried about the day Messi retires?
I would like to sign you one more contract as president. Messi has a journey ahead, we have said it but sometimes I say we'll talk when the seasons progress. I think he will play here until he retires. I have no doubt it will be that way and it will end whenever I want. As the best player in the world and in history, one day he will say that he stops. Until then, we will sign as many contracts as you want.
But do you think it will take time to leave it?
Hopefully. At the moment he has a contract until 2021, when my term ends. I have to finish, the Leo still has. Messi has an age, has knowledge, has a veteran and has the right to decide when he wants to finish. Leo will never leave the club.
And what will we do the day he leaves, what is Barça's plan?
That it's late. The other day I listened to players. Messi is only 32 but it is true that the club has to go beyond thinking. Talents arrive. Some who arrive as De Jong or others who have just left
Do you see Valverde happy? He looks very serious
I've had many coaches and they are all serious. To Rijkaard, Martino, Guardiola, Lucho, Ernesto. But all are serious. The responsibility is huge. It demands a lot. Here the option is to win everything. Either you win everything or it's not a good season. But Ernesto's off camera is fun, endearing. There are people who said that Ernesto, Lucho, Pep, Tito or Tata was very serious. Rijkaard could be an important change because with Ronaldinho he brought the smile.
Will you continue next season?
He has a contract until 2021, but in spring there is an option in which you can decide not to continue. We have it with all the trainers. But his contract. He will decide either he or us. What follows depends on many variables. Rijkaard was five years, Guardiola four, Luis Enrique, three
He is telling me that three years for Valverde can be enough
Could be. But it is a decision that he or the club must make as things go, effort or exhaustion.
Is it sold out?
What's up. He is excited. I want there to be successes and this season goes well and above all to link this generation that has won everything with this new one that wants to win everything.
You are the president of Barça. Do you send or send others?
Depends. If we are to decide how we play on Sunday, coach and players. In a club like Barça, the power is distributed according to the areas that are controlled, be it marketing, communication, sports area ... Now, the Board of Directors is the one that decides and the executives decide about the Board.
But the fame is that they send players and do what they want like riding a Davis et cetera.
The subject of the boss I said a few months ago. It is not true. Obviously the players think and everyone has a voice. People are heard a lot and if Gerard Piqué wants to set up a Davis Cup, it is also good because concentrating all day in football is also not good and players have to develop. Nobody talks about Valverde's passion for fireworks and it also takes time.
Have you overcome Liverpool's defeat?
I don't know which match you are talking about now. Jokes aside, Barça, in recent years, have had defeats that have hurt. Everyone talks about Liverpool, but why not Rome or the previous year against Juventus. The sport is complicated, there are strong rivals and Liverpool beat us meritoriously. We try to be invincible and win everything but we are not invincible. If you see the Matchday chapter, that defeat is going to take advantage and you can not think that we are the best but also
Is the goal of the season the Champions League?
The goal is the League, always LaLiga. It is the maximum competition and the one we budget the most as we have to win. But it is true that lately we have become accustomed to that it is little. Its a lot for me. But I think that with Barça's dimension, the Champions League is an important challenge because it gives us a global dimension. The goal is the triplet. Or the sextete. I remember now that we celebrated Wembley a couple of years ago.
Are you worried about what might happen on the 18th in the Classic?
No. And I also have the opinion and I think that you can play a game in a peaceful and serene way. That there are peaceful demands does not have to be incompatible with a football game.
But if there are crowds, what will the club do?
The belt inside the stadium belongs to the club. In the stadium there is freedom of expression, of movement. There are no restrictions here, whoever wants to manifest freely and without insulting. In a free and peaceful way, it can be done. It is a stadium that has historically served as a platform for claims
In which case should it be suspended in Classic?
For no reason. It's a Classic, it's an important match. Here there will be partners who will claim what they are going through. Barça has stated that it does not agree on things that are happening in this historical period of Catalonia. But in a free and peaceful way, people can make their demands.
Will it advance elections?
No. I think not. You have to be responsible. I have ever said that if we lose three games in a row, the first one that has to go and leave will be me because I will be very bad. But responsibility is important. There is a project, a strategy and there are still things to do.
Do you have any dolphins?
There are people on the Board who want to continue. Now it is soon, but there will be people who become candiaato. What matters to us is the day to day, not only of football but of all sections. And that is what worries us.
Is Emili Rousaud the perfect profile?
He is a prepared person, a successful entrepreneur and, like so many years on the Board, is prepared to explain a program that should be a continuation since Sandro's arrival. We are the leading club, the club that everyone watches, that more than 350 million fans watch. That means we go. In recent years we have been the club that has won the most titles in history. You have to look at things with perspective.
Do you maintain contact with Sandro Rosell?
Regularly. It's okay. That after 22 months in prison they tell you to go home without you having done anything ... Not only do we say it for Sandro, but for Catalans who have been in prison preventively. It has been very unfair.
Espai Barça is one of the great projects of his final candidacy. Where will the money come from?
See. The club has obviously started Espai Barça. The Estadi Johan Cruyff is already finished, the Mini is almost demolished and works have already been done at the Camp Nou. The financing can be carried out. Barça generates resources and has resources to pay for the investment we will make in the coming years. It will last for many summers but for people to be calm. It will be paid and can be invested
Is there a company to put the last name of Camp Nou?
There is no trade name. We have been close to signing with some firms but I have always thought that it is not enough. The contract will be 20 or 25 years and we have to find the best stadium. I want to find a better stadium that fits what Barça deserves as the best club in the world.
120 years of Barça. How do you imagine football in the future?
It is in a moment of evolution. Barça is part as a club at the forefront of innovation. I think that football here in a few years will be different. It will be LaLiga, the Champions, the World Cup. A different way of understanding the competition is coming. But players will not be virtual. That will not change. One day we must talk about where football evolves because there are clubs that have distanced themselves. There is a soccer elite who has novel ideas.
Photos from as.com