Alexander-Arnold: "Klopp pushes me to improve every day"
Trent Alexander-Arnold (21, Liverpool), young 'red' star, is sincere with AS before one of the most incredible seasons in the club's history.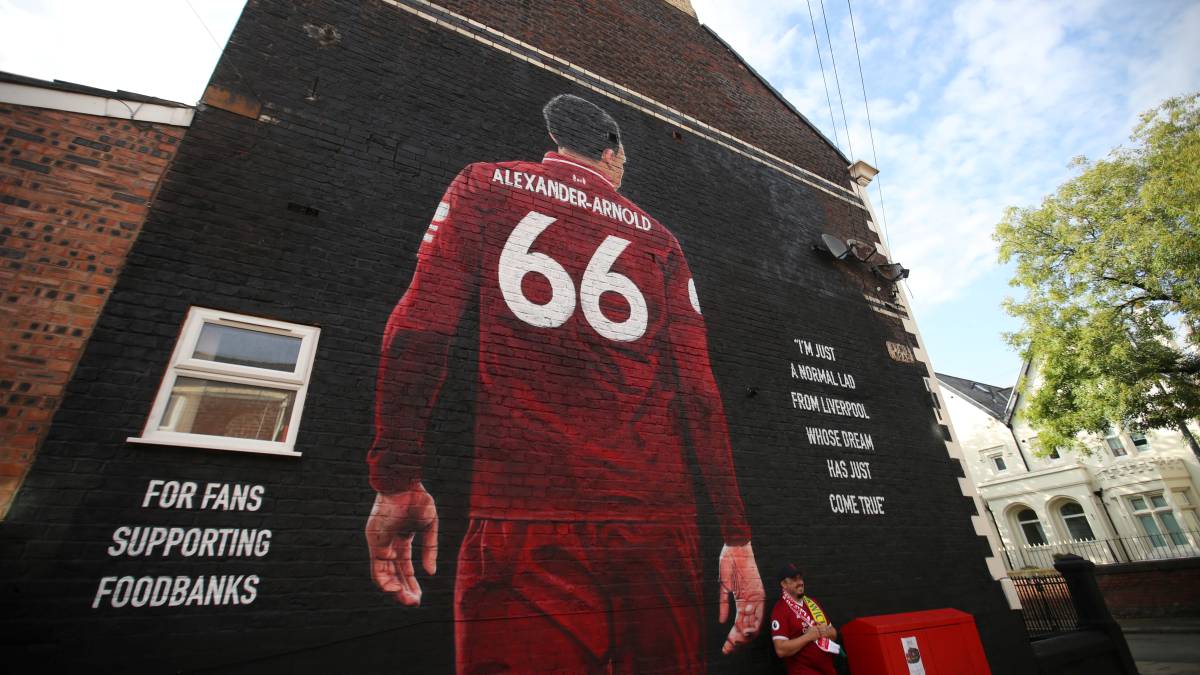 I heard he was one of those very good repellent children in every sport he played.
I do not know if it was repellent but yes, I like to play everything and I discovered that I was good and I also wanted to win in everything.
With six years he entered the quarry of Liverpool. Do you remember the first day?
It was a strange coincidence. It was a normal day at school, half of the course was approaching and they were setting up a summer campus at the Academy. They sent six or seven invitations to my school. They did it with several schools in the area to encourage children to play. The teacher asked 'who wants to go?' And literally, all the hands of the class were raised, so they got the names of a hat and, luckily, my name was among them and I went Saturday with my mother. I was excited, but nervous ... I couldn't sleep.
Was she the one who usually led him to train?
Yes, because my father lived in London. So we were just my two brothers, mom and me. Obviously, my two brothers also went to football, so it was very difficult in terms of organization because many of the games were played at the same time and Mom could not be in three games at once.
What went through your mind when things were not going well, with 15 or 16 years?
Make mistakes. He was a bad loser. If I was wrong, I left the game. Literally. I was seen in the league. If something did not go well in training I kicked away balls or plastic bottles, which I found. I screamed, I was angry. But in the end I realized that that was not the right reaction.
There are moments in life that put you to the test. I think that the English national team's match in Bulgaria, with the racist chants, was one of those moments. What went through your head at that time?
It was something that, personally, I had never faced before, nor my colleagues, although they told us what could happen. The worst happened before the break when the match stopped. In the locker room we decided to go out and play football and win, and make our country proud of us. It's disappointing, something that shouldn't happen in football these days.
What did he feel and what did they talk about?
We talked about the different ways we could face it. Other colleagues felt that it was not really affecting them too much. We had to concentrate on winning the game. We were told that many of his fans were expelled during the break.
The final against Real Madrid seemed like a unique occasion to confirm that this is a winning team, but the defeat allowed them to grow.
It was a tough defeat, Madrid deserved to win, no doubt, but we told ourselves in the locker room that we would return to a final sooner rather than later. We didn't know it would be in a year but we were convinced
Let's recap the famous corner against Barcelona. Klopp uses emotions, they are essential for him. One of the emotions he invokes is freedom ... Does the idea arise in that scenario?
Well, the idea was for Shaqiri to take the corner, and for me to stay with him so they wouldn't know if we took him in or out. We had seen that they had difficulties defended a corner kick out. I arrived and saw that there was no attentive player and looking at the ball. And I saw Origi in the middle of the area. So I dared.
The Trent of the park ... And the freedom that allows Klopp.
Obviously, if I had tried before, and they had quarreled me for doing so, I would not have encouraged myself to repeat it. The normal thing is that we take out Van Dijk and Matip, because they are the ones who nod the best. But we are allowed to have freedom, to be creative. I was able to detect an opportunity and seize it.
Klopp is his dad, uncle, older brother, coach, manager ...
It's someone who really made me who I am today. Someone who has pushed me to improve every day. Someone who has given me so many opportunities that I can never give back so much confidence. It has helped me in every way.
He has been drawn a mural near Anfield after winning the Kiev final, where he lived for many years. It reads: "I am a normal Liverpool boy whose dream has come true." What other dreams do you have left? Being a captain?
(Laughter) Yes, of course. Whether it comes true or not, it is not really my decision. I don't choose who the captain is. But yes. I would love to captain Liverpool.
Photos from as.com