Aguirre: "I don't see euphoria, but the players let go more"
The Leganés coach sees his team responsible, but with more confidence. "I will congratulate Garitano because he did great things here." Carrillo, get off: Sabin Merino supplies.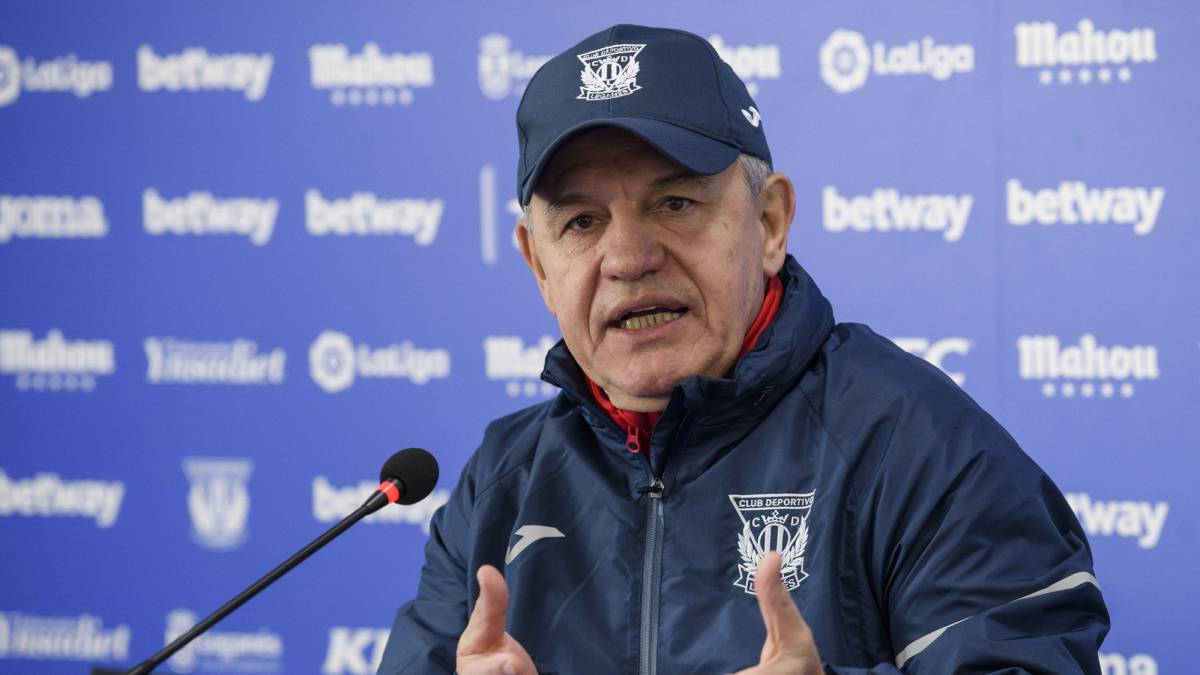 Can a loss affect more after winning Celta?
Making a hypothesis costs me a bit. I could tell you ... What if we win? We cannot make cabals or speculations. As a coach, I do have that obligation. Think of the three scenarios. But I do not want to transmit it to the players and menso through the press. I understand the question, but I have trouble answering it. Our mentality is to win. We must do it to feed hope, say that we have played games and that we are always missing something ... Well, let's see if in this match we make the perfect match. It is never possible, but you have to try.
Does the home match work the same way it was?
We play in Anoeta and in Seville outside. In both we played good games. In both of us we did not get the victory because we made mistakes in the same. In both cases they were corners. We learned the lesson. We learned against Celtic. Hopefully we make a match similar to that of Anoeta or Sevilla and be able to compete with the corners against. And let's see if we are able to stretch a little more. To be more daring. At least try to win. With our limitations, yes, but try to win. In that line we must continue.
Has the changing room environment changed a lot?
Not really. I have not seen them happier. No. I have seen them similar to these days, since we met. I would tell you that obviously they are releasing more. Now you see a 30-meter shot that there wasn't before or a shot at the door or a gambeta in a hand in hand. That we have seen. They have been removing things from the head and thinking "hey, but I am valid." Of course. Euphoria and that, no. They know that this does not end with a victory or a defeat. Missing a lot.
Leganes and you are good at Mendizorroza.
I didn't know. I'm finding out This match is another story. I can't stop at it. They are personal aspects in my case. Besides, in my opinion that means nothing. The team when it has gone has been with other coaches. The rival has another coach. They are numbers that you analyze. I do not look at those things. You look at the past, the last games, if they are the same coaches ... but I don't stop much. You can confuse the player.
Have you seen more smiles?
Return the recorder ten minutes ago and you have the answer. The player, he said, has released something else. That when we arrived, I saw corsetation. They have been pulling out their confidence. Victory, of course it confirms and reaffirms that you are on the right path.
What is your assessment of what has happened since Levante-Zaragoza?
I made a brief, simple press release. I wanted to give tranquility, normality to the matter. I always carried it that way. He agreed that I was in Tokyo when I learned that there was going to be a trial, being outside the trial is closed, being out reopens the case and being outside closes. It just coincides with the arrival here. And I deeply thank the board, the family, who welcomed me well. They saw me with such confidence and tranquility that they fully trusted that the thing was going to walk well. It happened like that. They were all transparent, me with them and they with me. It is already
Would you have preferred not to win that match and avoid such a blur?
One always tries to do the best he can. I took Zaragoza in the last place and my obligation, as right now, was to save him. You get paid to win games. We won the game and went home so quiet. Then there was a mess that surpassed me, but even there. I've always had peace of mind, looking into my eyes, responding when I was questioned. And nothing more.
Happy because it will end?
Finished. And how good. Especially for my wife and children because they are not here, they hear things on the street, they read on social networks. And suddenly there are assessments that are not very rigorous, there is not much research. They are suddenly released and that maybe my children could have been beaten without ever transmitting it to me. And neither is my wife. But I am calm, I keep doing my job as I can moderately and I understand, and this is an experience for me as a coach that strengthens me.
How does the equipment arrive physically?
Guido does not go, I fell from muscle fatigue. We work hard, very intense and with little rest space. Last week I dropped Recio and the first Omeruo. So I am not very happy with it, but it is what it is, it is the calendar that has touched us and that provided by LaLiga. We have to comply. There is no Guido but there is Sabin, who is also a very valid player. He will go and we will compete.
He has said good words about Pellegrino and Garitano. Tomorrow has one in front. What can you say about Asier?
Nothing but congratulate him. Today I told the players that Asier made history here. Bringing a team from Second B to First in such a short time is honorary registration. A great respect. And the best is the legacy because here you go through the halls and everyone speaks well of it. That is wonderful. As a technician it is normal for you to go elsewhere due to various circumstances, because they throw you out or because you decide to leave. Because you just contract or there is no agreement. But that people speak well of you is not easy. Everyone speaks well of Asier here, it is his home. And I am very happy to greet you. I will congratulate you because you did great things here. I am taking advantage of that, I am in First thanks to him and that group that sent him up.
What worries you most about Alavés and Mendizorroza?
They have up two good players who take care of the ball, who go upstairs with everything and have good tuning. In addition, they make goals. They are in a good moment. Mendizorroza is also a complicated field, before Madrid arrived, he had only received a couple of goals there. It is a fort, let's say. Asier teams are very physical, contact man to man, go up and fight down, high pressure ... I expect a very complicated game. And the weather too, if it suddenly rains the game gets more muddy. We must be prepared for everything. I also have a physical team, which is running well, competing well. We were no less than Sevilla, neither Celta nor anyone else. As far as the physicist is concerned. Then in possession and other things we have made mistakes. But physically the team finishes well, although you have to pay the cost with three injured. But we have a large and very close staff.
The Alavés will play without Wakaso, Laguardia and Pina.
Victor had him at Zaragoza. He is a professional from head to toe, very serious, an extraordinary kid. It is an important casualty. They will surely have alternatives, but he is a leader.
A Wakaso also had him at Espanyol, they are players whom I have known very well for years. He is a boy who is all pundonor, where you put him he will deliver two hundred percent and with the ball he knows. And Pina is a supporter in the midfield. But Asier will have alternatives and put the best possible team. I would like to see you in the field and greet you, but I already have enough with mine. Let's see if we are able to stand up and play a good game.
Photos from as.com