Aguirre: "I am convinced that Leganés is going to be saved"
The Mexican coach again squandered optimism without ignoring reality: "We need points and we need them now. We don't care about the game."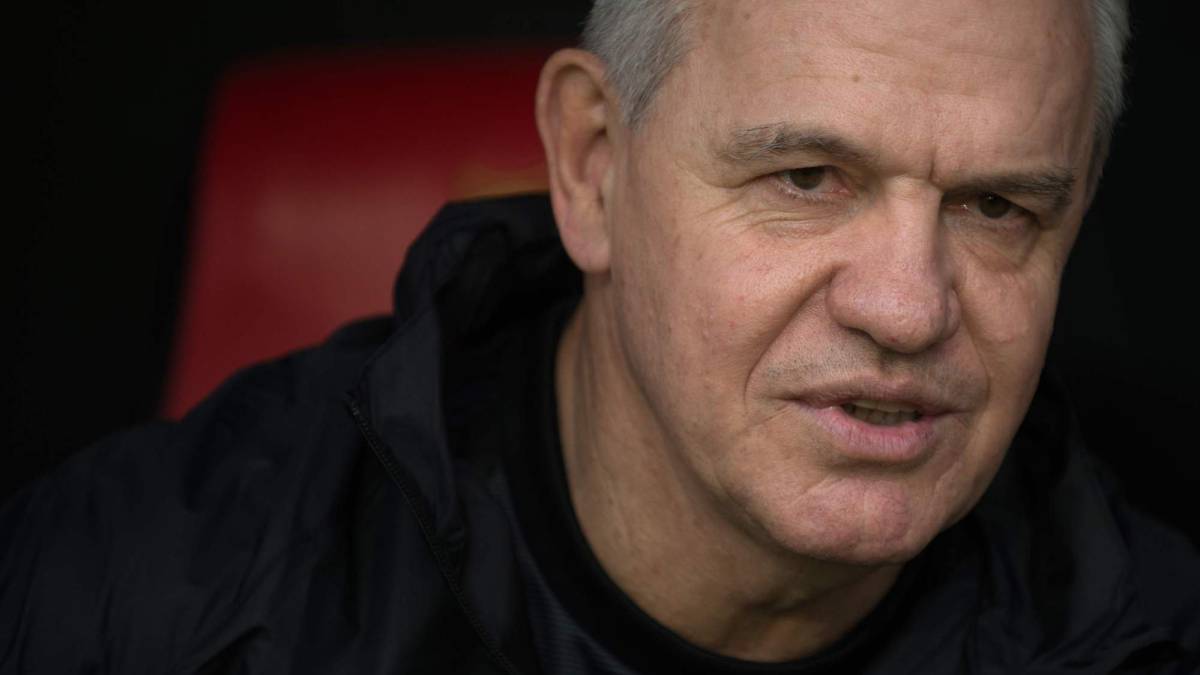 A Javier Aguirre nothing depletes his energy. His torrent is unstoppable. Almost (although not enough) as his pizpireto verb, that with which he fills his press appearances with jokes, the repeated use of the affectionate "bastards" and the occasional funny anecdote. That mixture of optimism has spread it again today before receiving Celta, a direct rival for a game of substance in which the Mexican does not doubt: "We urgently need to score. Let's forget about the good game, the bad game… we need to score now ".
The coach of Leganés, who on Sunday will match Helenio Herrera as the American coach with the most matches in LaLiga, has insisted that he is convinced that his team will be saved: "Yesterday three fans stopped me in Madrid. They were already a little placed, but they were from Lega, they gave me courage, and asked for a photo ... I can't let those people go, with or without a glass. I am convinced that we are saved. "
Are the next four matches suitable for scoring?
At the beginning it was difficult to arrive almost without training and go to San Sebastián, then at home against Barça, then to Seville ... but every game is complicated. There are no two leagues. We need the points of any rival. And now comes the Celtic, we want to win the Celtic, as in Anoeta or Barça and Seville. When I saw the first matches I thought it would be difficult to score, but I didn't say it because the following matches were easy. Our obligation at home is to make a good game without mistakes, and get the three points.
The next game will be his 359 in Primera and will match Helenio Herrera as the American coach with the most matches in Primera.
Yesterday I found out. Juan [the utillero] told me. I do not look at these things, I try to do my best work and then, you who are the experts, do your job on that. He speaks above all that wherever I have gone they have always respected me and left doors open, with good friends. And here will be no exception. I am grateful to Leganés. Let's see, to keep adding, but doing well above all. It is not adding by adding, it is adding to leave something.
He doesn't like to talk about finals but…
When did I say that I don't like to talk about endings?
He said there were no in December ...
(Laughter) Yes, I said so? You are a bastard huh? ... well, they are tremendous matches, there is no tomorrow, you play the whole for the whole. I don't like it and you can't make easy accounts or numbers. You have to go game by game. The next, and the next, and the next ... you play your life for one or three points. It is clear, and in this we agree, the points are urgent ... they urge us. It's reality. Forgetting the good game or the bad game. The points are urgent. Already.
How was the reunion with Chicharito?
With Javier I greeted him on the bench, with joy. I asked about the family. In the end, I couldn't see him anymore. I guess he's adapting to the Spanish game, Sevilla ... it's hard to play minutes, but it's part of football. He is seizing the opportunity in Europa League. Knocking on the door He has played seven or eight games in the league.
How do you see Néstor Araujo?
A Néstor I don't know him personally, I know him as a football fan that I am. He has already had three or four technicians these years and always plays. That is a sign that something is good. A professional player is seen from outside, a boy who respects injuries. Very useful for your teams. It goes well, neat exit ... I'm happy because he's a compatriot I hope to greet you on Sunday and meet you. And if he has the chance to play, he will win. Like us.
The right side has problems ...
Look, Aviles won't be an option because he's going to play with the subsidiary now. They can be options Bustinza, Ruibal and it can even be Óscar Rodríguez option, as an emergency. And the other option is to play with a line of four, which we have also valued. And that's it Speaking of this ... we couldn't have everyone in every game. Now Rosales and Siovas, Omeruo against Sevilla. By penalty Recio and Roque. Silva in Donosti… We have not been able to repeat alignment due to outside circumstances. But those who have entered have tried to do well. Also, there is no speech when you lose. There are no excuses. There is progress, there is an attitude, of course, but there are no points ... we are missing that step.
What casualties are there?
Siovas, Rosales, Marc Navarro, Szymanowski ... And Omeruo is done. Today he trained at 100% and yesterday at 50%. It is already my decision if I put it. There is Tarin, Omeruo, Awaziem and Bustinza.
I ask about Celta and the figure of Aspas. What do you think?
I love aspas. Surely he was not happy with his time in Seville and Liverpool because he who does not play is a little disgusted but there is his house, where he performs to the fullest. It is his lifelong club and he is doing phenomenal. He is a player of many goals, he gives life to that club and when he is not on the field it shows. He is the emblem player along with Hugo Mallo, kids who have been there for years and pull the car. He has a talent that has taken him to the absolute, to Liverpool. He has played European competitions. He is a very complete player. I have suffered in the field but I stopped him and arguing with the staff they told me that I was not 1.88 as I said but was shorter. The scoundrels were right but I didn't give it to them, they can't correct the master (laughs) .
The atmosphere in the dressing room. Do people inside still believe?
Yes, people still believe. There is a good atmosphere. Not to throw rockets because we have nothing left over, it is the truth but there is seriousness, with commitment and good atmosphere. They understand that it is time to close ranks, to react, to pull the car all. Who does not play also has to be, there is no room for tantrums and bad faces. They know it's the last option, I'm the third coach this season. You have to take that step and they are taking it. But we have no points, with that I always finish my speech because I would like to say that we also made them and we have not asked. Then I have to keep it.
The team has only finished one match without fitting.
I asked the Pichu how many goals we had to zero and he told me that one, that of Mallorca. He won. Draw your own conclusions, leaving the goal to zero for sure you get something
In the three that he has been leading he has conceded to a stopped ball. How much have you worked on?
The first week I worked little or nothing because we had two workouts. For the second it hurt a lot because we had worked it. Barcelona can score goals in one hundred thousand ways, including the stopped ball, although it is not its greatest strength. And from there we became serious in favor and against and neutralized Sevilla, which does very well. We keep working. Irritates a lot the ball stopped against because you control a Barcelona ninety minutes on the move, which is difficult, so that they make you a goal in twelve seconds. That what bothers most, the players know it and we continue working to not receive goals in that situation.
Why is Leganés going to be saved?
I was asked that in the presentation. I'm convinced. And it is also true. People on the street stop you and tell you. I do not live in Leganés, I live in Madrid. But there are Leganés fans in Madrid and yesterday I stopped three. They were already a little drunk but they insisted that we were going to save, to take a picture with them. There is a lot of enthusiasm. You can't fail those people, you shouldn't. With or without cups
Four direct rivals come. How many points out of those twelve would he be satisfied?
I am not to make accounts because you have nothing, what you have is the Celtic game and you have to focus on it and go for the three points. My accounts of the whole league are only me, not even my wife next door. There I go alone with mine, consuming me or cheering me up. The three points of the Celtic are fundamental because it is the next game and you have to go like this, to sack in each game.
How many points did you expect to get from the matches against Real Sociedad, Barcelona and Sevilla?
I'm going to have to lie, the nine
Is it necessary for Butarque to be the same or better than Barcelona day?
The bar was set by the players. If you have such an attitude less than that, you cannot give it to people. People tell you that we lost to Barcelona, yes, but we turned our faces. I wish they were happy and also with the three points here.
Photos from as.com