Zidane: "A month ago they said everything ... Tranquility"
About Isco, the Real Madrid coach said: "We have never lost Isco. Isco is an important player, he has shown it and has personality."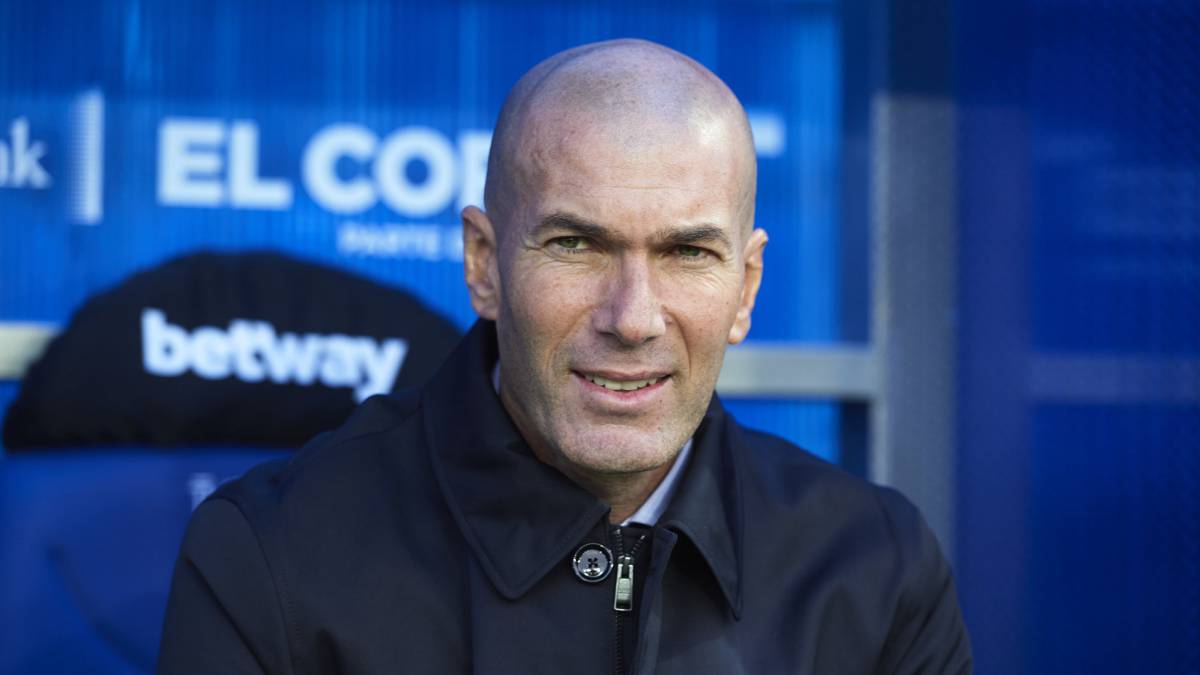 Zinedine Zidane appeared in the flash interview after the real victory of Real Madrid in Mendizorroza (1-2). The French coach ended up satisfied with the sacrifice of his team in a very complicated field.
Victory important: "Clearly because we also started the game very well, it was known that in this field until the end we had to fight and fight and that is what we did. Very seriously, we did a great job. And then we had two or three occasions to score a goal. Three points in the complicated field. In the end it has been a great satisfaction because we have fought until the end. We have not stopped playing football and well. It is a very important result for us ".
Reaction: "Raise the Alavés. After our goal they were a little higher, they squeezed and, as usually happens when you score a goal, you reculate. But we did not leave the game. In the end it is the most important thing. We continue to think that you could put the second and we put it ".
Militao and Isco have played. Have they won back ?: "Militao is a squad player and has the right to play and has done well, like everyone else. We are many here and very good, there are many players who if they are not here can play on any team. He has done well ".
Areola: "It was today's decision, it is part of the squad, it trains well and has saved us too. Just like Courtois when it is his turn. Today it has touched Areola and he has done very well, fantastically well."
Marcelo said that these matches serve to win the League: "Very important, but even without looking at tomorrow's game. It is a complicated field. We in these fields can add three points give life. Today with many difficulties, with much personality ".
4-4-2: "You know that the drawing is nothing. The important thing is the animation that we put with the ball and we can do many things. Of course you have to do very precise things and that's it."
Very closed equipment and rain: "It was known. It is a field more or less like Eibar. Small, and with water everything is more complicated. We had to think that when you could play football you had to do it and we did it with peace of mind Also with their draw, we pray, they came up and tied, I'm glad because everyone's effort has been enormous, Militao has played well, Isco has done it wonderfully, there are three important points for our League in a complicated field ".
Satisfied with the changes: "Yes. It is not a League alone, it is a season where there are many competitions, many matches with the national team. I believe in that. The players are very good. This means a lot and I need the players to contribute their granite. of sand ".
Later, the Real Madrid coach appeared in the press room.
In matches like this, they are where the Leagues are won: "Well, it is clear that winning a match like today is important. A difficult field, with a rival who was doing well. It was known that we were going to suffer and we have suffered. Then the League is long, but it's three very important points, especially for how the game went, we scored the first goal, then tied and it was known that we had to suffer, but calmly, and that's what we did. and I'm glad for the players ".
He has the feeling that the team is more prepared to fight for the League: "Yes, these away games are difficult, with an audience that encourages players, today also time ... We know it will be very long, difficult , and we will fight until the end. And today is what we did. "
From Mallorca he hadn't done many rotations. Now you think your most reliable equipment? "I think they are all better. Militao, who has not played much, has done very well, for example. The changes do not change the dynamics of the group and that is the important thing. We must continue. I have 25 players, I will think about all , one more or less. There are many games, we will have 60 games and it will not change. My idea is to have everyone and today they have responded very well those who have played ".
Isco: "We have never lost Isco. Isco is an important player, he has shown it and he has personality. He has no trouble appearing at complicated times and today he has done it. This is long. Winning these matches gives you a lot of confidence and is what we want to: continue to grow as a team. Today was another important game in this regard ".
Different attitude of the team: "Yes, but it's not that we have changed. We are all much better. We had to be patient and we know that in these fields, where it is difficult to play football, we did it with personality. A month ago they said everything and Now we still have peace of mind, to continue working because it has just begun. There is a lot of league and a lot of season. "
Madrid has already reached regularity: "We are at it. Today is a referent game in the sense that we continue to grow. It has been a different game. A bit similar to Eibar but with a team today that lately have made a difference at home and outside. We must continue, but we are in it. We want to continue adding ".
James's injury: "Now James is injured and you have to be patient with him and calm. At the time, too, but he wanted to go with the national team because he felt good, but it's a shame. He always wants to play and be well and now It can't be right. I'm going to count on him when he comes back. You have to be calm. You don't have to hurry. The important thing is to be totally healthy and we know the player who is when he is healthy. "
Once veteran: "We play every three days and today I have done this, looking at us. The players have responded very well. The important thing is that they are all plugged in and that is what they are showing me every week."
Photos from as.com