The coach decided to remove the bracelet from the Swiss after his incident with the fans. Aubameyang takes over with Bellerín, Lacazette and Özil.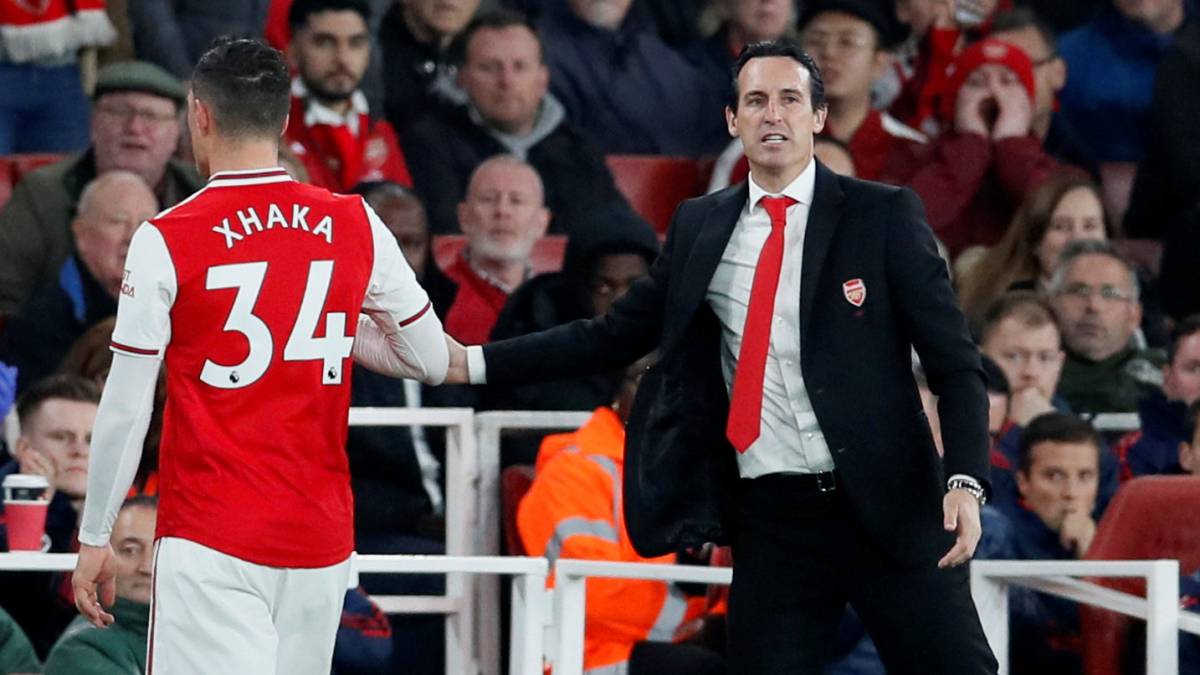 The Xhaka case has ended in Arsenal. Unai Emery announced in the press conference prior to the Europa League clash against the Vitoria de Guimaraes that the Swiss midfielder was no longer captain of the gunners and that Pierre-Emerick Aubameyang became the costume leader after the clash of the latter with the tier to which he insulted.
"He is not here today because we think he needs time, first you have to protect him, he has to be calm and train with us every day. I talked to him this morning and told him that he is no longer one of the captains. He has accepted the decision just like the new captain. He needed to make a decision and it is already taken, "said Unai Emery who took the opportunity to communicate that the four captains became Aubameyang, Bellerín, Lacazette and Özil.
The mess began shortly after Xhaka was chosen by the locker room as captain. The Swiss insulted the stands ("Fuck you") while leaving the field to be replaced in the match against Crystal Palace. Emery publicly urged him to apologize and he did so, halfway, with a statement on Instagram where he revealed that he was receiving serious threats ("we are going to break your legs," "I hope your daughter has cancer") through social networks and From the stands. "In that situation I got carried away and acted in a disrespectful way with everyone: team, hobby and even with myself," he said before wishing that "mutual respect" be recovered and that it be about moving forward "in a positive and joint way."
After this incident, the club has decided to protect the player. The Swiss will not be against Vitoria in the Europa League as he was not in the matches immediately after the incident against Liverpool and against Wolverhampton. Although the decision has been to remove the bracelet, Emery has supported him publicly. Also Héctor Bellerín, third captain who will wear the bracelet on this day of the Europa League.
"He knows that he made a mistake but in the locker room we are united. These things happen and we support him. We respect the decision of the coach and the club. We try to support him. He is one of us and we will help him overcome it," he said. Spanish. Despite the support, the Telegraph already says that the midfielder may not wear the Arsenal shirt again and consider Xhaka's departure in January "probable."
Arsenal plays this afternoon with Vitoria de Guimaraes (4:50 p.m.) at a time of many doubts about the team and the coach. The gunners have not known the victory since their last game with the Lusos (3-2) and add three consecutive draws: Crystal Palace, Liverpool (lost on penalties) and Wolves.
Özil, a captain in ostracism
Xhaka's departure from the quartet of captains has left Mesut Özil as fourth captain in possibly his worst moment in Arsenal. The German has entered the list in just four games in which he has played two almost complete Premier and more than an hour in another couple of games at the Carabao Cup, where he wore the bracelet before the Nott. Forest
Photos from as.com