The XI of those who hung their boots this year 2019
Several players who shone the 2010 World Cup will have left before 2020 as Villa, Sneijder, Xavi Hernández or Diego Forlán.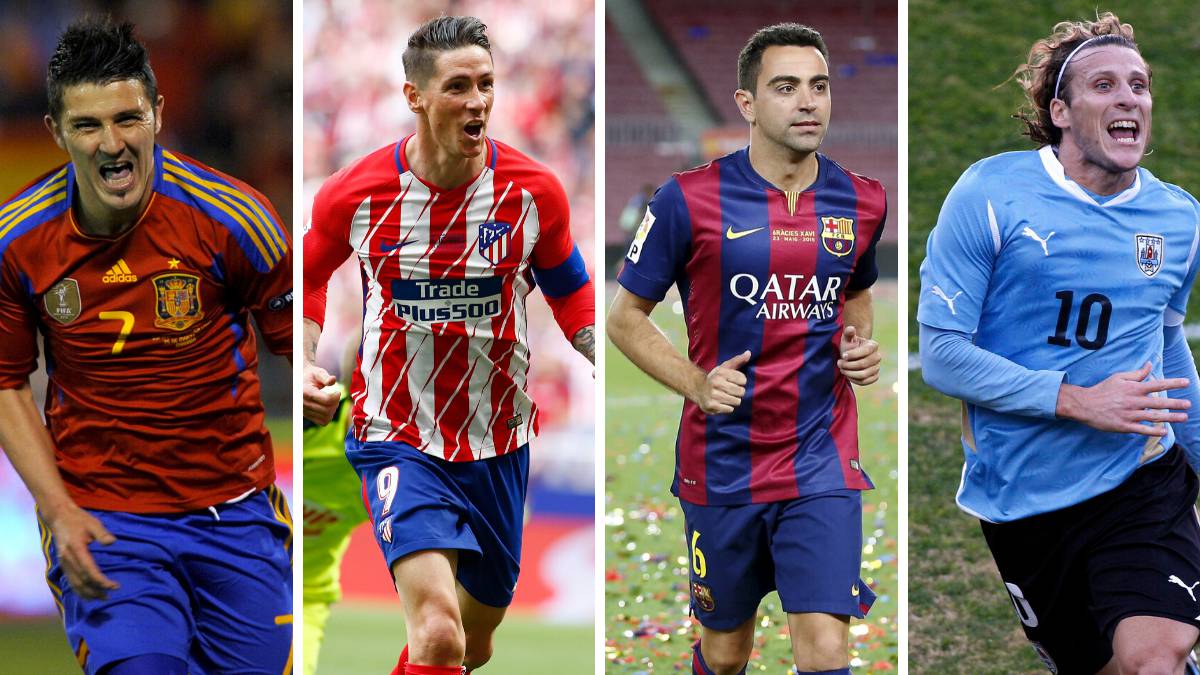 As every year, football lives new irruptions of young talent but also prepares to fire its heroes. This 2019, Spanish football is seeing as a good part of the 2010 world champions are saying goodbye accompanied by other great players who left great moments last decade
Here we collect in an eleven several of the best players who have decided to hang up the boots before 2020 arrives. This initial team consists of Petr Cech, Patrice Evra, Andrea Barzagli, Ashley Cole, Wesley Sneijder, Bastian Schweinsteiger, Xavi Hernández, Diego Forlan, David Villa, Samuel Eto'o and Fernando Torres.
Goal: Petr Cech
The Czech goalkeeper is a legend of English football. Petr Cech arrived at Chelsea in 2003 and played in the Premier League until 2019 when he decided to retire, curiously, in one of the great rivals, Arsenal. Pilsen's is one of the best goalkeepers in the English football history, winning four Golden Gloves to the least beaten goalie: three at Chelsea and one as a gunner, being the only one who has achieved it with two teams.
Now, he has changed the football goal for ice hockey and plays in the Guilford Phoneix of the fourth English division.
Defense: Evra, Barzagli and Ashley Cole
The defense consists of Evra, Barzagli and Ashley Cole. The French played most of his career at United where he lived the last great years of Ferguson winning Champions and several Premier League after passing through Marsala, Monza, Nice and Monaco. After three seasons at Juventus and his last years in Marseille, where he was sanctioned and fired for kicking an amateur, and at West Ham, where he hung up his boots.
Evra coincided in Turin with Andrea Barzagli, a mythical member of the BBC of Juve with Bonucci and Chiellini. After dressing up to five different shirts in Italy and leaving for Wolfsburg, the central gave his best level in Juventus where he was from 2011 to 2019 and won 16 titles.
Like Petr Cech, another who went through Arsenal and Chelsea but shone more in the blues. The side was one of the most dominating of his position during his stage at Stamford Bridge, which he left in 2014. Later, Rome, LA Galaxy and a final adventure in Derby County with his former partner Frank Lampard as coach.
Center of the field: Sneijder, Schweinsteiger and Xavi
If the defense did not leave such brilliant names, the center of the field does leave three notable casualties with these three 'players'. Both Xavi and Sneijder were really close to getting the Golden Ball during this decade leading Barcelona and Inter Milan. While Spanish is considered one of the best in history in his position, the Dutchman is not so well regarded although his talent was unquestionable.
Schweinsteiger is a myth of Bayern and the German national team. The midfielder arrived in 2002 and left in 2015 to finish his career at Manchester United and the Chicago Fire. Thanks to his temperament, Luis Aragonés baptized him as "The blond of the name so rare that he warms up like the mother who gave birth to him" during a mythical talk before the end of the 2008 Euro Cup. The Sage of Hortaleza was not right.
Forward: Forlán, Villa, Eto'o and Torres
With more than 1300 goals among all, four of the best strikers of the decade and the history of LaLiga leave. David Villa and Fernando Torres formed a luxury couple in the best Spanish team in history as well as triumphing in their respective clubs to finish the two hanging boots in Japan although in different teams.
Diego Forlán has decided to leave him at 40 with several Golden Boots and a 2010 World Cup for the memory in which he was named best player. El Cacha marked with the t-shirts of Atlético, Villarreal, Manchester United, Cerezo Osaka, Internacional, Peñarol, Inter, Kitchee and Mumbai City in addition to the selection.
With Eto'o, one of the best African players in history closes this eleven. Of the four, the most scorer with 415 goals in official matches in his account. His best stage was in Barcelona but he also scored goals in Mallorca, Inter, Chelsea, Everton, Sampodira Anzhi, Antalayaspor, Qatar SC and Konyaspor. He played in two more teams where he didn't get: Real Madrid and Espanyol.
Photos from as.com