The money is on your feet! Doncic looks for a megacontract taking advantage of his MVP streak
Luka Doncic is now a free agent in terms of agreements to wear sneakers. The brands go after him at his best.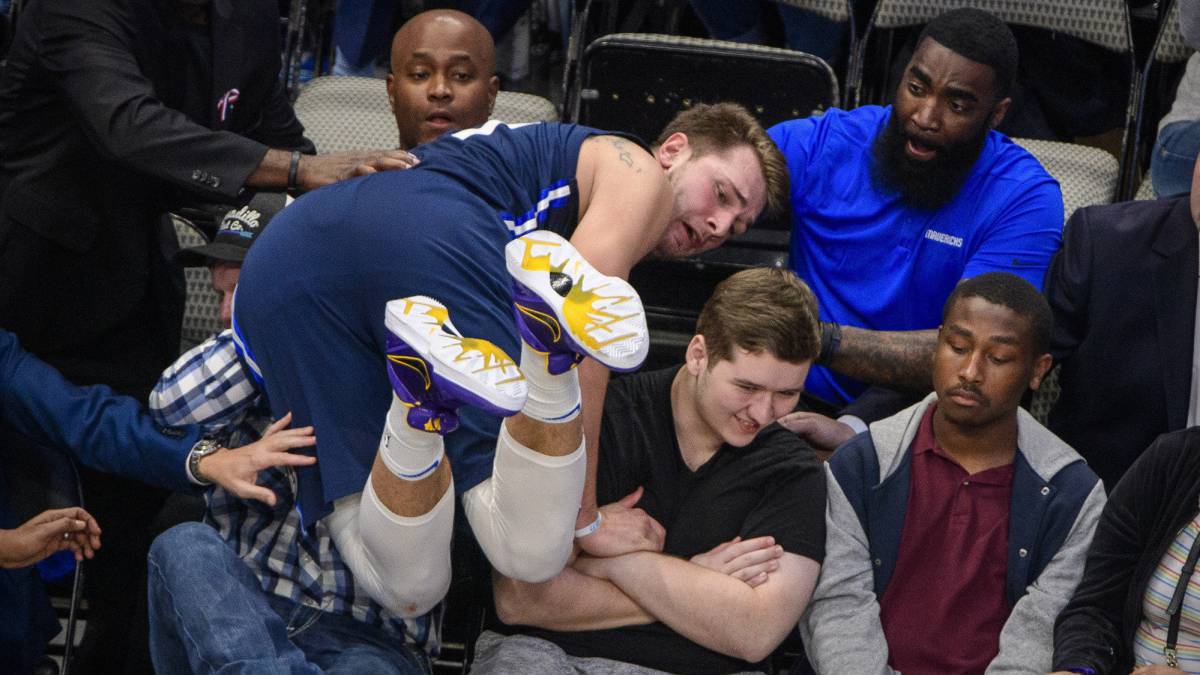 Luka Doncic is the hottest NBA mega star that is hotter right now. There is little doubt about it. His averages are spectacular, his influence in the franchise in which he plays is total and his media exposure is increased every second exponentially. Perhaps that is why it is surprising that Slovenian is now a free agent as far as shoe contracts are concerned.
His relationship with Nike has ended this year, just as he is beginning to amaze the world globally. He has not signed with any brand yet, quite the opposite: in recent games he has been wearing Under Armor (Curry 7 against Spurs) and Jordan (Chris Paul XII, Diamond Low or Air Jordan 34). He is claiming a new contract and does it in the best way, dropping the points and winning the matches.
The brands are beginning to realize what a phenomenon like Doncic means: he is 20 years old, he is a white European who speaks Spanish and English, the American fan is getting used to loving a style of play like his and his personality about The clue is pure money. Contracts of many figures will begin to fall, but the '77' of the Mavericks wants to start stomping.
The contracts with which you can compare
Luka Doncic seeks to be the European who wins the most thanks to the shoes you saw. That position was achieved in 2016, which is now his partner in Dallas, Kristaps Porzingis, signing a renewal with Adidas to go from 3 totals to 6 million annually. Now the Latvian power forward does not have that crown, Giannis Antetokounmpo has stayed with a much more substantial change: he has gone from charging $ 20,000 a year and receiving 9 million.
On another scale people like James Harden stand. 'The Beard', with whom Doncic is so much compared to his way of playing, signed in 2015 a 200 million super contract with a duration of 13 years.
LeBron James, perhaps the mirror in which Doncic wants to look, already broke the corduroy in 2003 by joining Nike. Now, after the MVPs and the Rings, he has gone from talking about millions to doing it in billions. Zion Williamson, another who aspires to it, has not debuted in the NBA yet and is already taking home part of the 75 million he has made on paper with Nike.
RELATED | Doncic's five teachings to the NBA
In addition to the aforementioned brands, the Chinese Li-Ning or Anta and the newly emerging Puma (from the hand of rapper Jay-Z) may be in a fight that is about to explode and with which Doncic already rubs his hands.
It does not agree with what he charges for playing
The irony is that, if a contract like the ones mentioned above is given, he could charge more for that commercial agreement than for what he already perceives as an NBA player. It charges 7.6 million this season and 8.1 in the next. Only if the Mavs exercise the option of the fourth year would it go to the two figures: 10.1. Then the agreement that comes to the rookie escalation would come, in which it is now
Photos from as.com