The man who comes to save McLaren explains his plan in AS: Sainz, Mercedes, Alonso ...
Andreas Seidl: "My goal is for Sainz to fight for medium-term victories and titles with us." On its continuity: "2021? Absolutely, it will be in our future."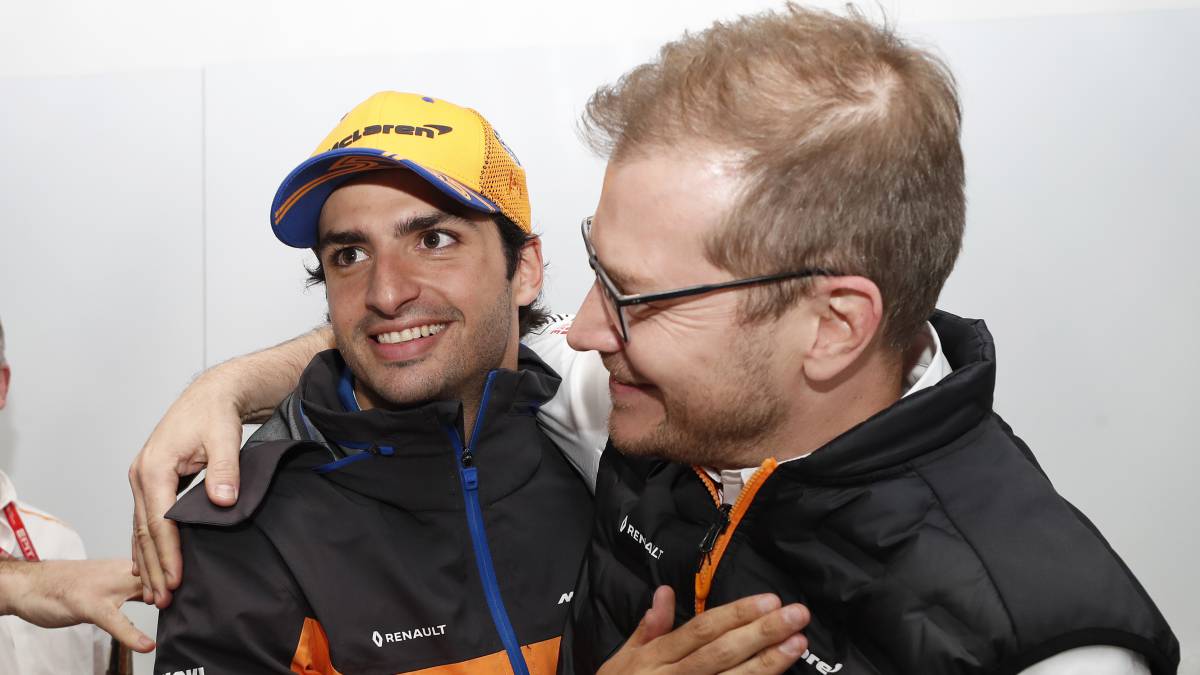 Andrea Seidl, a nice guy in the paddock. He always greets and always gives explanations, after a pit stop his team releases the car with a loose tire, after Sainz achieves the first podium for the team in more than six years. He has come to save McLaren and enjoys the challenge by implementing a leadership style he develops in this interview with AS, half an hour of conversation in the hospitality. Zak Brown, CEO of the group, gave him full powers and that seems an indispensable condition for this 43-year-old German engineer to leave the Porsche leadership, with whom he won everything in Le Mans, to refloat a historical Formula 1.
-I remember that Tom Stallard, Sainz's engineer, said in an interview that when he knew what pilots he would have in 2019 he was afraid about who was going to develop the McLaren. Did it happen to you?
-Honestly, no. It was before I arrived, but when I knew that our pilots were Carlos and Lando I wasn't very worried. Carlos has already seen different teams and cars and that means he has a very good experience working with various organizations and engineers. It is also not just a pilot effort, but a combination of the team. It is important that the driver provide precise feedback on what a car does and what it needs, but we also need solid engineers, good tools or good simulator pilots.
-What does a pilot need to be useful in a team?
-The most important thing is that it has speed because it is something that we cannot fix if it is not there (laughs). But for me it is also very, very important how you work with engineers, make it clear with your comments and needs. If I think of Carlos it is impressive when he speaks at meetings, he seems like an engineer. It is very accurate, and that is good. It is also important that the pilot understands that this is a team sport and that they are part of the team, and it is even more important when things do not go as they should. The pilots are the heroes of this sport and all team members look at them since they enter the garage. And it is important that after a bad day they enter with positivism and give confidence to their people. I really like that about Carlos, he understands the importance of the human aspect in this sport. Both he and Lando understand that our greatest challenge now is not the battle between them, but that we must progress. If they get along and work together we can work on our goal for these months and years, which is to be a better team and produce a faster car. It is the only way for them to grow with us and show that they can become 'top' pilots.
-Do you understand that Carlos did not stay in Red Bull or Renault last year?
-It is difficult to judge from the outside what happens in a team and what decisions are made according to what dynamics. The important thing for us is that he is part of our team, that he is with us and I am looking forward to many more years with him. I hope we can give him the car and the team with which he can fight for the top positions in Formula 1.
-How is your ideal driver lineup? Because Binotto wants a leader and a squire, even if he has just the opposite ...
-Make them fast once again. And I prefer two fast drivers, although that can sometimes make it more difficult, because it is the best thing to work for. If they get along but are not fast, we cannot solve the lack of speed. I want two top drivers at the same level, it is the best way to add as many points as possible. It is a challenge to manage it when the two have the same goal, but I am looking forward to assuming it once the time comes.
-Are Carlos and Lando your priority for 2021 onwards? (The two have a contract until the end of the 2020 season)
-Absolutely. These two pilots will be there, in the future of this team.
-But it has already been seen that another pilot takes a shot and is signed arguing that he will take a step forward because he comes with poles and victories ...
-Because of how Carlos and Lando are performing this season, we have no reason to look elsewhere. And it is important that we improve as a team and give them a better car, they have to grow with us because the two are still young. The goal is to grow with us and mature as pilots of the highest level.
-While they convince you, do you think you will also have to convince them at some point, if they get offers?
-My goal, and that of the whole team, is that with our development and the car we give them in the future, their only goal remains to be with us to fight for victories and titles in the medium term.
-From your experience, how is a winning car made?
-It is important to understand that success in motor racing is a team effort. Together with James Key (technical director), with my production manager Pierce, with Andrea Stella, with Paul James as 'team manager', we must ensure that each team member, each talent, is in the right place. It is important that everyone feels respect and recognition for their role and that when they arrive at the factory they are aware of how important their work is and their contribution to the total. It is a culture that you must develop in the team. I like a traditional structure and easy to understand with clear report lines. And I like transparency, as well as encouraging my people to take risks. I want to make sure that everyone wants to give an extra every day, that we ask ourselves every day to see what we can do better. I do not accept a culture of guilt. That has been my focus in the past and I try to do it here with my leadership style to make sure that we are creating the foundations to become a 'top'.
team
-It seems that the least important is the car ...
-That must be the end result of a well-structured organization and talent. Just as it is important to have the appropriate infrastructure, such as the wind tunnel, to have the latest tools. And have some budgets in line, such as those from 2021 onwards. And it is important to have the right engine inside the car, so we decided to go with Mercedes. You have to put all the pieces together and start this journey to continue day by day, week by week. With the right tools and the necessary methodologies, the natural result is to develop a better car.
-With the engine, the wind tunnel, the changes in the 'staff' or the young drivers, are the biggest changes already made?
-A very long road remains, but many of the pieces to start with good foundations are already in place or have been activated, such as the wind tunnel, for which we will need two years of implementation, or the Mercedes engine, that will arrive in 2021. And there are other issues that we work on, such as reliability or pit stops, where we don't do it as we should. There is a plan to return.
-Next year they have to approach Red Bull with a good car, but also manufacture the one of 2021. Will 2020 be the most demanding season?
-I would not say that it will be the toughest, all teams must make these balances. The goal next year is to take the next step with the car and as a team. I would be satisfied if we can settle somewhere between where we are now and where the first three are, in time per lap. But you have to be realistic, there is no magic here. If you have a strong car from the beginning of the season, you can make the right decision that is to direct all efforts towards the 2021 car. That will be the challenge next year, but we have it every year. The sooner you start, the better, but doing a good 2020.
-It seems that McLaren is happier with the new rules for 2021 than Ferrari, Mercedes or Red Bull. Why?
- (laughs). It is no secret that we supported that direction from day one and also my team has made many contributions to the FIA and F1 while these rules were being developed. The most important thing for us was the budget ceiling, it is the only way to have a balanced pitch if we can operate on that ceiling. It is an opportunity to be competitive and sustainable in the medium and long term. But also, in the technical regulation we also believe that it is the right way. It will improve the show and provide tighter and more sustainable careers. We are very happy, although we have to be realistic and the three 'top' teams will do a better job by 2021 because they have better organizations. It will take time, but it is important to have a defined plan and a balance between ambitious goals, which we have, and patience. There are things that take time before the results arrive.
-McLaren will be next year at the full-time IndyCar and in the future it is feasible to return to Le Mans. Can it be a distraction for F1 goals?
-No, it is important to understand how we manage these projects. They are independent, each one focuses on its program in the operational and technical aspect. And also in the commercial section they open many opportunities from which we all benefit. I am very happy with all the activities that Zak is launching.
-The last one, about Fernando Alonso. Very simple, how do they get along and since when do they know each other?
-He has been a member of the team for a long time and there are many people who have a very close relationship with him. Especially Zak. I know him from the past, from when we had conversations to ride with Porsche in the 24 Hours of Le Mans, I think that was in 2014 for 2015. I have a lot of respect for what he has done in the past and what he continues to do, I like to see him competing in such different championships and that shows how good a driver he is.
-Good luck.
-Thank you very much.
Photos from as.com