The Lakers give LeBron their best start ... by miracle
Agonizing triumph of the Angels, who trace 15 points and are already 14-2. The best balance in the NBA and the second best start in the franchise.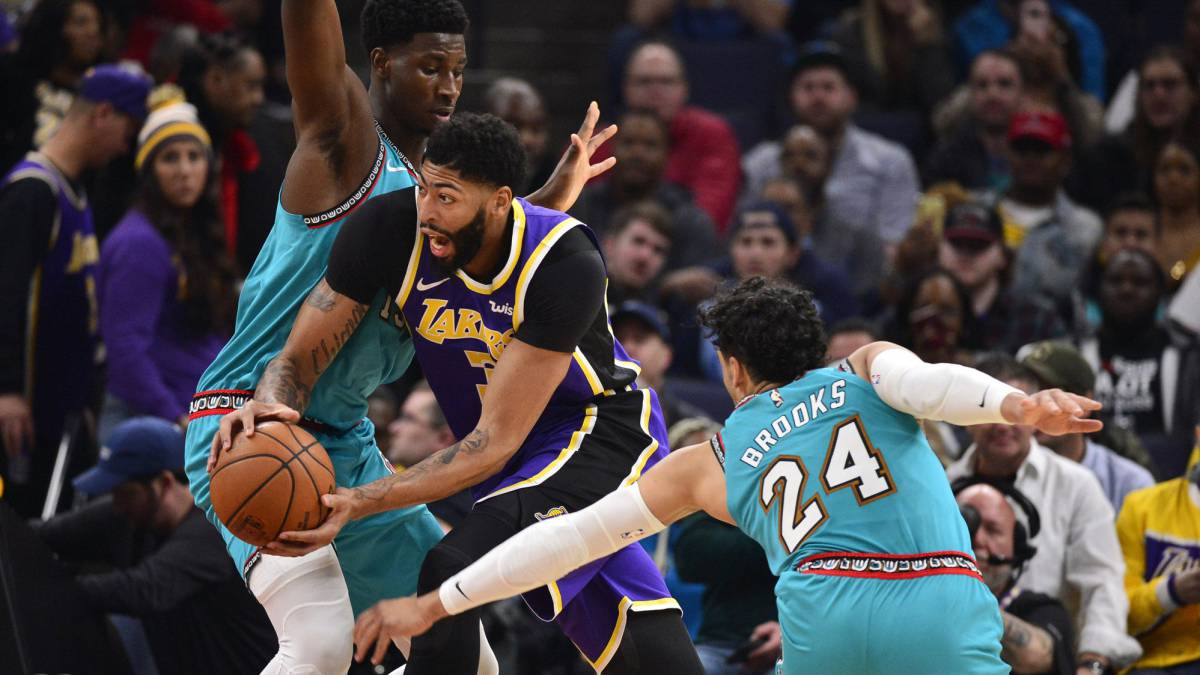 The Lakers won again, second game in back to back away from home and one of those nights with traces of calendar loss, of which he does not play. Tiredness, road and, this time, as an extra fun and concert outside the FedExForum, which showed the Los Angeles Hotel, as part of the animation of a college basketball day followed by an almost miraculous 108-109 for the Lakers before some Grizzlies with t-shirts and retro track that paid tribute to their years in Vancouver now that the franchise turns a quarter of a century.
There are two ways of looking at it: it is logical to think that defeats will come to the Angels soon if they play just as badly as in Memphis. On Monday they visit some Spurs in need of joys and on Wednesday, on the eve of Thanksgiving, they finish mini home tour with the first game of Anthony Davis and New Orleans. Of their last five victories, four have come for a +11 total. By the hair and with a friendly calendar in which, yes, they are working like a hammer: 10-0 against teams with a balance below 50%. The other way to see it, of course, is that this team has learned to win very soon and does so by inertia, even in dire nights and in the classic back-to-back home that are so much accused in the balance of victories. Against some young and motivated Grizzlies, who have Andre Iguodala in the closet for which they sigh, the Lakers accumulated reasons to lose. They played a terrible first half in which they were about to leave the game (40-25, 53-39 ...). His outside defense was a cartoon with many minutes of Rondo and without Avery Bradley (whose absence is being noticed a lot) and an Alex Caruso who also did not play this time. They took less rebounds, distributed nine assists less, scored less in the paint and in transition, took less advantage of the rival's losses ... and even then won. And they did it despite fitting an 11-0 in the last quarter, when it seemed they had tamed the crash: from 87-94 to 98-94. With 105-100 and less than three minutes left, Ja Morant, the number 2 of the last draft, missed a triple that could crown his great game (26 points, 6 assists, 5 steals). And the Lakers linked a 0-9 (105-109) with a basket of LeBron and five points of Anthony Davis (triple and decisive attack rebound after LeBron himself failed). The Grizzlies could no longer do anything, although a silly loss of Kuzma and another failure of LeBron left them some final choice. Nothing.
Youth defeat for Grizzlies looking good but, of course, a long way to go. Morant and Jaren Jackson Jr (20 points, 7 rebounds, 4 triples), are an excellent founding couple, and Brandon Clarke (8 points, 11 rebounds) and Dillon Brooks (12 points), good complements. A project in diapers but with a lot of flight that could not be a joy on Saturday night before some Lakers under minimum but with an unquestionable winning spirit. Davis appeared at the end (22 points, 3/6 in triples), with decisive points and another extraordinary defensive performance (3 steals, 5 blocks). LeBron played almost 40 minutes, did not go to the free throw line and failed a lot (2/9 in triples) to finish in 30 + 6 + 4. Caldwell-Pope added 12 points and it was important to re-engage a team that was falling apart, and Dwight Howard was again noticed with dirty work of obvious result in the decisive minutes. And so, with a defense that missed Bradley and Caruso and a hangover attack, they also won a Lakers who are 14-2, are the best team in the NBA and have matched the second best start in their history after 16 games, only behind the 13-1 of the 2001-02 season. And they have given LeBron their best start, ahead of 13-3 of the Cavaliers who defend the ring in 2016-17. They link seven victories for the second time already in the season and look to the future with much optimism. Although, with a Sunday of rest that they are better to take advantage of, they will have to play better in San Antonio tomorrow.
Photos from as.com