The 1x1 of Pucela against Sevilla: That little step ahead of Masip ...
Banega's repeated penalty hit the blanquivioletas, who tried to react, but without creating danger in a locked match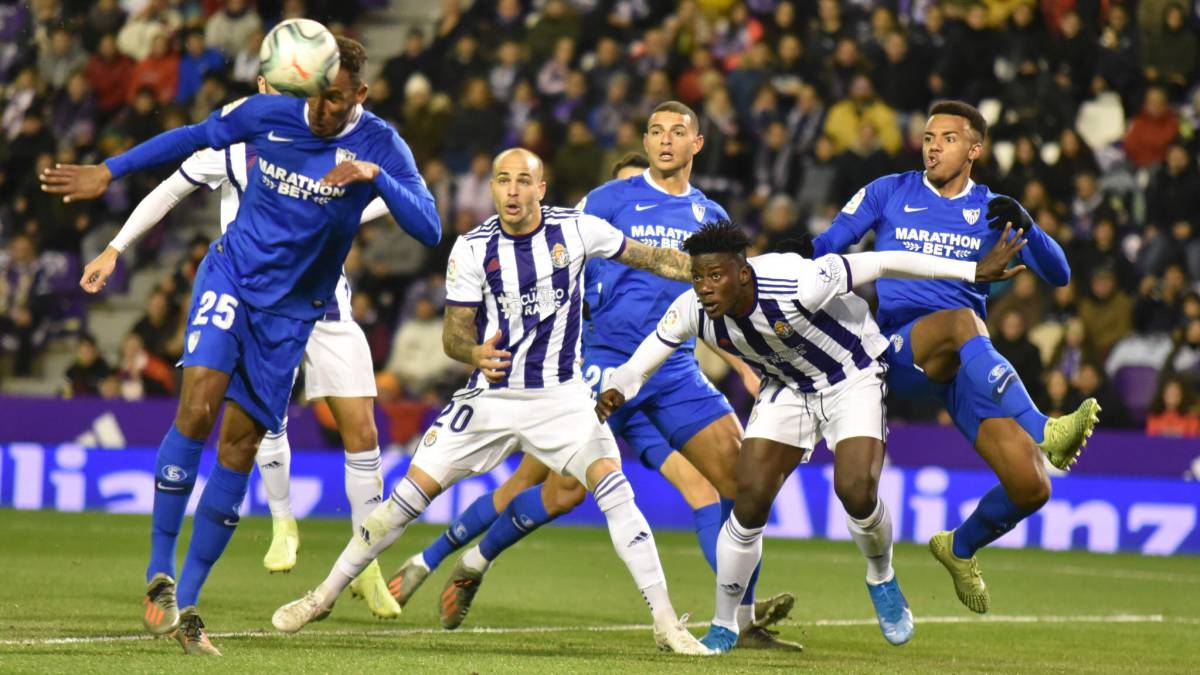 Real Valladolid lost for the first time at home the result of a penalty committed by Moyano that Masip stopped in the first instance, although he had to repeat it and, then yes, Banega scored. The blanquivioletas put will, but were unable to generate danger even at the end of the crash, when Sergio accumulated attack men. Far from making it easy, Sevilla, with many stops at the end, prevented it from being played, working the game with fouls and wasted time.
Masip. He stopped the penalty in the first instance, but I can't do it in the second. Apart from that play, he was not too demanding. You cannot be blamed too much for it. OK
Moyano. He committed the maximum penalty at ten minutes. Taking advantage of the fact that Sevilla took almost the entire game on the other side, they were encouraged to appear on the rival field. When they attacked for his, he had a bad time with Nolito. MAL
Kiko Olivas. Very fast in anticipation within the area, it was insurance in the public centers. He made no mistakes and, together with Salisu, kept De Jong at bay. OK
Salisu. Sometimes he risked too much at the start. He gained weight in this facet when the team had more possession, trying to direct deep balls to the left side. He ended up replaced when Sergio wanted to burn the ships. OK
Ncho. They were stiff with Ocampos from the first half, to the point that it ended up causing their expulsion already in the aggregate time. He climbed a lot despite the players in front of him. OK
Pablo Hervías. He made a spectacular pipe to Jordan. He served several good centers. He forced Vaclik to make a difficult fist clearance. Much will without too much company. OK
Fede San Emeterio. Providencial cut a technical gesture of Navas that could have been 0-2. He is a titan, and not even the numerical superiority of Sevilla in the center of the field left him in a bad place. OK
Míchel. Fernando's shadow became elongated, but did not prevent him from being the player with the most passes added in the match. Of course, he lacked clarity in a very populated center with a lot of quality ahead. REGULAR
Oscar
Very faulty in the initial section, although it went from less to more. Always better when it appears inside. He should have helped Nacho more. He finished in advanced positions, although the danger resisted him. REGULAR
Sandro. He shot the crossbar on the best occasion of the first half. All my heart, but it didn't shine. He ended up deprecated and replaced. REGULAR
Sergi Guardiola. An islet with little participation and no incidence in the area. He slipped in a race to the area that could culminate in one hand at a time. In another action he had to give it to Plano. It did not. MAL
Toni Villa. He did not come into play as much as he would like, since Sevilla hid and had the ball in the final leg. When he participated, he could not direct his actions too far forward: almost all his touches went backwards. REGULAR
Fruit. Between the possession and the stoppages, Sevilla prevented any rhythm in the end, and that weighed. He ended up playing as a lane, but could hardly do anything; The movement was not noticed. NOT QUALIFIED
Enes Unal. It just came into play. NOT QUALIFIED
Photos from as.com