'The Sun' talks about a barter between Gareth Bale and Pogba
The British tabloid explains that the English entity was already interested last summer, and that the cause for which its exit to China was stopped.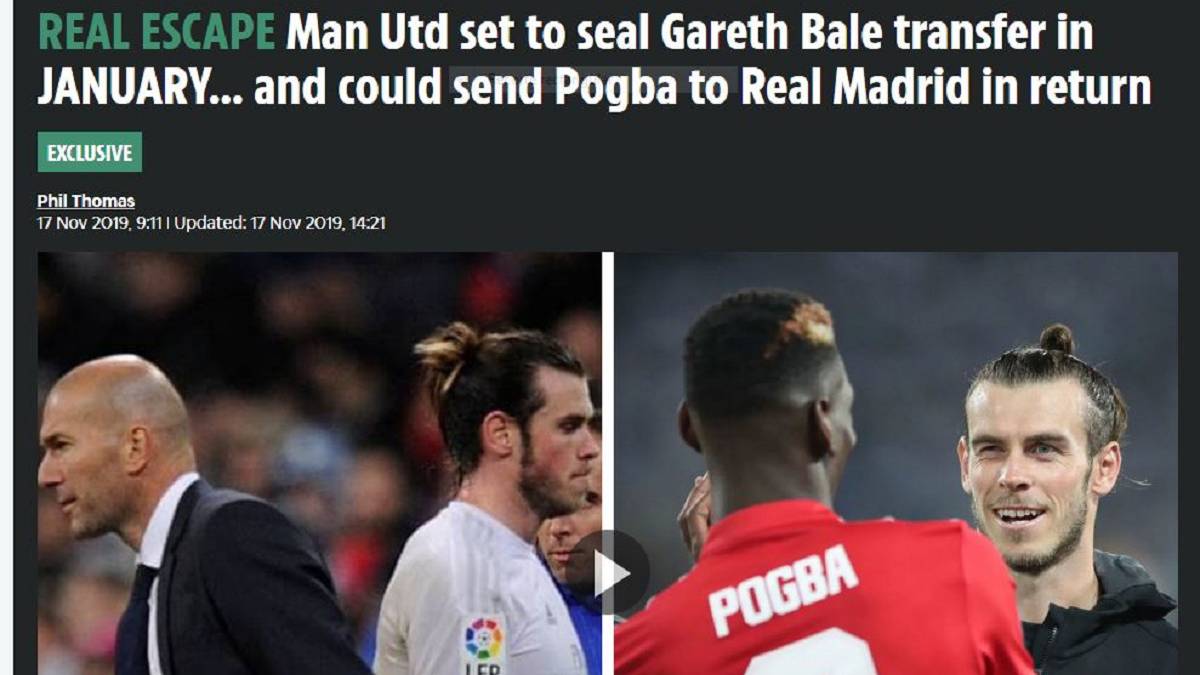 The Sun, the most widely read tabloid in the United Kingdom, publishes in its Sunday edition that United is planning to bid for Gareth Bale in this winter market, and that it would be willing to offer a barter with Pogba, which was targeted Real Madrid, at the express request of Zidane, this summer. "If Bale does not reach United in this winter market," says the newspaper, "Madrid is convinced that it will next summer." And it goes further: "Bale was about to be transferred to the Chinese Super League last summer, but finally the operation was not done, among other things, because Madrid learned about United's interest."
In the version that transpired here in Spain, Bale was not finally transferred to the Chinese Jiangsu Suning because, hours before the signing of the operation, it came to Real Madrid that there was another Chinese team willing to pay for the transfer. But, finally, this circumstance did not occur.
Sources very close to the player have explained to AS that Bale is not close to going out in this winter market. "No operation is being moved from your representative agency." And although they recognize that there has been no firm offer for Bale that has come from another market other than the Chinese, they do not rule out as the best option for the player to "return to the Premier", where he still has a very good sign. "Bale is still a top-5 player in the world," concludes this source in his conversation with AS.
Bale's situation with Madrid has become clouded again after it improved at the beginning of the season. Bale came to play seven games at the start of the exercise, scored two goals and gave two assists. But then the injury came in Wales-Croatia. Since then, and almost a month has passed, he has not returned to play with Real Madrid, but he has done so with Wales (on Saturday he played almost an hour against Azerbaijan). "I feel more excitement when playing with Wales than with Madrid," he said, causing surprise in the white entity.
With respect to Real Madrid, today there is also no way out of Welsh in the winter market. In the offices it has been concluded that Zidane needs all the troops to try to get something positive out of this season that has started so against the tide. However, if a good offer came for the player everything could change.
Photos from as.com