"When so many players leave you feel somewhat uncomfortable"
Oblak, Slovenian goalkeeper of Atlético, to AS, before the big game next Sunday: "We have what it takes to beat Barcelona."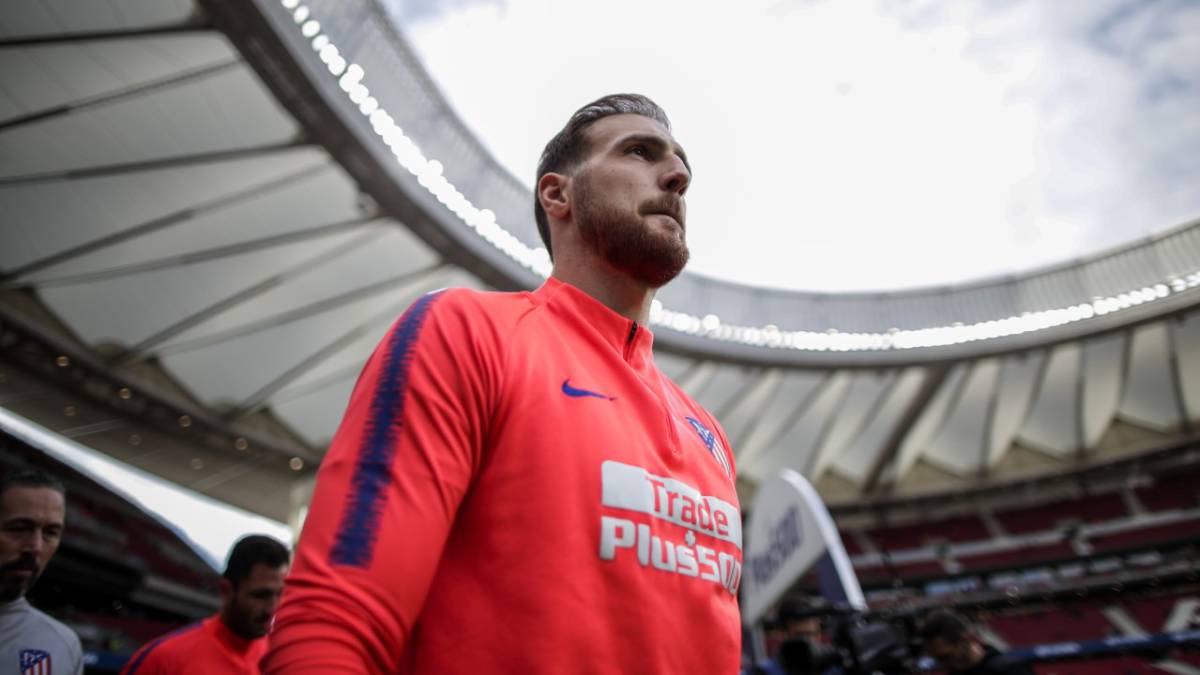 Puma, a legendary brand in the world of football, has noticed you.
It is a mythical brand and, in recent years it has entered again strong in football, it is seen with the products they are taking out. I am very happy to belong to the family of Puma
How the new Puma Future Flash?
Yes, I liked the previous boot a lot, it was very comfortable, but with this they have even managed to improve. It's awesome.
There is little time left to know who will win the first edition of the Yashin award for best goalkeeper. Does it motivate you to get it?
The first thing they motivate is collective titles. That is what I prefer. After that, if they arrive individually, perfect. It motivates to get a prize as prestigious as that in its first edition, but the important thing is to win titles. That's what I want.
Until now he has not been chosen for any prize, although for fans he is always among the best, if not the best. Are you surprised that after winning four Zamoras, you have not yet been given any more individual prizes?
At some times I was surprised to be so far from those chosen, but as I said individual awards are not my priority. Collective titles are and, in the end, the more titles I win, the closer I can be to those awards. But it's not like my head is spinning around.
Surprised to define as basic some of the stops he makes, such as those of Leverkusen or Madrid. Don't you surprise yourself?
I give much more importance to things that at some point in the games I don't do well than to things that come out as they should. It is what I work on. That's why when I make stops I say they are basic, because it is what I train and work for. When you do something right, you are not surprised or noticed, when they do not work out, you do want to improve it and look more.
Then he will have noticed Dybala's goal. It seems that there are many people in his field of vision in that strike that ends within
Yes, but this is football. Sometimes the goalkeepers have a very good vision of what happens, the pitcher, the ball ... and sometimes not so much. But football is that, that's why it's so interesting.
You grew up behind the goal of your father, who was also a goalkeeper, imitating his movements. Does your father still give you advice after the games?
Never, never has my head filled with advice. He preferred me to solve. My first memories are in a soccer field, watching my father stop. He was my idol, but no, he never gives me advice. Even as a child, he left me to find only the solution to the problems. If I tried, but did not find the solution, then I did give some advice. We don't talk much about what I do in the field. He doesn't want to get into my job, but I know he enjoys it.
Speaking to other goalkeepers, what most attracts attention is their ability to respond. How did he get it?
I think it's a mix between something you're born with and work. Actually, you can be born with a gift, but if you don't work it or improve it you will lose it. Since I was little, I convinced myself that hard work is the only thing that leads you to improve. I am always seeing how I can improve and that will never change. I love training.
His sister Teja, who is a professional basketball player, says that when they were little they spent time together playing football and basketball. Has basketball been able to help you control how air play does it?
Yes, it's true. The ball was almost the most important thing in our house. We spent our days surrounded by balls. We have tried every possible sport and sure that each of these disciplines has helped us to have better coordination of movements.
You said last summer that you would stay at Atlético if the club's ambition is the same as yours. His ambition is to win titles. Do you see the team trained to fight for titles this year? Is the ambition you notice the same as you have?
My ambition and that of the club is to win titles. It's the same. In Liga we are well placed and in Champions we have in our hand to be in the next phase. The team this year is different from last year. Many important players have left, who have made history, and new players have come with great enthusiasm. I knew it could be a complicated year due to so much change, but for now we are close to everything and I am sure that during the season we will improve.
Last summer Griezmann decided to leave, but you, who also had offers, stayed. What have you seen in the Atlético project that Griezmann did not see?
In the end it seemed that Atlético was falling, that all the players were leaving and that there was no project for next season. After a moment I began to wonder what will happen, because a few months before, when I spoke with the managers and the coach the plan was maintained, continue fighting for the whole next season. But in the end, when you see so many players leaving and you don't know who is coming, you feel a bit awkward. But I talked to the leaders again and they told me that they will do everything so that the project is not altered and that means fighting for everything. They reassured me.
Is it going to be strange to have Griezmann as a rival?
Maybe a little. It's been five years by my side… He decided to leave and now it's my turn to stop everything he throws at me.
Speaking of signings, you know Saponjic very well. He is the only player who has not yet debuted. Are you ready to help Atlético? Do you think you can do it, more now that the team has the loss of Diego Costa?
Of course it's ready. He has the ability to play at Atlético. He is working very well day by day, waiting for his opportunity. It is not easy for a young forward to have a chance between two like Diego Costa and Morata. Now, unfortunately, we have Diego's leave and, for that reason, Ivan will surely get the opportunity and so he will be able to demonstrate the quality he has to play in a club like Atlético. I have seen him in training and I am sure that when he touches him, he will do well and can help a lot.
Its clause is now 120 million after a long negotiation. Some see his clause very low, although he never paid so much for a goalkeeper. What will your future depend on?
The clauses in a contract, I said, don't mean much. If the club loves you and you want to continue, you stay. If the club does not love you and you want to leave, you leave. I believe that my future does not depend solely on me. For my part, it will depend that the club's ambition and mine be the same. But in the end the decision of my future is not only in my hands but also in the hands of the club. While both parties are happy, we will continue like this. It is very difficult to talk about a future, but the number of a clause does not matter. If I am happy with the club and they, with me, there is nothing for our paths to separate.
The pending subject of Atlético de Simeone is to beat Barcelona in LaLiga. After so much change in the Atlético squad, do you think they already have what it takes to beat Barcelona?
Both Simeone and the players want to win every game we play. So against Barcelona it will not be different. Then, if we are going to get what we want or not, it is impossible to say. But I have no doubt, we have equipment and what is necessary to win anyone, including Barcelona. Although we don't just compete against Barcelona. There are many teams in the fight, but I have a lot of confidence in my teammates.
Messi is always a determining factor. When it's time to face him, what do you feel as a goalkeeper?
He is one of the best players in history and Barcelona is very lucky to have him. I love playing against the best, so motiva.
In the same week he will face Cristiano first and then Messi. Do you feel any difference between them when you have them in front of you? Does he put his attention on different things if Messi or Cristiano is in front of him?
The two are great players who have scored and continue to mark a long time in football. They are very different, but they can decide a match at any time. The only certain thing is that the two seek the same thing, which is the goal and I try not to get it at all costs.
They will have to close the qualification for the Champions League in the last match of the group. Winning a Champions obsesses you?
Winning the Champions League is a very nice dream that I hope to realize one day. I will give my all to make that dream come true. I don't know when it will be, I can't say it, but I'm sure there will be a day when the Champions League will stop being a dream. First, we are going to leave everything on the field to get the pass to the round of 16 against Lokomotiv.
Photos from as.com