Rubi: "I'm so focused on the derby that I missed voting"
The coach of Betis, before playing against Sevilla: "It is a rival that competes well, which costs to get rid of."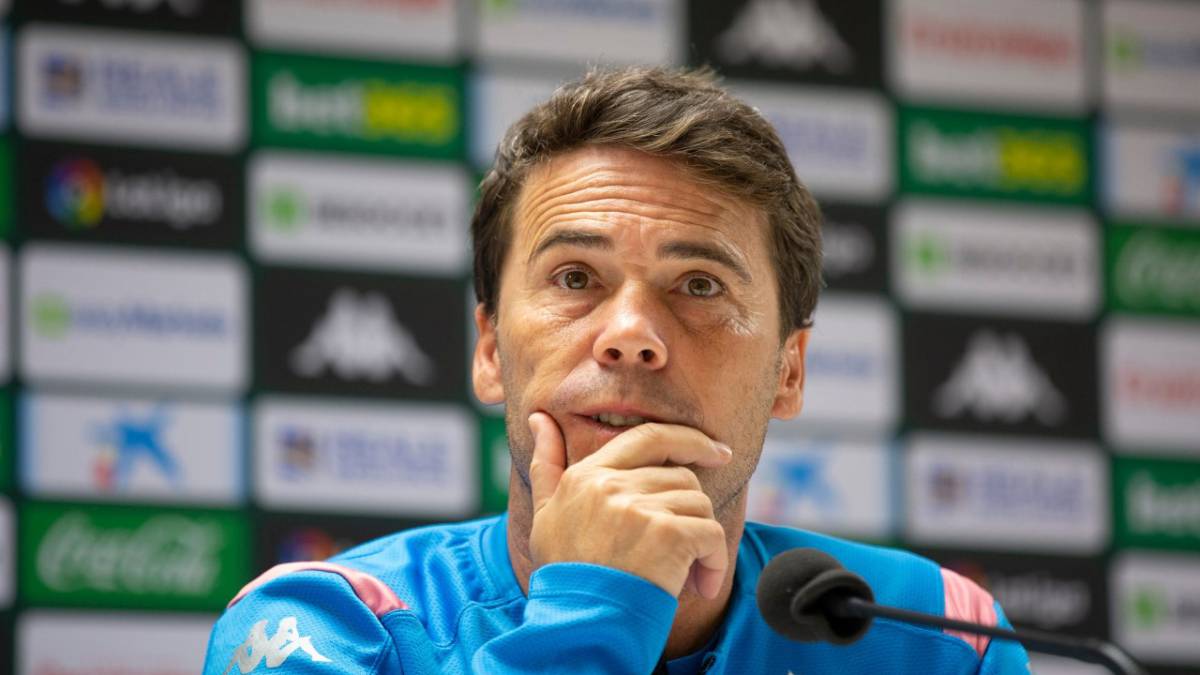 Betis coach Joan Francesc Ferrer Rubi appeared before the media to assess the match that Sunday measures for Sevilla in the derby of the Spanish capital. The Catalan sees the opponent as "a team that competes well, it is difficult to get rid of it. We are going to have to be very focused to take this game forward" .
Favoritism. "It's going to be a predictably very close game. In LaLiga, unless you play with the two above, putting a favorite is difficult. Anyone can beat anyone."
De Jong or Chicharito in front. "They are two good auctioneers, one more of aerial profile and another one 'ratilla' that we would say. But the rival is not going to change the way we play, we will try to be ourselves" .
Large door or infirmary. "I understand what it means for Betis to win this match. Even at the traffic lights, I was stopped by a fan to tell me that we had to win. We will go one thousand per thousand and try to handle that so as not to rush to make correct decisions. Sometimes the acceleration can take you to stop braking. This match marks a before and after in the campaign. I love the passion with which this match is lived, life must be lived like this and you have to enjoy it. I like this situation very much, I hope it comes out good and it will work out well. "
Sensations. "It's a special day to the fullest. We really want to live it, wishing it would come out perfect, because we can remember it all my life, especially me as a coach. The team's mood is very different from that of 10 days ago. We arrived strong at level of confidence, convinced and knowing that it is an opportunity to give back to the Betis this little suffering of the beginning of the League. The players leave their lives in training every day and it comes to us in a very good moment regarding how the campaign went ".
Open door training. "It is a tradition that has been explained to me, we have changed some exercise so that people give us that final impulse and are delighted to open the session at the end so that people give us courage."
Central three. "I do not have a fixed system. I try to work different variants within a game idea. If I am not capable of that, I would lack knowledge. I already explained why we played at the Bernabéu like this and after the derby I will explain why we made the decision of game system we use ".
Domain. "We always want to be protagonists with the ball, but being vertical, going to look for the rival goal. Sometimes it does not leave you in front of you. Still we had phases in which we guarded Real Madrid. The idea is to steal fast, press and the quality of the rival makes you sometimes it costs a little more. Also the state of form, that if it improves we will see a better Betis ".
Template support. "As the business is set up that important voices come out supporting it is appreciated, because people may have doubts about how things work internally. I have not hidden that we have had difficulties but now it goes like silk. I had no doubt, now it is endorsed at the image level, but inside we are together. The only fight is that everyone wants to play everything, but this is going to be like this today and in a hundred years. "
Joaquin. "The first question of the coaching staff was to the people who have lived many derbies things to help us. Joaquin took the weight and gave important advice for everyone. You should see that claw, that we fight every inch of field. The coach in these matches it is not so necessary. It is more difficult to motivate a player in other stadiums and against teams that do not have this rivalry. The players are plugged in. Joaquin being at his level is a differential player ".
Words about Captain Vinicius. "We have not spoken but he has done very well. We are all wrong in a comment, Joaquin is the most generous in the world, he has apologized and we will not give that more thought."
Vote in the elections. "I have been so focused on the game that I have missed the day of going to vote. Don't follow my example, because you have to vote, but mine will not come."
Photos from as.com