Rubi: "I do not feel that I have left the 'Slaughterhouse" behind
The coach of Betis, before playing against Mallorca: "In Espanyol we were in 15th place on day 30. There is time for everything."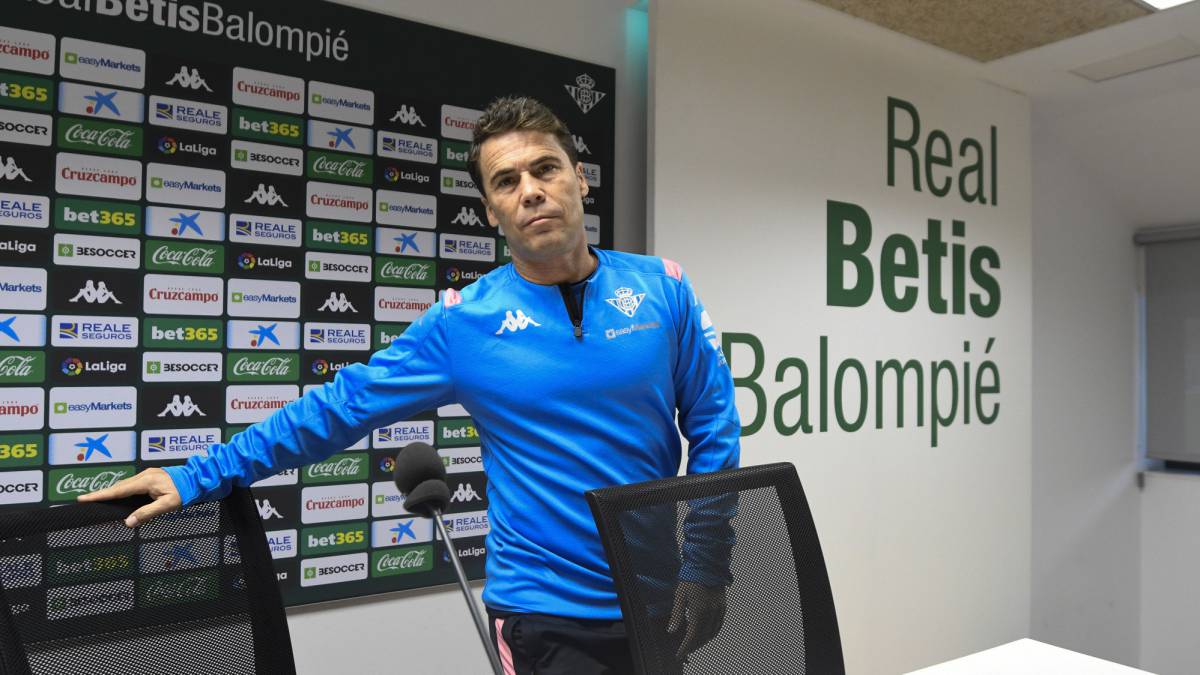 Betis coach Joan Francesc Ferrer, Rubi, valued the previous meeting that his team plays in Mallorca on Saturday. Among other things, he praised Vicente Moreno: "The technical staff of Mallorca has already shown a lot, because it is not only the classification but the means at its disposal. What it is doing is to praise the most. It is a very worked team, with very involved players. It is hard for them to be away from home but at home they are very strong. I hope we do not fall into the trap of thinking that we play against an affordable rival ".
Motivation. "The atmosphere that is breathed is more cheerful, the confidence after the victory against Valencia has reinforced everything. But it is a point and followed, it is better to think about that game and yes on the next one."
Different week. "On a day-to-day level, we have been feeling much better for a long time because I am very clear that the team is 'full' for accomplishing what is being done. Although a victory against an opponent like the one from the other day encourages us all much more The people of the club have always been very positive with me ".
Go to the slaughterhouse. "I do not feel that I have left it behind yet. If we return to chain bad results we will go again. My determination will be so that it does not happen and for that we need to win in Mallorca. Ask for the trip to Bilbao from Haro and Catalan? No, I I have tried to avoid to the maximum. Nothing has been commented ".
Europe. "The seasons are very long. It is true that it is going badly but in Espanyol on the 30th day we were going 15th, how I will not think that we are on time for everything. The spirit of an athlete has to be that. If we win in Mallorca will be close to those places where Betis has to be ".
Nursing. "Apart from Tello, Carvalho and Juanmi there is no one discarded. Bartra has trained normally. If there is nothing we do not expect it is high total. Edgar is great news to have him, he adds to the ownership and we are happy with the work he did last saturday ".
Climbed on the board. "To start an escalation it is essential to win tomorrow. We have the opportunity to chain two consecutive victories and we will go out with that mentality one hundred percent."
Central three. "That we have done a few times but several yes we have played with a player ahead of the defense that is sometimes placed there. If I see that it works that I will not be so foolish to change it" .
Cup format. "On the one hand it is clear that it has been done with the intention that the most modest clubs can have days like the one that Antoniano and Bergantiños are going to live. to adjust things.But between us and the Antoniano there is a total agreement to make it a historic day.Cup? It is fundamental for me, because it is one more title and Betis must attack all the competitions he plays, for shield and history . You never know when a title may come. "
Joaquín y Bartra tennis match. "These are beautiful initiatives because we combine two sports in our country with top-level players. Who will win? Bartra will get angry but I get wet for Joaquin."
Luis Enrique-Robert Moreno. "They are two great technicians of this country. I am sad because it seems that the relationship between them has not ended well. I respect them to the fullest, they are two good people and two good professionals."
Photos from as.com