Renault breaks another engine and Vettel parks on the walls
Bottas was the fastest in an irrelevant training with two red flags. Sainz, 17th without fast laps and with a lot of work (23 laps).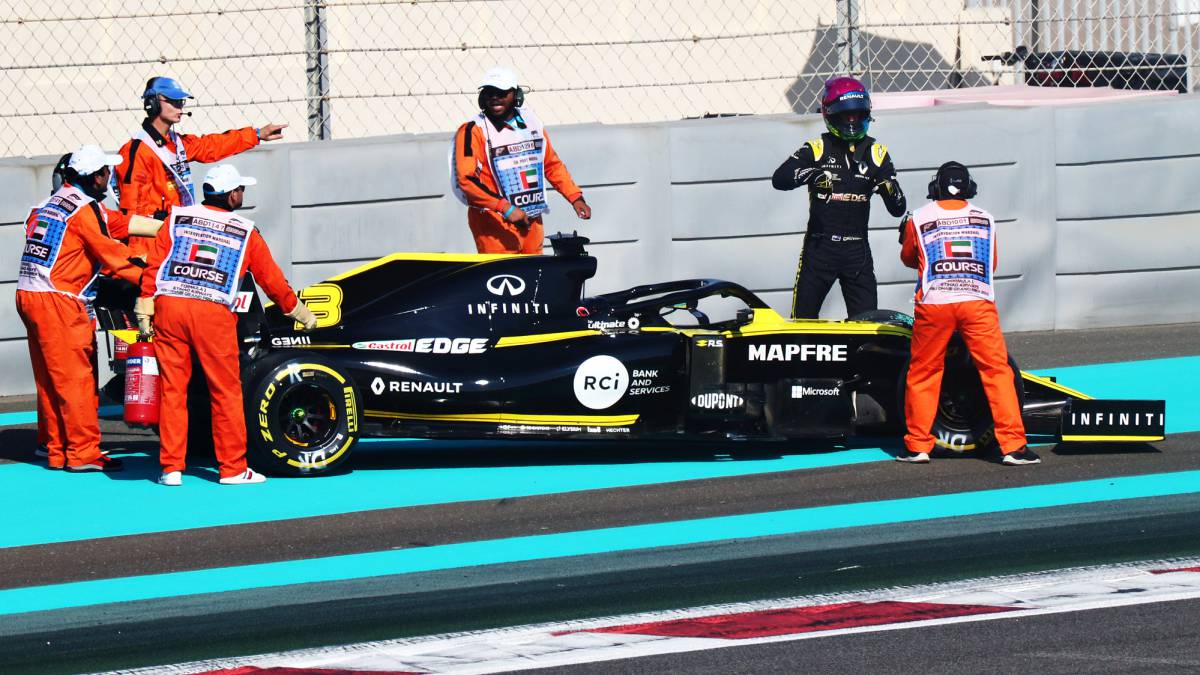 Renault's first barbecue arrived on the ninth lap of 2019 in Australia, with Carlos Sainz saying goodbye to a brand new engine. The last one, for the moment, has taken place in the first training of Abu Dhabi, where this weekend the Formula 1 World Cup ends. The protagonist was Ricciardo, who has used five propellers this season (the maximum without punishment is three). His team says it was 'Friday's' and it was very fair in mileage, as almost everyone at this point, and will not incur a new penalty. In any case, Renault saves him that now it happens to everyone: Bottas will start last by changing his power unit, damaged in Brazil, just like Sainz or Leclerc did in Interlagos.
This breakdown forced a red flag, because the last sector of Yas Marina (and Toro Rosso de Gasly) was bathed in oil. It took a few minutes to adapt the asphalt in a little relevant session due to the conditions of the track: during the day, under intense heat, when the classification and the race are held when the sun sets. Bottas led the session with half a second over Verstappen and Hamilton, but there were no serious laps with the soft tires because the track was very dirty at the beginning.
Large differences, up to three or four seconds, so you have to wait for the second training to draw the first conclusions. Carlos Sainz was among those who completed more laps, apparently with experimental work, but without a competitive time (he was on a fast lap when the red flag came out). An irrelevant free, except for those who had problems: Ricciardo ... and Vettel, who lost control of his car in Curve 20 and damaged the back of his Ferrari. "Yes, I'm fine ... ah!" He said. Bad start
Photos from as.com