Rakitic: "I'm sad because they took my ball"
The Barcelona midfielder was the guest of Universo Valdano. He analyzed the situation that currently lives in the Barca club and recalled his beginnings in football.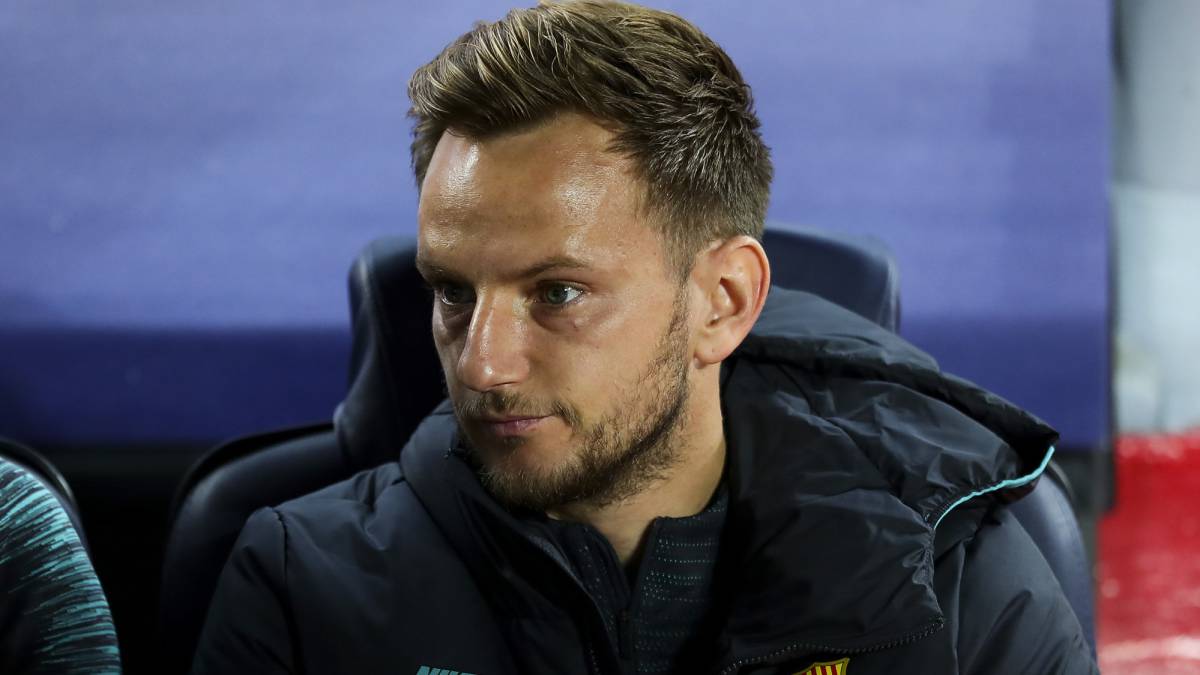 Importance of Cruyff: "All Barça players know the importance that Johan has had. It is very special to be part of this house and that the children see what Johan has been able to do. I learned from my parents, who have not grown up in a very easy environment. My parents cried for the nights they didn't have to eat, but they preferred to sleep with a little hunger, to buy me some football boots the next day. I like to transmit those principles through football. " .
The Balkan War: "I remember that when we went to visit my house in Croatia for the first time, at the age of seven, I was playing with ammunition that was lying on the ground. Luckily my parents were able to leave this area and give us a life a little more relaxed and isolated from that.
Birth in Switzerland: "The landscape was quite different. In Switzerland everything is well organized and in place. Our people were not very affected and today they are things that nobody understands. With seven years they are things that collide a lot."
His beginnings in football: "Since I was a kid I was crazy about football. I went everywhere with the ball. I just wanted to know how many days I had to go to school. I told my parents that I was going nine years and not one more day I was going to accompany my older brother to training and there I started to play with the elders. All this passion of football was inherited from my father. My father, when I play, is more nervous than I. He was about to be professional I played in the Yugoslavia team at the age of 17 or 18. I had to go to Switzerland to work with my uncle My father had a much higher level than the town team He has always played libero There was the striker There was a chance meeting the team president helped him stay there. "
Arrived at Basel: "At eight years old we played tournaments with the rest of the teams. Basel was the biggest team. We played the final of a tournament between the team of my town and Basel. We won and I scored both goals. Basel He asked my father to go for a test. He became friendly so everyone would be happy and I went to Basel. At school people wanted to be a policeman, a fireman ... and I just wanted to be a footballer. "
In the Swiss Under-15 team: "It was not easy to decide between Switzerland and Croatia. I was clear that my peers wanted me to play with Croatia, but I wanted to make my decision. It was not easy. I would not like to see another young player In this situation, I suffered for my parents and for my little sister, it was four complicated years because I received calls at night, photos of me with a cross ... I hope people know that it was not a decision against Switzerland. the boys could decide and enjoy it because it gets complicated afterwards. There is a large part of me that I still feel like a Swiss. When I play a Swiss, I go with them and I'm glad they win. In Croatia they welcomed me with open arms and they stood behind me to help me and support me ".
Debut with 18 years in the first team of Basel: "I had a coach who did not bet much on the people below, but he and two other colleagues gave us the opportunity and bet on me" .
Ability to adapt: "What I understand in football is that today I am not the same player that was in Basel or in Seville. If we catch 100 players with the same team, each one would make changes. Each role is different. I understood that to play kickback I am not the fastest ... Football is a team sport and I have to understand that it is better for people to talk about another player, worse your coach and your team know what you have done What he wanted most was to be close to the ball, treat it well and make it disappear to the other team ... ".
Schalke: "I enjoyed six months with Raúl. They have been the most important years of my career. It was a team where the pressure was noticed and a very special atmosphere. A very busy club. And for me every day was a new learning. I had the opportunity to share a team with very big players. With Magath it was very hard and very complicated, but I am very grateful to him. Everyone who has worked with him will sooner or later thank him. "
Sevilla: "I was about to finish the contract at Schalke and I wanted to live a new experience. The opportunity came from Seville and I have to thank Víctor Orta and Monchi very much that they were able to transmit what Sevilla is to me. At the moment I could not explain how I played the 24 players of the squad, but they gave me those details since I arrived at the airport and it was very important. Seville is a very special city. I was lucky to meet my wife and her family, that they are very Spanish. You cannot perform well in the field if you are not well at home. People gave me that affection. I arrived at a difficult time in the club and that helped a lot. "
Barcelona: "Everything happened very fast and that opportunity was for me. You work your entire career to be part of such a team and fortunately it arrived" .
Suppress xavi: "I never went with the thought of doing what Xavi did because it was impossible. I tried to understand the way the team and the club function. I can't play as Xavi or haggle as Leo, but I wanted to do what mine and do what they can't do. My idea was to go and learn from Xavi. If I have to talk about a person and a great captain it was Xavi. It helped me to know that I had competed against them and that they knew what I could do ".
One place on the team: "I wanted to read what the team is and what I could give it. I wanted to keep pace and teach my teammates and the coach that they could trust me. At first it was not so easy. I understood that my role in Sevilla and Barça had nothing to do with ".
Selection of Croatia: "What changed in Russia is that we started to think about the group and not one by one. Our coach has been able to transform that strength of each one into the strength of the group. The concentrations always made me very long, but in Russia there was a special and different feeling. Croatia has always had important players, but among all of us we put that force together and I think that was no accident. In the locker room then I said that we were able to make everyone fall in love. Surely there were even French people who went with us, I would have liked to take that golden ball, but it was a pride what we got, it is not normal for a country like Croatia to have so many champions Our coach before leaving the stadium put us a video of what happened in Croatia during the matches. In the end it could not be, but we gave everything ".
Modric: "One of the most important teammates. We have been together for almost 12 or 13 years in the national team. We have also had many fights in the League, but we have always had a relationship of great respect and a very special connection. We are talking today very much. There are few people like him in the world of football. He deserves everything he has won. He is a very humble person and hopefully we have many fights together. "
Messi: "Soccer in person. What we all want is to enjoy it in some way. Five and a half years sharing clothes with him and doing many kilometers for him is a pleasure. The pressure he carries is above what can be said. but the way to take her is to admire. It is not easy for everyone to be aware of you and what you are going to do ... Everything he has given to football is of total admiration and is one of the best in the world ".
A person who has marked him: "My father. I would not have arrived here today without my father. I have to say that everything my father did for me there are no words to explain it. My father today is suffering more than me. Last year He enjoyed it much more than I. That's why my father is the person who is above all
Morinho has said that you are the most underrated player in the world: "I know that I am privileged to be able to play every day and be part of Barcelona and defend the colors of my country. After that one can enjoy playing football. I am sad because the ball has been taken away from me People know when I am happy and when I am sad When there is crying there is no problem, sometimes things happen that you do not have to understand one hundred percent if you do not accept them We are in a moment of season in which I like to talk about what needs to be improved collectively. What I am thinking about is how to win more titles, whether here or elsewhere. I want to turn the situation around. the best of me for the team, there were days when it was hard for me and everyone knows what it is like, I love my wife anyway, but also football, I will give everything until the last day my service is necessary. in the field and hopefully pue it happens every weekend or in training ".
Explanations: "If I could know, I would do it tomorrow. I understand and respect the decisions of a coach, but I think I have given many during these five and a half years that I have been here and what I want is to continue enjoying. I enjoy playing. I trust my football, I'm 31, I'm not 38. I feel at my best, I think that last year was the best year of my career, when I wanted to enjoy the most, it was after the World Cup, last season was the best for me I am at my best and I am working more than ever I have also set up a gym in my house and I am crazy about the details I love football I am at my best and I want to continue enjoying what I want to see is what that will come, I want to be prepared to see what I do the day after I leave it, I have to be prepared, I will be very close to football and hopefully I can give information to many guys who come behind, I like to see guys who enjoy like Ansu Fati Cu I'm seeing you a little sad, I tell you that I was not playing for 18 years at Barça ".
Photos from as.com