"It's okay to be thick": the five lessons Doncic leaves
SB Nation takes a conscience exam 17 months later: why was Doncic elected in number 3 of the draft and transferred that same night?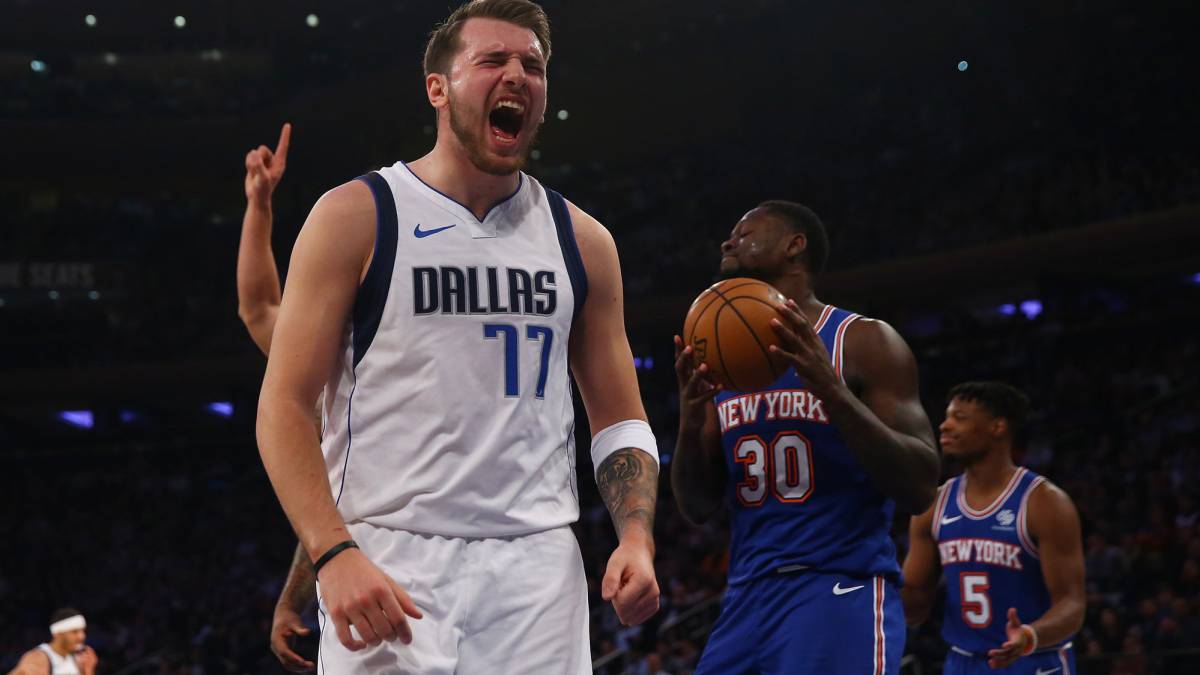 After the first month of the NBA season, things to say about Luka Doncic's extraordinary start to the season are already running out. The Slovenian base averages 29.9 points, 10.4 rebounds and 9.7 assists at the start of its second course at the Mavericks and when it is still far 21 years old on February 28, after an All Star for the You probably already got a ticket. He has signed seven triple-doubles in fifteen games and is fourth in the league in scoring, second in assists and twelfth in rebounds. David Fizdale, Knicks coach, said he would end up "discussing Nowitzki about the condition of best European player in history" and LeBron James was more graphic after his 42 + 11 + 12 against the Spurs: "He's a damn son of p ..., I've been telling you for a long time ".
From Rookie of the Year to the MVP candidate, he is entitled to a grand prize for which he is one of the four favorites at this early time of the season. The others are Giannis Antetokounmpo, James Harden and LeBron James. So for many, the big issue, just 17 months after the 2018 draft, is how Luka Doncic could fall to the number 3 spot and be chosen by a franchise that also passed him almost instantly. It must be remembered that the Suns chose the pivot DeAndre Ayton (university star in Arizona, precisely) with the number 1 despite the fact that they had as coach Kokoskov, who had made Doncic's Slovenian European champion. Later the Kings chose Marvin Bagley and the Hawks to Doncic, but they sent him to Dallas Mavericks in exchange for pick 5, Trae Young, and a first round of 2019 that ended up being Cam Reddish (pick 10) .
Were not one or two wrong, but three franchises? That is what many now believe and Matt Ellentuck, from SB Nation, takes the opportunity to remember that he is what he already thought so when the cards were shuffled in that 2018 draft. And so he says in an article entitled "five lessons that Luka Doncic He has taught the NBA "and in which he analyzes why the former Real Madrid was not number 1. These are his five points and the arguments with which he exposes them:
1- The draft remains tricky for NBA executives. Certainly, it is difficult to choose and many times those decisions are judged in the past and with the advantage of knowing and how events have developed. But Doncic was already playing at the highest level in the best possible competitive environment outside the NBA: Real Madrid, the Euroleague and the ACB League and he was champion and MVP of the maximum continental competition with 18 years.
2-Stereotypes about European basketball are still alive and stupid. Many Doncic was associated with busts (pufos) like Darko Milicic or Dragan Bender just because of his European origin. In the United States many people still think that the level of the NCAA is higher than that of the Euroleague or European Leagues in which professional players compete with a good quota of former NBA. It's ridiculous.
-It's okay to be thick. One of the arguments against Doncic's adaptation to the NBA was his 105 kilos and a little explosive physique, without too much force or speed and wide appearance. But Doncic, an extremely intelligent player, has made that a virtue. It takes the matches to its rhythm, takes advantage of not moving at maximum speed and absorbs smoothly hits and contacts in the penetrations.
4-Young people can dominate the NBA again. Doncic is in the debate for the MVP with 20 years. The youngest in history to win that award was Derrick Rose, with 22 years and 5 months in 2011. Since then, only Antetokounmpo (24) has won it with less than 25. LeBron took it with 27 and 28, Curry with 26 and 27 and Harden and Westbrook with 28,
5-You don't have to go around the elections. Drafting is difficult. You cannot know with certainty how the players will evolve physically and mentally and it is a job that requires economic investment, hours of analysis, trips ... Many failures are understandable or deserve comrension. But others simply not: some things are difficult to predict but others are in front of our noses and choosing Doncic was not so complicated.
All this is what a journalist, Matt Ellentuck, says in his SB Nation article, which summarizes his message in the subtitle of the article: those who doubted Doncic were doomed to make mistakes.
Photos from as.com