"If no team convinces me, I will play football with friends"
Sergio García is still without a team after closing his cycle at Espanyol. And he doesn't stop: he trains alone, with physical trainers and with a Third Catalan. And talk with AS.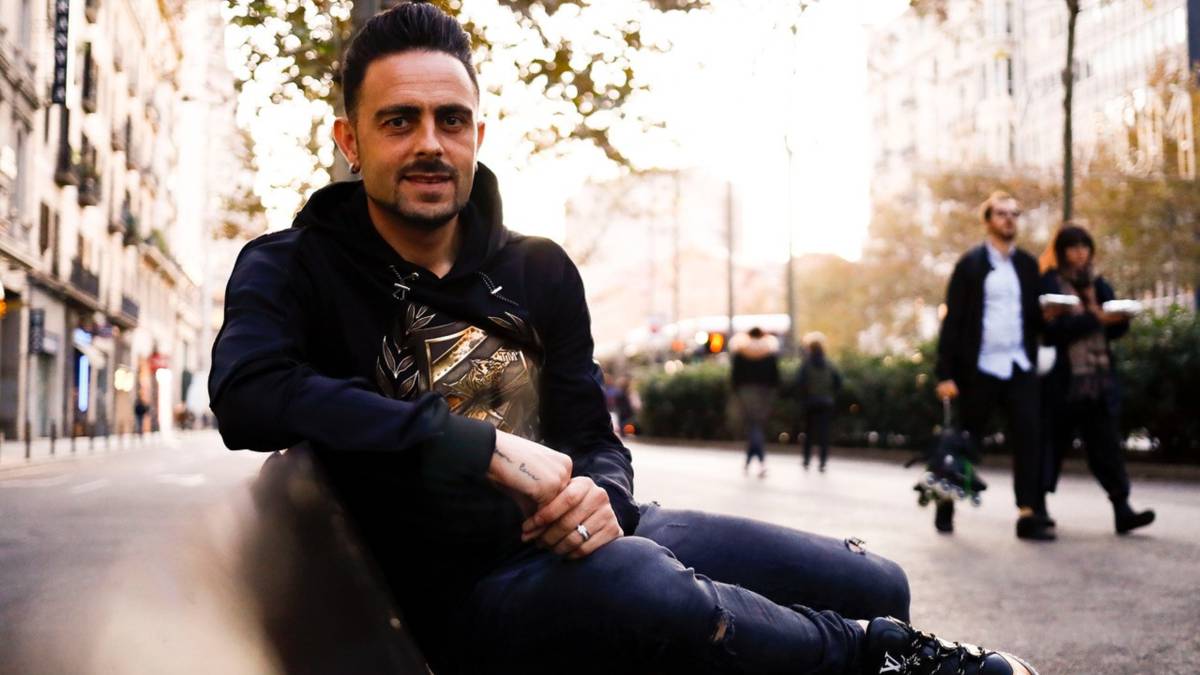 How does someone who has been in the elite since 2003 live every day without a team?
I train every day, I feel that I must be prepared in case at some point an interesting proposal arises. I recognize that it costs, because it is not the same to train alone in a group dynamic, although on Tuesdays and Thursdays I am with Iberia, from Third Catalan. I am also going to the center of Manolo (González, medical coordinator of Espanyol) and in the mornings to the Pomar field, which is also where my child plays. I give it cane. I do not let go if something comes out.
And mentally?
There are times that it becomes more difficult because I enjoy football every day, but I would like to be playing, not watching it on TV. Even so, I get along. It is what I have lived. Opportunities have come out, but I have decided to continue training for now. It's also about being at home, with family, with my children ... If I get a team, great. If not, nothing happens either. Life goes on and I will continue training and dedicate myself in one way or another to football.
It is your choice, after all.
Yes. Wherever I go it will be to be well, at ease and to give my best.
Zaragoza was a lot at the end of the summer market ...
Things were talked about several teams in Spain, not only Zaragoza, but I didn't go anywhere because nothing was finished.
From what he says, he doesn't rule out retiring. Have you considered a deadline to make the decision?
If I don't get an offer that convinces me, I will continue playing but with friends. That way I will stay in shape, because I really like sports. I have not set a date, but I will not be a year training just to have nothing.
Do you regret not having accepted Espanyol's proposal, to assume a position in the sports area?
They didn't want me to continue in the squad, and that was a good offer, in fact I loved it, but I didn't see it convenient because I want to play for now. In the future it can be, I know that I have the doors open in a club where I have been so comfortable.
And from the barrier, the parakeet crisis in LaLiga continues. How do you live it?
Sufro, because it is not an easy situation, and that in Europe they are very good. But in LaLiga the results are not coming and it's a shame because I trust the team so much, that I can get this through. I am convinced of the capacity they have. There we will be, me from the outside and I am sure that all the fans, supporting them at all times so that they feel clothed, that they are not alone.
What does the 'pichichi' of Cornellà-El Prat attribute that Espanyol has not added a point at home?
I wouldn't know how to give an answer. I watch the games and it is true that it is hard to create chances and score goals but I am not inside to understand what happens. You have to try to change something, because playing at home must be synonymous with victory. I hope that Getafe will happen because you have to start adding. It is not about putting added pressure, but of a reality because the rivals add up and can escape. Surely the triumphs will begin to arrive and we can enjoy
Is Espanyol with the least goal in history a problem of play, of names or that every summer is transferred to the top scorer?
It is not easy for a scorer to come every year. Sometimes they are also streaks, and the strikers are not having it right now, although they have scored goals in other teams. The team is playing better, it is that if they have a chance to score, they put it in, and better if the strikers put it, they gain confidence. I trust them. Hopefully not talking about this data at the end of the season.
Another mantra that you can analyze better than anyone, as a captain who was and who knows the players, is that this template lacks character. Is it true?
Maybe they don't look like it, but they do. I would like to be there, despite the bad situation, that where I am outside, because you know you can help, do something. But those who are here can take this forward. Together they will come out because we have had similar situations in previous years and they were taken out, although nobody likes to reach them.
How would you act in this situation?
We have to encourage people. There are players who because of their youth have not lived to be down. And that is not easy. The only recipe is to be all one, the twenty players and the coaching staff. If each goes to his own, it is much more difficult. And I, as far as I know, all go to one. The group is eager to reverse it, all in a line and not get out of there.
Just as he speaks with former Espanyol teammates, does he talk with Xavi Hernández, with whom he agreed in Qatar, about his coach stage and the crisis of results that he is also going through?
We talked with him every other day because we are friends from the Barça quarry, and it is true that his latest results have not been the best, but that they were asking for his resignation were four or five people. In the club (Al Sadd) they convey a lot of tranquility. The results send, but it has a good team and will be back up.
Do you see him as the future coach of Barcelona?
Yes, his way of seeing football coincides with what he had as a player and, therefore, with the philosophy of Barcelona. I don't know when it will be, if in three or four years, but I will train Barcelona.
Speaking of the azulgrana. Was his jump to the first team, on that night of the gazpacho, was too hasty?
Maybe if I had entered one of the occasions I failed, some for the grass, everything would have changed. You never know. I did not have many opportunities, I debuted because there were no internationals and it was beautiful, as it is to be so many years in First. The hard part is staying with so many great players. I am delighted with the career I have had. Soccer is my passion. It seems like yesterday and many years have passed quickly.
Would you delete any decrease? The sign that he was going down to his teams came to hang up.
Those are things that are said, a player cannot make a team go down, they are template things, from a cluster of circumstances.
Of those great players with whom he commented that he has played, who would he choose above the rest? Ronaldinho, Messi, Iniesta ...?
Ronaldinho or Messi are great, but with Iniesta I have agreed for so many years, from youth to the National Team, he has been the best with whom I have been able to play. He has been a great player ... In fact, he still is! In Japan he continues to show it.
Mentioned the National Team in passing. As the 2008 Euro Cup champion, at the start of that glorious cycle, do you see them among the favorites, or has Spain been among the bunch of applicants?
There are many very good Spanish players and a great team to achieve this, with young people. It could be win. Although the rivals are very strong, I trust the role of Spain. But they won't have it easy, it cost us and that was a perfect Eurocup.
And that you entered almost without imagining it ...
It was rumored that I could go, but I didn't believe it because that year had been very good but it had never gone. We were watching the announcement of the call on TV, with Zaragoza's teammates, and when Luis Aragonés said Cazorla, I thought he had no choice, because everyone said he was between him and me, those who played from inside right . Later Luis told me that I went because I had earned it all year.
Do you see Gerard Moreno in that role in 2020?
I think he deserved it before. With us he had a great season, and right now he is undoubtedly one of the best. The demonstration is the goals he is getting. Hopefully I can continue to be in the National Team until the Eurocup.
Not in the National Team but in Zaragoza it coincided with Gerard Piqué. How was he with 18 years?
At that time I played pivot, occasionally central. In the lower categories the qualities were visible, and in Zaragoza it was very good. As for his character, he is like that of a lifetime. For me it's good people, but everyone has their own way of seeing things.
They are different types of captain ...
Yes, we are different (he smiles), but there is no pattern of how a captain should behave, he changes in each team and every season.
Where do you see once you hang your boots?
When I retire, I want to take my coach's card and dedicate myself to football. Wearing a locker room is not easy, observing the technicians I have clear the enormous difficulty, but it is a challenge that I want. In fact, it is the only thing I have in mind to dedicate myself to. And if I'm lucky enough to reach the elite, I would like to train one day at home, in Espanyol. You never know, but hopefully it happens.
Photos from as.com