He debuted with 17 years. "Win your game, which I later win for sure," he told Feliciano in Brno in 2004. And he did. Since then, he has achieved four salad bowls.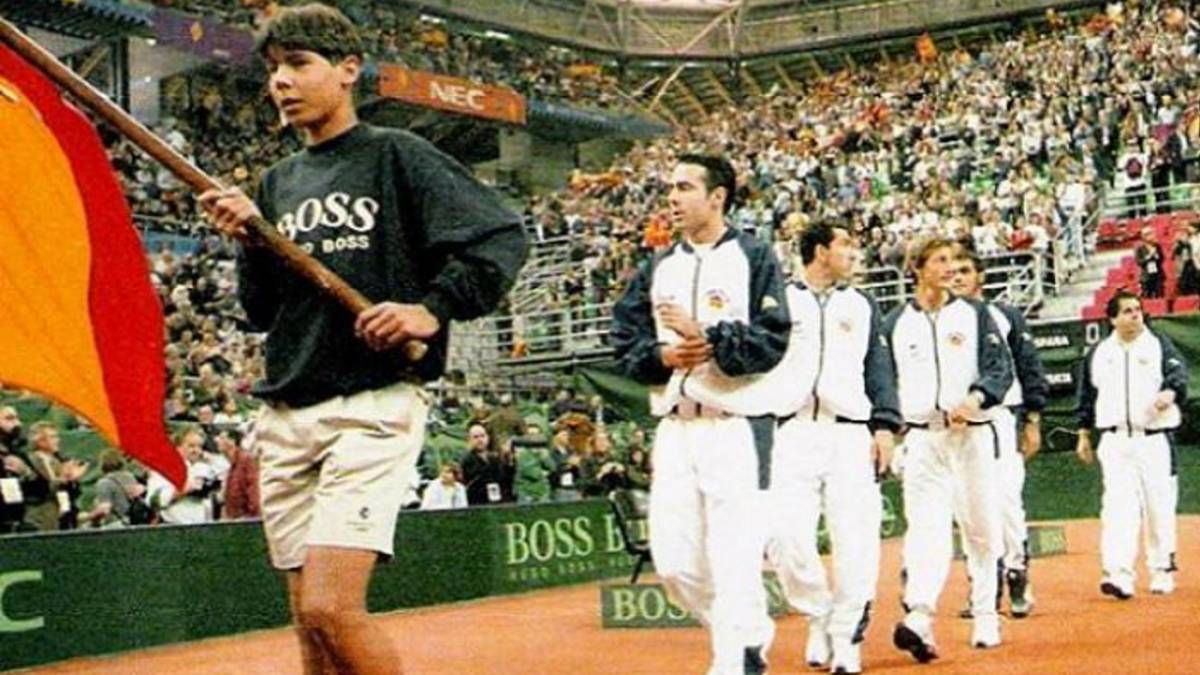 "I was 17 years old and he told Feliciano: you win your game that I win afterwards." Jordi Arrese remembers that phrase to justify why he gave the alternative to Rafa Nadal in Brno, Czech Republic, in the first round of the World Group in 2004. 15 years have passed since that, the boy is now 33, 19 Grand Slams and four salad bowls at home. Nadal is Mr. Davis
Arrese was the visible head of the G3, the trio of technicians that formed with Juan Bautista Avendaño and Josep Perlas and who inherited the captaincy of a G4 that took Spain to its first Salad Bowl in the Sant Jordi of Barcelona in 2000. There, Nadal with eyes as dishes and who began to speak wonders, served as a flag bearer and could see how Juan Carlos Ferrero, with his unforgettable passing to Lleyton Hewitt, changed the history of Spanish tennis.
And it was time to debut at Davis, which glorifies and sinks in equal parts. The special envoy of a newspaper to Brno wrote the following: "G3 Ordago, which makes a key 17-year-old boy from the tie (...) must be very brave or very desperate." Arrese smiles when she is reminded of that: "At 14 I already said on a radio that I would be number one in the world, because it was different from the others!"
The G3 decided to place him at the entrance on February 6. "He had not won any indoor game and Jiri Novak was a favorite against everyone in that kind of tracks. We had confidence in Nadal and we got him to crush him. He took him to two tie-breaks although he lost," he recalls. He also gave in the doubles with Tommy Robredo, but Feliciano beat Berdych and the kid stabbed the fox Radek Stepanek. The road to the second title began.
In the final of Seville against the United States, the waters were rough. Juan Carlos Ferrero, the hero, had started year two of the world and was 31st. And the G3 chose Nadal (51st and with only one title in Sopot) for the second point against Andy Roddick. "Rafa gave us a lot of confidence to melt Roddick, but it was hard because if we lost they sent us to the street. The easy thing was to put Ferrero, and Nadal responded. By character he ate everyone, even if his tennis was below," he values now get out. With 18 years and 107 days he became the youngest champion in Davis history.
Thus began the legend of the indomitable, which stands before the possibility of a fifth title after those of 2004, 2008, 2009 and 2011. In Mar del Plata 2008 it was not due to injury, but the International Federation considers everyone who participated in that champion year in a previous series. It shows a balance of 28/1 in singles and 8/4 in doubles throughout 21 qualifiers. After the 2011 title, Nadal, Ferrer, Feliciano and Verdasco announced an "end of cycle and end of party". Everyone wanted to prioritize their ATP careers and the London Games. Davis was hard. But they came back. The champion of 19 greats even traveled to India or Denmark to play series that were to rescue Spain from the well of the second division in which it fell after the disaffection of the best rackets and federative conflicts.
Nothing is impossible to reach the numbers of the mythical Manolo Santana, pillar of the end of 1965 and 1967 that were lost in Australia, because the Madrid reached the figure of 92 wins and 28 total losses in 46 series. But its weight is capital.
"He loves team competitions and playing for his country and always, not only now, he has been very involved," recalls Sergi Bruguera, the current captain, in the Magic Box. It's Mr. Davis, life insurance.
Photos from as.com