Mumbrú, the outstanding disciple of Aíto García Reneses
The current coach of Bilbao descended as a player and ascended as a coach. This course debuts at the ACB and today is measured at Madrid de Laso.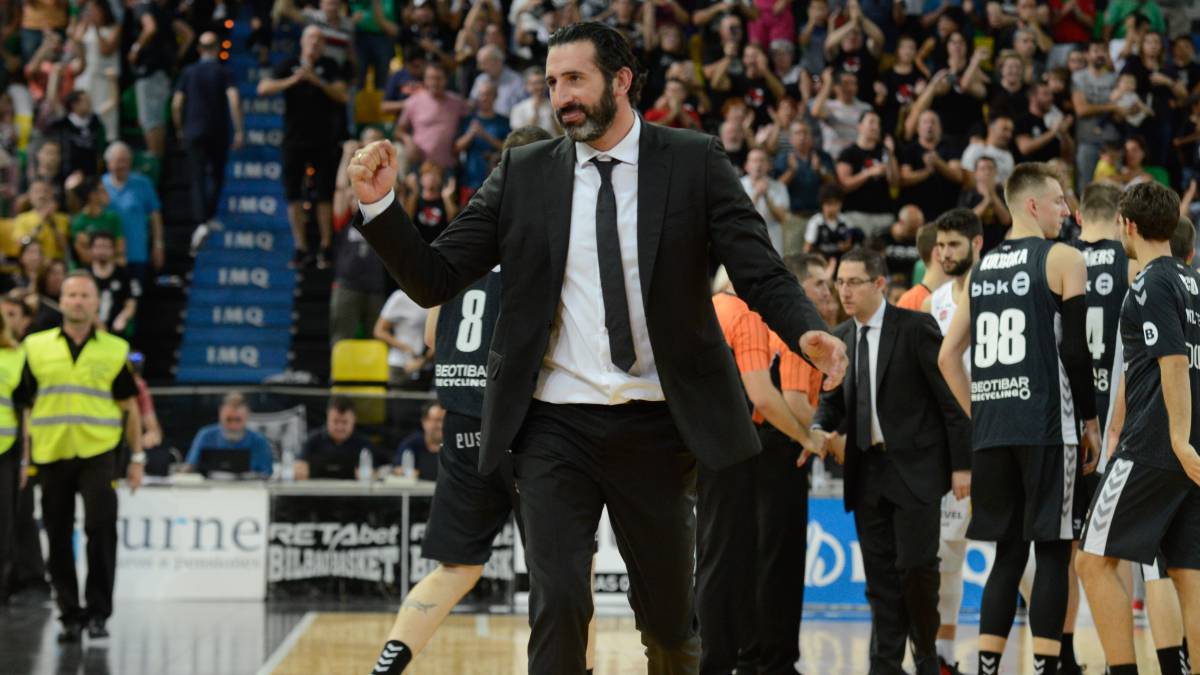 Álex Mumbrú has reached quarantine this year (Barcelona, June 2, 1979), that age at which athletes are retiring. He put it into practice in 2018. Today he faces Madrid, one of the three ACB teams he played for. The others are Joventut and Bilbao Basket and in all of them it left its mark. He played 21 seasons as a professional. Like Calderón, they are people who were very close to the golden generation of the 80's, but they were left out of that group of legend for very little. A couple of seasons ago he announced his retirement and, unfortunately for him, came with the climax of a descent, in Miribilla. He decided to hang up his boots and made the slate of the Bilbao Basket. He achieved the ascent from the LEB Gold in June and is now facing brave bulls: the best blackboards in Spain. Today he faces Laso, a major challenge. But he has a good background as a player, with coaches that have marked him and those he has learned to try to be one of the best as when he was dressed short.
Alex debuted in the ACB League with Joventut on September 6, 1997, on the first day, against Girona. "It was with Julbe," he recalls. "We debuted several more young people. He is the typical quarry coach, who understands and knows how to drive with young people. Until last year he was still with the Barça subsidiary!" Then it was the turn of Josep María Izquierdo, Obradovic's right hand in his title collection. It was a bridge stage to Manel Comas, one of its great references. "He is the first who gave me real confidence to play basketball, he insisted a lot on me, we put in many hours with videos to see the player he wanted me to be, he trusted me firmly," says the exalero.
In 2002 Mumbrú packed his bags on his way to Madrid, something that won him many enmities in Badalona. There he was placed under Imbroda. "We were coming from the national team and it was a difficult year, very difficult. We started with a lot of injuries. Madrid continued with basketball because it had to follow that section, but it was not what it is now. We were not like this Madrid, we had a ridiculous budget compared to the current parameters, "explains the Barcelona coach. The coach chair was very volatile at the time in the white house and the following year came the Argentine Julio César Lamas. "We played a Eurocup final, which we lost to Hapoel Jerusalem. When I arrived in Madrid we had left the Euroleague for bad results. We had to go back. Lamas is a very good coach, he had very clear ideas, but he came from a basketball like the Argentine, different, and it was not a good year ".
The case is that, as Manel Comas said, he pretended to go for tobacco and returned to Badalona in 2004, having to overcome many reluctance. And there he met his great teacher. "It was in my career that I made the leap to being a great player. He is the one I have copied most, the teacher of many coaches. You do not have to be the same at all, then you contribute your things. He showed that he is a genius You always try to copy from the best and he is among the greatest. " There he agreed with Sito Alonso, who was second, another crucial figure in his coach learning process. "I always thought about being with Aito again and I could do it in the National Team, to continue learning in another area" .
On another unexpected turn, he returned to Madrid. It was the year 2006 and it was until 2009. There he coincided with Joan Plaza, who had already trained the international in the junior cadet of Penya and second in the green-black club. "I have great respect for Joan, I have learned many things from him. I was clear about his basketball. It's another one I made a clinic with." In 2007 they achieve the ACB and the ULEB Cup, a balsamic double for the section. The jump to Bilbao, a surprise, occurred in 2009. At that time he made contact with Txus Vidorreta, an entire institution in La Casilla. "I got soaked with things that have helped me a lot, but for a short time, for the results. It was a very ambitious team, but things didn't work out. When a coach has been in a place for a long time ... it's something cyclical. He was finishing his stage ", refreshes as a lesson that you know will have to be applied at some point in your career.
Then came the stage of Fotis Katsikaris, when "it meets a large budget, the change comes to Miribilla, professionalization ... the previous years was going up, but he made the big leap, we learned the day to day of ambition, the pressure to be in finals. " After the fat cows, the shortage. Rafa Pueyo, casually current sports director and therefore superior of Mumbrú, had to deal with a strike, defaults and a thousand miseries in Miribilla: "We did not know that scenario, Rafa entered a very difficult stage - Alex apologizes. - When he leaves Fotis begins the decline, it was a very difficult time to train. " But Bilbao Basket is reborn from its ashes by the hand of Sito Alonso, who was given the barbarity of five years of contract. "I already knew him from Penya. The economy was more normalized, he wanted to have the best team, good results come. I have things from Sito, from the most recent coach you stay with more. If I had to define with a word to those that I They have marked I would say: Aito, the genius; Sito, an innovator; and Plaza, the constant. We managed to understand Sito's basketball and it was good years. " With Duran there was one of lime and one of sand. "It is from the school of Aito, like Sito, with clear ideas. The first year we almost entered the playoff, although economic problems continued. And the second ended badly, it was not good for the players or for Carles," Mumbrú admits. Mrsic took over, who "came to a mentally touched team" and Lakovic was the last coach in his long career. "He took a brown. He looked for a miracle that last month, we competed very well, for example we lost against Obradoiro and Baskonia in the last seconds. He descended due to a dynamic very much in the way of the fall" .
But his career in ACB clubs runs alongside the trajectory of the National Team. He began a journey with Lolo "I was very young, I was not clear about what I wanted to be; then I got the coach bug and I was more attentive to things and asking." With Pepu he recognized "the clear image of how to lead a group, psychology, was able to understand everything." Mario Pesquera barely worked with Mumbrú but he crumbles that "he had very marked things about basketball before, not so much of what we see today." Aíto and Moncho López, this one with more joint trajectory in the B and its almost interim stage up, also polished him with La Roja. With Orenga there was little, "we achieved a bronze in the Eurobasket of 2013, it was a bet of the Federation, came from assistant ... is a great person, a good coach, with the difficulty of winning a medal without Pau or Navarro. By losing in the World Cup, did not follow ". And then there is Scariolo: "He seeks that each movement be perfect, that everything flows and manages very well the difficulty of managing a group for a short time and that everyone understands what he intends. I have also copied things from him." Because what fascinates him is on his board "and what I did not like or failed, it serves to scare him." A large group that has entered his head as a cocktail shaker to leave the technician who is today
"The Selection ends up being reinvented"
Mumbrú cannot remove the tag from the former player. In the ACB this figure is a majority. And he is very attached to the pride of having shared with the generation of 80 the golden moments of Spanish basketball. "Before and after the irruption of these people we have been some players who have benefited from them. I do not belong, I am close, and it is golden - he admits. - They said that when it is over, we have Pau and Felipe, everything would go away to the fret and they have left Llull, Chacho, Claver, the Hernangómez… the Selection ends up being reinvented ". The Bilbao Basket coach explains that all this torrent of talent opened the doors to the NBA, "and now the current generations are leaving and we can't enjoy them in the ACB." "Well, the door was opened by Martin, but you really have to quote Pau, Calderón, Raúl, and then Sergio Rodríguez, Rudy, the Hernangómez ... they've gone quickly" .
Calderón has left him and his close friend Felipe Reyes has very little left. "Two more drops that go extinct. You have to enjoy while they are, they end and it is the law of life, what they play, they have given incredible moments and Felipe continues. They have joined the generation of the Chacho, the Hernangómez, Rudy, Llull ... but all those, the Golden Juniors, of the same year ... I don't think we'll see him again. When they were world champions, they warned us that something very big was coming ".
Photos from as.com