Márquez: "Help Alex? I already have enough with mine"
The champion presented in Madrid a collection of historical monkeys that Repsol sponsored throughout his 50 years in the competition.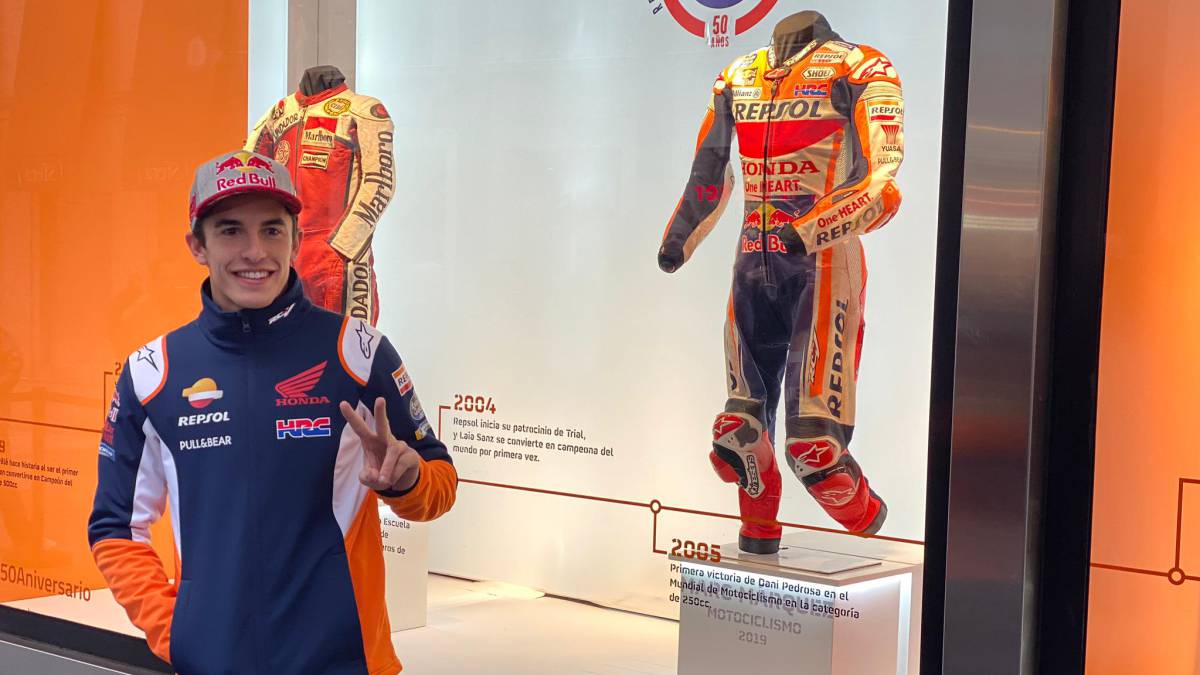 Just released 2020, Marc Márquez landed in Madrid to present a collection of historical monkeys from Repsol that commemorate 50 years of the oil company "supporting the sport". This sponsorship, "one of the most significant that any athlete has to be able to succeed," helped the ilerdense in his career and now, as an eighth champion, he already thinks of returning to the top next season.
2020: "Next year I will have as a companion the Moto2 world champion and yes, it is special because he is my brother, but in the end he has earned it on his own merits. At the moment he has started, little by little, and he has to go MotoGP is a difficult category and apart from that, Honda is a motorcycle with which I have fallen many times to find the limit and it requires a lot of effort, but let's see if it gets the point. Professionally we know how to differentiate very well and I know what is my goal, which is to continue working with the same intensity to fight for the title ".
Honda 2020: "We are trying to improve because you never know when the rivals are going to do it. It is a motorcycle that this year has gone very well, but it is still a difficult motorcycle to understand for many riders and that is where we are working. We want to do a motorcycle where you can go just as quickly but more easily ".
Sensations test: "As a hipster driver you always ask for more, but we can assess them in a positive way. We have started with the first steps of the new engine and we are the same. We have started, everything has gone well since the beginning and the first step is good, but we have to keep working. The other factories will improve and the other pilots too. "
Alex sensations: "The first thing he told me was: 'You didn't let me know how I work the carbon brakes.' He left and on the seventh lap he had the first scare, which is very typical of when you come from Moto2. It also happened to me. , but in a private test in Malaysia where the press did not find out, but I fell. Carbon brakes work completely differently than those used in Moto2 and that is where it costs more to adapt. "
Joint analysis: "There was not, in the circuit we only saw each other to sleep because we shared a motorhome, but now he is in a stage that has to spin, burn gasoline to continue learning the reactions of the motorcycle ... and then there are Alberto and Emilio who will help him to improve. Inside the box everyone is on his side and I already have enough work with mine and I can't be worried about other things. "
Possible wall? "No, I have never done it. I have never vetoed or forced to have any teammates, that is something Honda must decide. This situation was due to Jorge's withdrawal and the team reacted by looking for the Moto2 world champion and if he has earned it on his own merits, it must be respected ".
Renovation: "We have started talking about the future and my priority, out of respect and by heart, will be Honda. They are the ones who have given me the opportunity to get on MotoGP and we have already started talking. The first thing we have focused on it is a beautiful project in the sports and technical part, to ensure that both parties will give everything ".
Jorge Lorenzo: "He will always be missed. What he has done for sport and motorcycling in general is something that is within reach of very few. Five world championships, the character he has shown both inside and outside the track ... and you will be missed in all motorcycling ".
Luis Enrique's return: "I loved it as a player, I loved it when he was training Barcelona and I love him coming back. He had a difficult stage in his life but hey, he has always been positive-minded, very fighter and I think this is good for him to the National Team because it has very clear ideas ".
Photos from as.com