Lorenzo: "I was not compensated to stay another year for money"
Interview with the pentacampeón to close the day of the official announcement of his retirement as a pilot at the end of the Valencia GP. The decision was an absolute relief for the Mallorcan.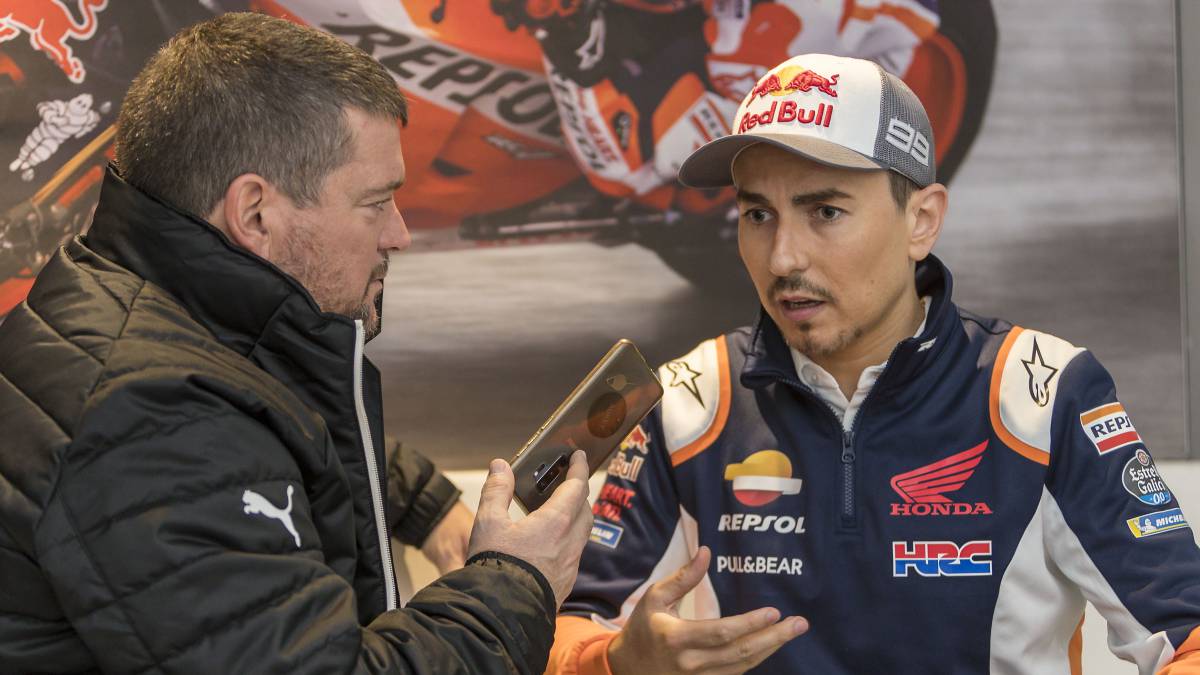 Interview with Jorge Lorenzo at the Honda hospitality located at Ricardo Tormo de Cheste, to close the day of the official announcement of his retirement as a pilot at the end of the Valencia GP. The decision was an absolute relief for the Mallorcan.
-Why?
-Why? It is not a single reason. There are different aspects and different circumstances that have made me feel that it was the right time to leave it. The injuries have not helped. Surely, without those two strong injuries, especially Assen's, I could have endured at least one more year and then it is not known what would have happened, but in Honda, I might have stayed until 2020, but it has been a difficult year. I already injured the season and, when I started to see the light, I had those two falls and from there the mountain, which was already high, after Assen became much taller. Too high for me, to try to find motivation. I couldn't find her, even though I tried until the end. I have realized that, after all that has been achieved, with 32 years, if it is not to try to win races at least, and I do not say championships, which is very complicated, I am not worth the sacrifice involved in being a pilot. Trips, commitments, the pressure of running every weekend, hard daily training, falls, injuries. I was not worth that for not being able to win and not being able to enjoy at least 20 percent of the time, apart from the sacrifices.
-He goes with 32 years to a World Cup he arrived with 15, in Jerez 2002. Did he imagine then that he would get where he did it?
-I got used to winning since I was little, because in Mallorca I always won over children older than me. When I arrived at the Aprilia Cup, the first year I didn't win because I started in the third race, but in the second I already won, in 98, and also in 99. In the CEV it cost me a lot in the first year, but the next I already won the European and I reached the World Cup. The World Cup was difficult, but then I started to win again. First, in Brazil 2003 and everything went fast. I reached two and a half and won two World Cups with Aprilia. And then I arrived at MotoGP and in the first race I did first and second. In the second, pole and third. And in the third, pole and victory. I got used to winning. I have always been very competitive and I have won a lot. I have had moments of all kinds, but above all good and, after 17 years always doing the same ... Most people change jobs every four years, but I have been doing the same for 17 years. Traveling to the same countries, to the same hotels and circuits, living with the same people. That is why I am sad, to leave many friends that I have here, but in the end you always do the same and, if the results do not accompany you, and you are injured, and you see that you do not have the package to fight to win, I no longer compensated .
-It was no longer worth it.
-It was not worth it. At 23, maybe yes, I would have clenched my teeth and held on, but at 32 I couldn't see it.
-Have you regretted at any time during the year of not having chosen for this year the Yamaha that you had in your hand and that ended up being for Quartararo?
-I have never been of those who look back or of those who regret what they have done. It is for two things, because I am very grateful to what I have lived and it means that I have made many correct decisions, and also because in life we are all counting dozens of decisions on a daily basis and, if you are lucky, 60 or 70 are good. and the rest bad. A life without making bad decisions is impossible for anyone. Last bull everyone is brave and wise. If I had not left Yamaha, maybe I would have won another World Cup and more races, with fewer injuries and would continue longer, but in 2016, with the knowledge I had and the desire I had for new stimuli, now I would take the same decision (go to Ducati) .
-He won Rossi at Yamaha with his same weapons. Have you checked that it was impossible to win Marquez with the same Honda?
-Impossible there are few things, but unlikely and unrealistic. In the short term, sure. In the medium term, very difficult. And in the long term, I no longer had time or Honda patience to see what was happening.
-What advice would you give to the one who inherits your motorcycle and who do you think it will be?
-I don't know. It is a decision of Alberto (Puig) and Honda. Several names sound, but I'm not very aware of that. It may be that an aggressive rider comes, such as Márquez, who drives with the rear wheel and adapts perfectly to the motorcycle, as well as costing him a lot.
-Puig has said he has made a brave decision. Have you given up a lot when opting for withdrawal? I saw the race at the foot of the track in Australia and did not recognize him going so far from the head.
-It didn't look like me, but the line between finishing fifteenth and winning the race is so thin and depends on so many factors that everything can change very quickly in MotoGP. In 2017 I fought with Abraham in Australia for entering the points and then almost won the following week in Malaysia. What was the question?
-If it is a brave decision and if you have given up a lot of pasta?
-I do not care what he transmits, if he is brave or cowardly, because for me it is the best and as a person I must think of myself. I know very badly about Honda, because Alberto trusted me. I convinced him to bet on me and it didn't work out. I disappointed him and Honda, but we didn't do it. We tried to do our best, but that combination did not work and the injuries did not help, so this is the best for them and for me. Neither Jorge Lorenzo nor Honda are there to fight for points, or to make tenths or fifths or even third parties. We are winners, we have shown it almost always, and if the combination does not work, I feel it is time to say enough. It is a decision totally mine. I could have stayed another year for money or for being here, but it doesn't compensate me.
-What do you and I do now with our friendship, do we continue to question it or recover it?
-I have my version of things and you have yours. We will talk in private, but I think, like me, you have your good side, a good person, and I prefer to keep that. You're a fun person when you're relaxed and away from work, like me too, I guess. I'm a hot-blooded person, but who, as you know, soon forget
-Many years ago I told him that our friendship would go beyond his pilot career. Still standing by me. Have a nice day.
-Thank you.
Photos from as.com