Lorenzo: "One of the most important days of my career"
"Many thanks to Honda, for this year that has been difficult, but in which they have supported me to the fullest and to the whole world that has helped me," he says.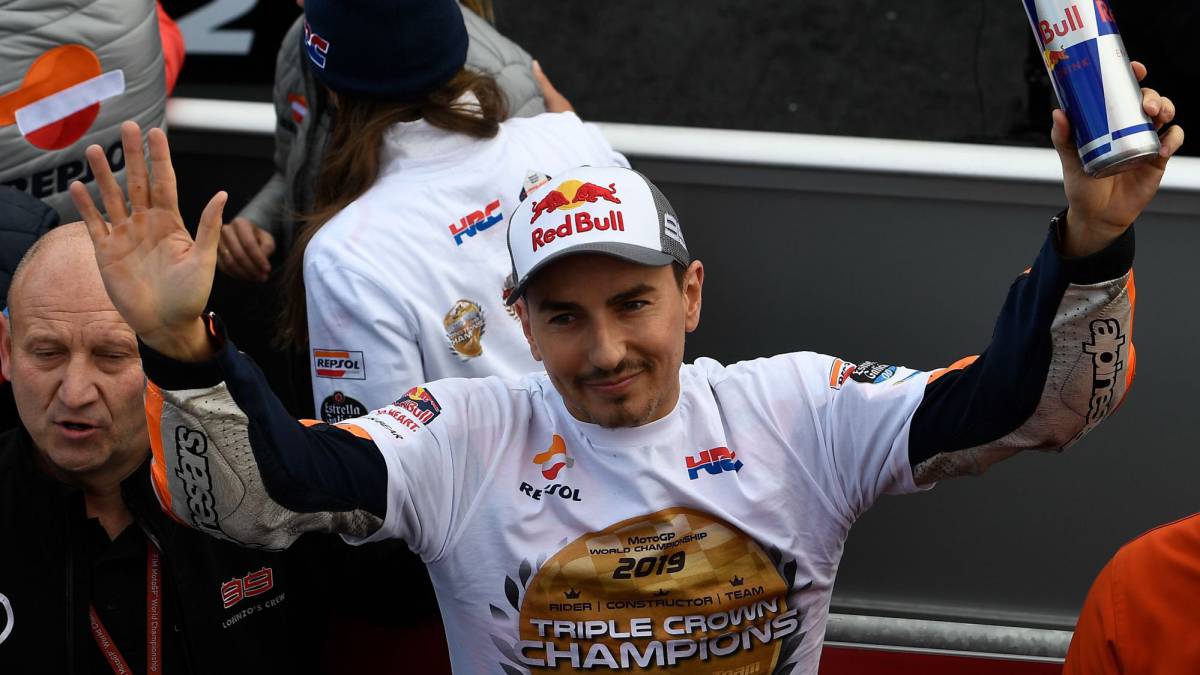 Jorge Lorenzo got off his racing motorcycle after finishing thirteenth the Valencia GP and will no longer get on any of them. The pentacampeón has retired. And he has done so convinced of his decision, with a smile from ear to ear as he removes his helmet. Before, at the door of the box, he burned wheel while being pulled by the people of Honda and applauded by many members of the paddock. One of the first to hug him was Dall'Ignha, from Ducati, with whom he won his first two 250cc titles, with Aprilia, and then he did it with all the members of his team, including a Alberto Puig who stayed to wait for him instead of congratulating Marc Márquez on the podium,
The first thing he did when he took off his helmet was to ask for music, then listen to the Mediaset microphone and say after congratulating him on his career: "Thank you. Thank you very much to all. It has been a difficult race. I have not had good feelings and the track was very cold so, when I have seen that I could not go faster and take the group in front, I decided to stay at a constant pace and end up without falls, in order to celebrate with the Fan Club, With all the fans that have come to Valencia, with my flag, with my famous Lorenzo's Land flag, I have been able to walk even if the thirteenth ended and not with a victory. It has been one of the important days of my career to be able to take it too. Many thanks to Honda, for this year that has been difficult, but in which they have supported me to the fullest and, in general, to everyone who has helped me. "
He looked happy and relieved, among other reasons why his mother, María Guerrero, stood out: "He started three years or so to ride a motorcycle and the best of all is that he leaves whole. I take it home safe and sound, and it is time to rest and recover perfectly from my back. He will be happy in his new life and now to wait until he is able one day to start a family and become a grandmother, which would be very good. "
Returning to Lorenzo, pointing out that finally, with the victory of Márquez, his thirteenth, the fourth of Dovizioso and the fall of Petrucci, the Repsol Honda also won the team title and Honda the triple crown, said: "Yes? I was not sure. I asked my people there, but I wasn't sure. Well, I'm very happy. We are going to celebrate to the fullest tonight. " He deserves it after being 17 of his 32 years linked to the World Cup, and with a record of legend.
Photos from as.com