Lorenzo's five most important victories
He crossed the finish line 68 times first (4 in 125cc, 17 in 250cc and 47 in MotoGP) and won in all three categories and with four different factories.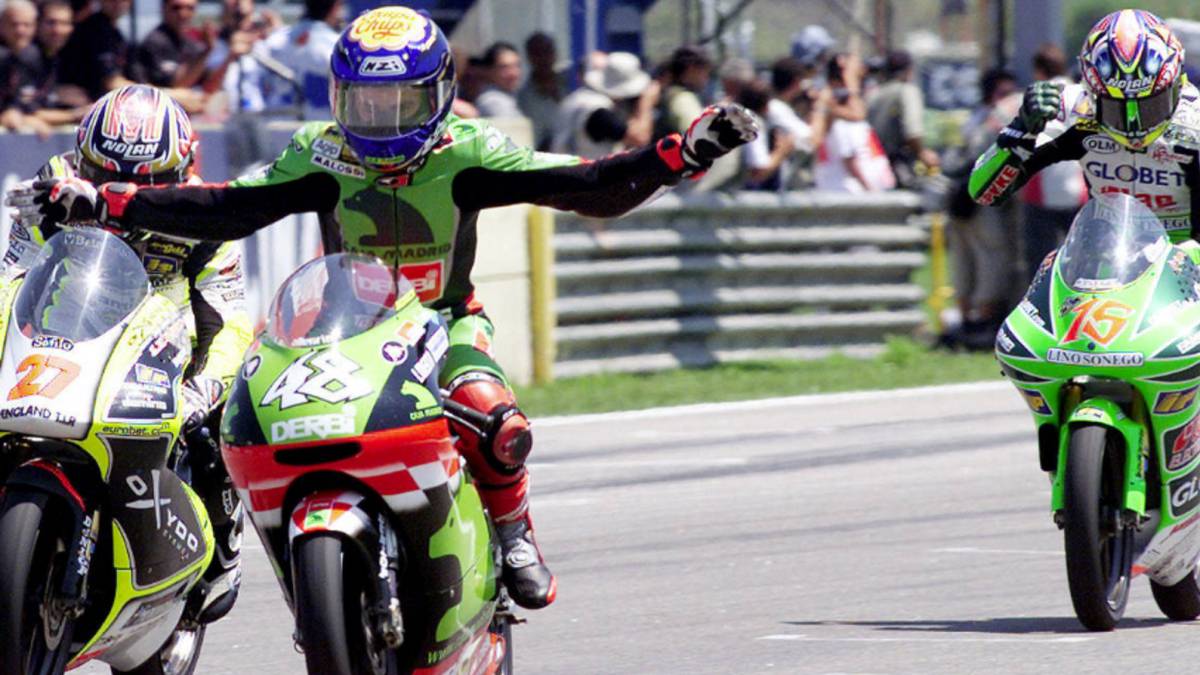 Jorge Lorenzo has announced his retirement today and he does so with an excellent record that includes 5 world champion titles and 68 victories. Here the 5 most important.
1. Rio 2003 (125cc)
A year after his arrival at the World Cup he achieves his first grand prize victory at the same time that the legend of 'Out' is born, the nickname that accompanies him since then. It happens in Rio 2003 at the handlebars of a Derbi and it is based on the beautiful exterior path of victory that makes Stoner and Pedrosa. A victory to frame and that anticipates that it is not a pilot any. They accompany him on the podium Stoner and De Angelis, whom he leaves two and three tenths. Pedrosa, Pablo Nieto and Dovizioso stayed brushing.
2. Italy 2006 (250cc)
He had started his second season in 250cc with victory, already with Aprilia, after a first year with Honda in which he could not with Pedrosa. He won again on the second date, that of Qatar, but from there he enters a crisis that is about to ruin his sports career. Three fiascos in a row in Turkey, China and France make him dive into a sea of doubts from which he leaves in Italy, with a crucial victory that catapults him to the first of the two consecutive titles that he would end up achieving in this category.
3. Estoril 2008 (MotoGP)
His landing in MotoGP, by Yamaha, was stellar. Pole and second in his debut in Qatar, pole and third in Jerez, pole and victory in Portugal. He does it by getting rid of Rossi and Pedrosa alone road from the goal. The Italian, with whom he shares a box, takes 12.7. And Pedrosa gets 1.8.
. Valencia 2015 (MotoGP)
The victory in Valencia 2015 translates into the conquest of the title, the fifth in total and the third in MotoGP, all with Yamaha. He arrived in general seven points behind Rossi, who was penalized to leave from the last place for what happened in the previous race with Márquez, in Sepang, and the Italian's fourth quarter gives him the crown by six points of advantage. At the end of the race, Valentino accuses Marc and Jorge of biscotto (size), something that the Majorcan flatly denies and that does not take away happiness to his achievement. He crossed the finish line ahead of Marquez and Pedrosa.
5. Italy 2018 (MotoGP)
The first of the three victories he gets at Ducati's handlebar arrives in Italy 2018, just after France, where at the end of the race his factory announces that he will not renew him at the end of the season. Lorenzo is again Lorenzo on top of the Desmosedici and dominates from the first to the last lap, as he liked to do it in his time of Yamaha, when he ran and won at times in the purest Rainey style.
Photos from as.com