Lopetegui: "That Luis Enrique has the energy to return is great news"
The Sevilla coach wishes luck to Robert Moreno. On fighting for LaLiga: "My only League is in Valladolid, I don't lose energy in anything else."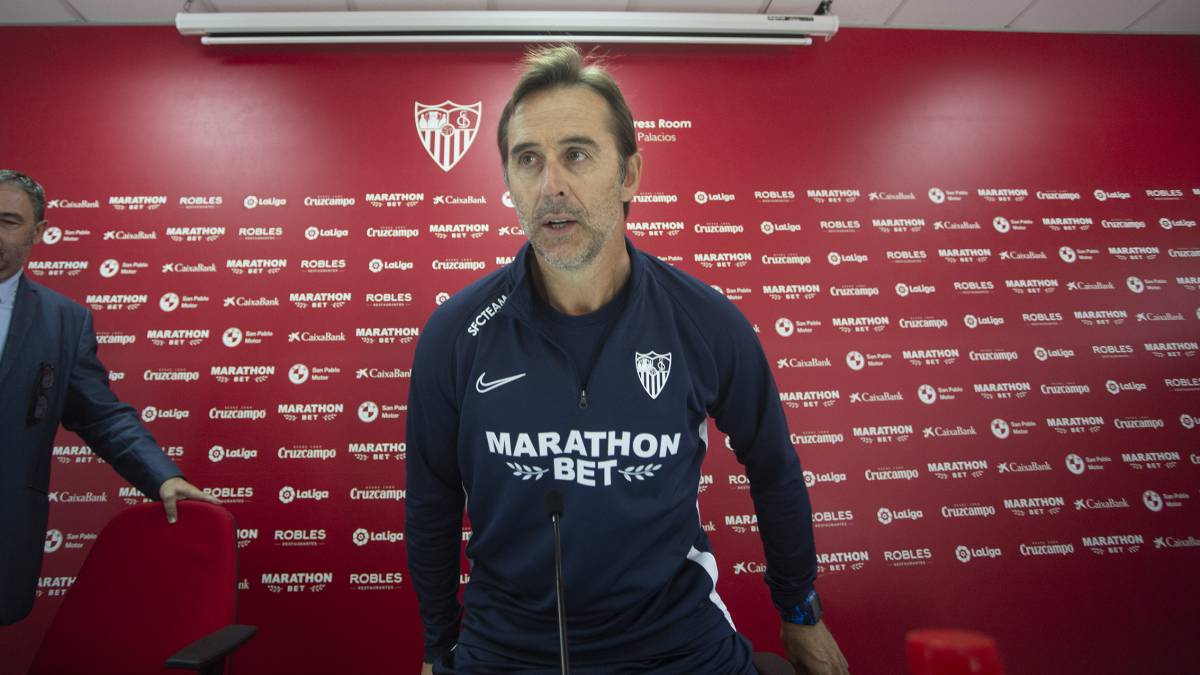 Sevilla coach Julen Lopetegui appeared before the media to assess the prelude to the clash against Valladolid: "It is beyond doubt that Valladolid will make it very complicated for us. He is doing very well, has automatisms in the team with a coach that has been taking time and has a lot of quality ".
The coach wanted to put aside the triumph of the derby against Betis and focus on looking at what is coming: "Everything that happened ten days ago is already prehistory. The demand is maximum and the team has the mentality in what it has to do. In First, each game will require you to the fullest and in this specific case the rival has many things. He has not lost at home and will demand our best version. "
Asked about Sevilla's options for fighting for the League, it was clear: "I assure you that my only League is in Valladolid. I don't lose energy in anything else. "
He also answered questions about the changes in the national team: "I only have two questions about the Spanish national team: the first thing is to wish Robert Moreno the best of luck. And the second is to say that Luis Enrique has the energy to return to training is great news. I have nothing more to say about the selection. "
He does not doubt the confidence in continuing to add victories: "We are in November, we have to improve a lot of things as a team. There are competitions that excite us a lot and everything is ahead. We must not deviate from what is in our level of action. "On the adverse conditions that could exist in Valladolid, it was resounding:" In LaLiga you sometimes play at one, sometimes at nine at night and under any weather. You have to be prepared. It will be the temperature that has to be and the field that has to be. The greatest difficulty will be the rival. "
Comparison with Unai Emery: "Every coach is different. Unai made history in Seville and I am very far from doing so. I don't think there are two equal trainers, even if there are similar nuances. "
On the eleven and the doubts: "Ocampos is available. He had a problem and fortunately he has reacted well and we are convinced that it will be available to us. "
Lopeztegi insisted on the bases to continue the good level outside Nervión: "There is no key to doing so outside the house, but several. We must defend well and then attack Valladolid well. They have been working together for some time and many things will have to be done well. "
Sevilla coach Julen Lopetegui appeared before the media to assess the prelude to the clash against Valladolid: "It is beyond doubt that Valladolid will make it very complicated for us. He is doing very well, has automatisms in the team with a coach that has been taking time and has a lot of quality ".The coach wanted to put aside the triumph of the derby against Betis and focus on looking at what is coming: "Everything that happened ten days ago is already prehistory. The demand is maximum and the team has the mentality in what it has to do. In First, each game will require you to the fullest and in this specific case the rival has many things. He has not lost at home and will demand our best version. "Asked about Sevilla's options for fighting for the League, it was clear: "I assure you that my only League is in Valladolid. I don't lose energy in anything else. "He also answered questions about the changes in the national team: "I only have two questions about the Spanish team: the first thing is to wish Robert Moreno the best of luck. And the second is to say that Luis Enrique has the energy to return to training is great news. I have nothing more to say about the selection. "He does not doubt the confidence in continuing to add victories: "We are in November, we have to improve a lot of things as a team. There are competitions that excite us a lot and everything is ahead. We must not deviate from what is at our level of action. "On the adverse conditions that could be in Valladolid, it was resounding: "In LaLiga you sometimes play at one, sometimes at nine at night and under any weather. You have to be prepared. It will be the temperature that has to be and the field that has to be. The greatest difficulty will be the rival. "Comparison with Unai Emery: "Every coach is different. Unai made history in Seville and I am very far from doing so. I don't think there are two equal trainers, even if there are similar nuances. "About eleven and doubts: "Ocampos is available. He had a problem and fortunately he has reacted well and we are convinced that it will be available to us. "Lopetegui insisted on the bases to continue the good level outside Nervión: "There is no key to doing so outside the house, but several. We must defend well and then attack Valladolid well. They have been working together for some time and many things will have to be done well. "Normal 0 21 false false false ES X-NONE X-NONE / * Style Definitions * / table.MsoNormalTable {mso-style-name: "Normal table"; mso-tstyle-rowband-size: 0; mso-tstyle-colband- size: 0; mso-style-noshow: yes; mso-style-priority: 99; mso-style-parent: ""; mso-padding-alt: 0cm 5.4pt 0cm 5.4pt; mso-for-margin: 0cm; mso-for-margin-bottom: .0001pt; mso-pagination: widow-orphan; font-size: 11.0pt; font-family: "Calibri", sans-serif; mso-ascii-font-family: Calibri; mso- ascii-theme-font: minor-latin; mso-hansi-font-family: Calibri; mso-hansi-theme-font: minor-latin; mso-fareast-language: EN-US;}
Photos from as.com