Joaquín: "I see myself playing football with more than 40 years"
He is the active footballer with the most matches in Primera (531). The fierce captain of Betis reviews with AS a career that, he says, has no regrets.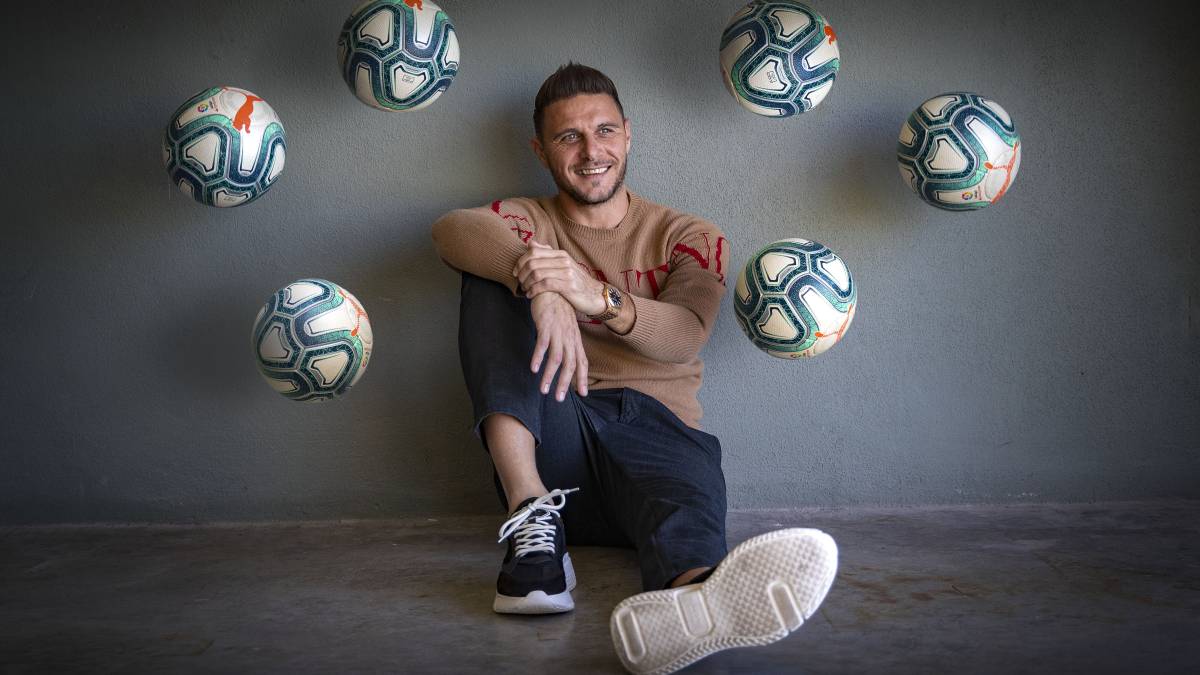 531 matches, fifth player who has been leading in First. And the only one active.
Buf, there are too many numbers. It is to feel privileged, to frame, although I do not realize much because the important thing is that I can still play football.
There ahead is Buyo (542), Eusebio (543), Raúl (550) and Zubi (622). You played with Raul in the National Team and you can catch it this year.
What a legend, Raul. It has been a mirror for all of us, especially for me, who shared costumes with him among many other greats. Reaching those numbers of yours is a privilege.
And Zubi? If he hadn't gone to Fiorentina ...
Well, I would have caught it, although I don't know if that's better or worse (laughs). I get more than 90 games, but in Italy I played a lot. I don't really get up thinking about that, there are many encounters but I honestly don't care a bit the same.
Sinatra, in the famous 'My way' read 'No regrets' ('no regrets'). Do you regret anything?
Well, no. I do not regret anything in 20 years of professional. I have done what I wanted. My career could take different directions, but I believe that destiny is written. I am proud of where I played, of being who I am. Having these numbers and being as I am comes, to a large extent, from being faithful to my profession, I have never been carried away by things that were not worth it. I was always at the foot of the group, helping and training. What could I take other paths? Yes, many, but if I did not take them it was because I did not want, on many occasions.
His father, Aurelio, spoke of that dizzying offer from Chelsea in 2006 ...
My love for Betis deprived me of many things, perhaps. I don't even remember Chelsea. People sometimes tell me, "I am your father and I hit you two times." And I tell them, "What do you think mine did!" No jokes: I did what my heart told me.
And what about Real Madrid?
What of Madrid did not work, due to circumstances, also for the president (Manuel Ruiz de Lopera) that I had then. But I had what I most wanted, my dream, which was to be in Benito Villamarín. In that I have not been selfish, although I have been deprived of winning more titles. But for me it was and is secondary.
And the National Team? He has always said that he is sorry for not being able to join the teams that won the 2008 and 2012 Euros and the 2010 World Cup. At least one of those trophies.
I can say that I was at the gates of the titles. And that hurts, of course, because after so many years ... I think I was undeservedly out, especially in 2008. In the end it happened to me in my career, good and bad, and La Roja is one of the things I didn't enjoy everything I wanted. I am proud of the partners and of winning what we won, but I would have liked to live it from within.
Were your five years in Valencia also bittersweet?
There I lived both faces, the bitter and the happy. There were good moments, such as my arrival, the impact of my signing ... But it was institutionally complicated years, a shame with the great team we had and the hobby piece that is the Valencianist. They came from winning the League, from playing Champions League finals, and there were signings like Villa, Morientes, Vicente ...
And Malaga arrived and Joaquin was reborn. What does La Rosaleda stay with?
The two years of Malaga we will not forget. Neither the fans nor the players, so it was achieved with all the problems we had. Unfortunately it lasted very little for what happened and what continues to happen in the club. We left the Champions League with a very hard blow, another of the toughest of my career, but it was only a blur within two wonderful years. And I left Hulio in Malaga, who is still chasing me ...
How did Fiorentina leave for more than 30 years?
The truth? I did not give a hard to go outside Spain, I have never wanted much to leave here. But at that time those of us in Malaga had to leave, it didn't have great things. I could have stayed, because I renewed, but I said to myself "Now or never". Italy, in what is Europe, was not the maximum shock in terms of adaptation, climate or way of life. I dared, the language was similar. I talked to my wife and we went there. The first year was complicated, I didn't play much, but the second was amazing. I came back just because Betis called me: there they even put up banners so I wouldn't leave. The typhosi loved me very much. Some already hate me, although I always made it clear that I wanted to return to the team I had always dreamed of, my Betis. But for the Fiore I have a special affection that will remain forever.
And here it is, in Betis. Burning stages and trying to win another title like that unforgettable Cup he raised in 2005.
Hopefully. This club has changed a lot. It is true that when I returned, in 2015, they were not easy years, but although we cannot conform because the demand is maximum and for our liking, I look forward to the future with optimism. We have not started this year as we would have liked, it is difficult to change the cycle but we work so that in the end we are up. I am not looking for excuses or cheap populism, I only see things with optimism, fight and believe in being in those positions that this club deserves.
Sevilla is almost tied thanks to a great play of his. He remembered his 20 years, the 'feint and the sprint'. How much career do you have?
Yes, those people galloped by the Villamarín band, many people have told me. I do not want to say that I will continue and then I cannot, or withdraw if I feel like continuing. I wait for the moment, without thinking about it. Right now I see myself playing after 40 years. You ask me the same in two months and I say the opposite. I am strong and eager to continue enjoying quite a while.
What has changed from that kid who debuted in Second, with Fernando Vázquez, to this 38-year-old captain?
Nothing has changed. Only I'm stiffer. I have the same enthusiasm, the desire to have fun, joy. It is true that now as we are I get serious because I want Betis to pull forward. My personal life has taken more impact and I appreciate the love of the people, but I'm still the same kid. The beauty is that. It's 20 years, but memories shorten it. In the end what we are going to take is what we laugh.
Photos from as.com