Jimmy Butler joins the Heat party: exhibition before the Suns
Ricky Rubio stood out with 11 + 11 + 6, but not far from a Jimmy Butler who finished with 34 points with 11/16 in shots. 6-2 for the Heat.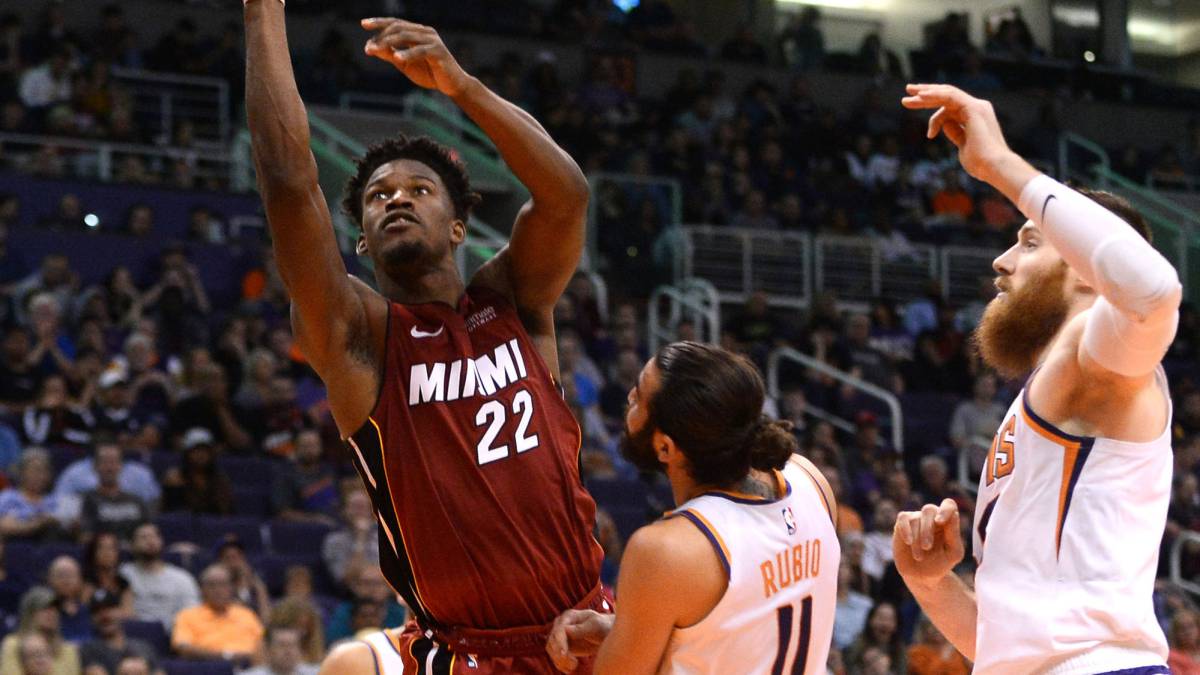 The Heat are one of the great covers of the NBA right now. Just one game away from the Celtics, the leaders of the Eastern Conference at this time, the Florida team returns to win a victory away from home and does so with the best game of its new star in this new stage. Butler got fed up with baskets, which resulted in him finishing with 34 points and very good percentages: 11 of 16 in field shots (68.7% correct). The Suns could not with the power of the visitors, who closed the game in the final minutes to win 108-124.
Butler pulled the car in the first half, especially in the second quarter. In the first it was his teammates who did the dirty work to surprise first with a partial 10-22. After the shove, 11-0 against and back to start. Goran Dragic, former Suns, left the bench to partner perfectly with Tyler Herro, who understands the offensive concepts as few in this team, and stretched the advantage a bit. It was time for Devin Booker to show up again and have a rather serious scoring duel with Jimmy Butler before the break, which the controversial forward would arrive with 9/10 in field shots and 10/10 in free throws.
The Heat's advantage in the third quarter was still very low despite the overflows of Kendrick Nunn (11 points) or another multi-faceted performance of 'Bam' Adebayo (15 points, 10 rebounds, 6 assists and 5 steals). It reached fourteen in the middle of the quarter, but was reduced to two after four minutes. Instability. There were no prominent defenses, there were simply more failures than usual in those minutes. At the end of the fourth, a good example of how the meeting flowed without prior notice and perfectly contradicting the above: a 3 + 1 of Goran Dragic, answered by two quick actions by also former Tyler Johnson.
Dragic, however, sent several letters when everything was headed for an even end. He had taken control of the meeting at that time: another triple to finish the third one more to welcome the room. The alarm button was activated on the bench of Monty Williams, but it was too late. Aron Baynes (23), Devin Booker (22) and Ricky Rubio (11 + 11 + 6) were sober, but the brightness was put by Butler, more by numbers, and Dragic, more by influence.
Photos from as.com