Javier Tebas: "Our League was once all passion and now it is passion plus industry"
"The best player I have seen is Messi and the best coach, despite his things, Guardiola." About Piqué: "I could lead perfectly in an area of LaLiga".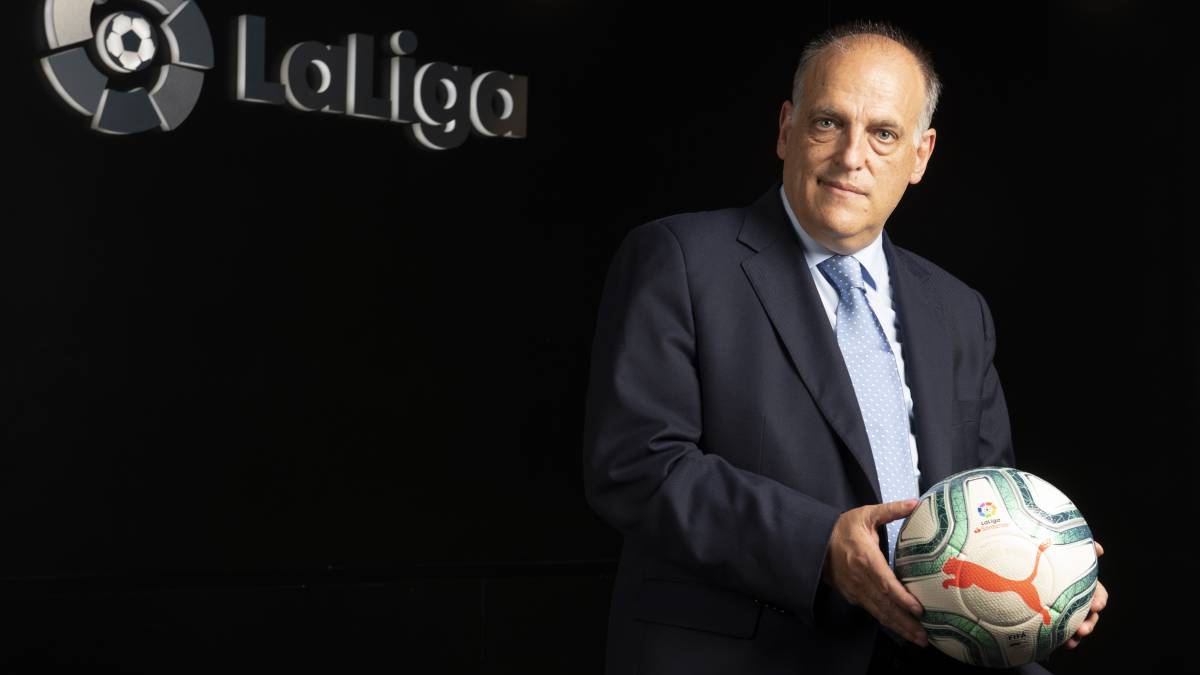 Javier Tebas (San José, Costa Rica, 1962) is the president of LaLiga since 2013, an institution that will be awarded by AS on December 3 for having turned 90 in February.
We will talk soon, long and hard, in another interview before the end of the year, of all current issues. Today we have to focus on the prize that AS will give LaLiga for its 90 years of history. What does it mean for you?
It is a source of pride to recognize what clubs do, which are part of the history of Spain. Before, our football and the League was all passion and now it is passion plus industry. We are in a great moment.
He talks a lot from the perspective of football as a business. You will understand that not everyone likes that.
I speak of industry because I speak of responsibility. I speak of the fact that we contribute 1.37% of the country's GDP, I am talking about a global injection of 1.3 billion euros to the coffers of the State, I am talking about the creation of more than 150,000 direct and indirect jobs. All clubs, which are still companies, have created wealth for Spain. That cannot be criticized. In addition, all this does not take anything away from the sport.
What are you most proud of your contribution as president of LaLiga?
Of the establishment of the economic control and the international expansion of the brand
There are many advances, progress, innovation, but ... don't you miss something from the past like clubs like Athletic, Real, Valencia, Betis, Sevilla or Depor being League champions?
Everything changes. Before there was also smaller commerce and there were no large stores. And look now. Everything evolves. What we did have clear, and there we could work and have worked, was to avoid having champions with 100 points. And we are getting it. Now there are more alternatives to the big clubs.
With Neymar, Mbappé and Cristiano outside LaLiga and with the Premier again empowered, can we continue to say that Spanish is the best competition in the world?
Yes. The championship is not only great for individualities. It is important that they are the best, but not only that is key. The Premier has been many years without the great figures in their teams and without winning anything internationally and, even so, their championship worked as an industry. This is how we are considered internationally. Now I have been in the US and people talk about LaLiga as a whole as we did in the NBA. Be who is. There is more and more talk about the competition and not about specific clubs.
What is the first image you save of LaLiga?
It was when I returned to Spain with my family (he is from Costa Rica). We were in Barcelona and I remember that I saw in a black and white television a match between Espanyol (Spanish then) and Atlético de Madrid.
And the best?
Well, I have the best image as president of LaLiga. And it has been recent. It was in the last contest of audiovisual rights.
What does it tell me?
There was a lot of pressure and tension for years and it has been the most important moment to guarantee the economic solvency of all professional clubs and to ensure aid to RFEF, amateur football, other sports ... For me it is very important when you open the envelope in question and those amounts are seen
Were you more happy with the alirones of your Madrid (33) or the rise of Huesca?
The rise of Huesca.
Who is the best footballer who has gone through LaLiga?
Messi.
And the coach who has most marked you?
It makes me very difficult, because there are quite a few. Despite your things, Guardiola. I think he has left and continues to leave a great ground in Spanish football.
With that "in spite of his things", do you talk about political issues?
Yes. We cannot catalog a musician or a good writer according to his political ideas or his way of thinking. He asked me about a coach and I think he is the best. I am not sectarian in that regard.
He has had to deal with many presidents these years. Is there a copy that puts it around as a model?
There are many. I can't keep one in particular. Each one has its own peculiarities. In recent years the majority are exemplary.
Do you feel valued by them as president?
Yes. Highly valued. For me that is very important. They are very demanding and want results, and there are the growth data. Many of them have congratulated me for what has been achieved during these years
There are those who will remember as an image of LaLiga in these 90 years, at the institutional level, that hook from Gil to González Fidalgo in an Assembly. Are there still so many tensions among leaders?
No more tensions.
Are you sure?
Yes. And it has its reason for being. All clubs have great economic stability and there is no longer talk of sports risk. That tension, before, was habitual. In the past, declines or failure to achieve goals led to economic ruin. The tension was terrible every day. Now there may be sports dislikes, but not a catastrophe.
Do you know where the first LaLiga meeting was held as an institution (formerly LFP) on December 30, 1983?
I don't remember well. I know it was not at our first headquarters. The same in some hotel ...
It was at the headquarters of RFEF.
(laughs). It is likely
What times, right?
It is that LaLiga belongs to the RFEF by the Sports Law as an independent institution. Things change ...
Important movements are now expected in the organization you lead. In December, Javier Gómez, current corporate general director and key person in economic control, will leave. Do you already know who is going to replace you?
Javier Gómez is irreplaceable. For their knowledge and for their internal and external management. The change will not be an exact replacement for that position. The figure of the corporate general manager will continue to exist, but we will restructure the organization chart under that figure. We are doing it with Javier Gómez himself. It will be announced at the time.
Won't you be waiting for Piqué to hang up his boots?
(laughs). I don't know ... Piqué has shown that there are soccer players who do many more things and you don't have to reproach him for anything. There are players who do some things and he is dedicated to his business, in addition to playing football very well, but he could direct some area of LaLiga perfectly.
Could you be in LaLiga without being president as we already slide here in 2018?
Yes. Well ... The presidency is the least important. I am a CEO to use in a commercial company where I manage a large company with very large shareholders that are the 42 clubs represented. Being president is a circumstance by statute, but I consider myself more like a CEO. That's how it worked in my day to day.
Less needed for presidential elections
The current four-year term I believe is until October 10, 2020.
And do you meditate to advance them?
I have not thought about it. As I work as CEO my goals are now others. Go to China, negotiate in the US as I have done these days ...
You are 57 years old and retirement is marked for now at 67. Do you see yourself receiving another award like this for the centenary?
I don't see it, really. Yes, I see myself a few more years working at this crucial moment that we are living, with the reform of European competitions, with the powers that the Federation wants to take away from clubs, with the issue of rights to be sold for the next triennium. … I will be leading the transformation for a few more years, but for the centenary I think it would be a lot.
Intrahistory: 'The goal of' Pitus' would now be tweeted in 18 languages'
LaLiga that started on February 10, 1929 with a Spanish-Real Irún (3-2, with Pitus as first scorer) has little to do with the current . Although the first and last edition were won by Barça. 87 championships later (three years were not played by the Civil War), the metamorphosis has not only occurred because it has gone from 10 teams to 20, for the capacity and image of the stadiums, for the regulation, for the ball or for the cancellation of the goal judge and the introduction of the VAR. Rather, it has been because of its economic growth, its brand expansion and its worldwide influence. One fact sums it up: LaLiga, a competition that Madrid has won more times and that only nine clubs have achieved, is already seen in 200 countries live with a global audience that in only four years, due to the change of schedules, has multiplied by three (from 1.2 billion to more than 3 billion) .
LaLiga has gone from being an organization whose first headquarters had two plants and 40 employees, to the current one, with 7 plants and 600 workers distributed in Spain and in the 9 offices and 41 delegations abroad. This growth has been partly due to total revenues (4,479 million this year), debt reduction (no longer due to the Treasury) and audiovisual rights. In 2014, TV revenues were 860 million and now, 2,100. At an international level it has gone from 260 (30%) to 900 (42%). LaLiga is no longer just a national institution, but a worldwide phenomenon. That your social networks are currently translated into 18 languages is only a signal.
Photos from as.com