Historic win of the Vinotinto
Great victory of the Vinotinto de Dudamel in Japan with an extraordinary Rondón. The striker scored three goals and was very well accompanied by Soteldo and Machís.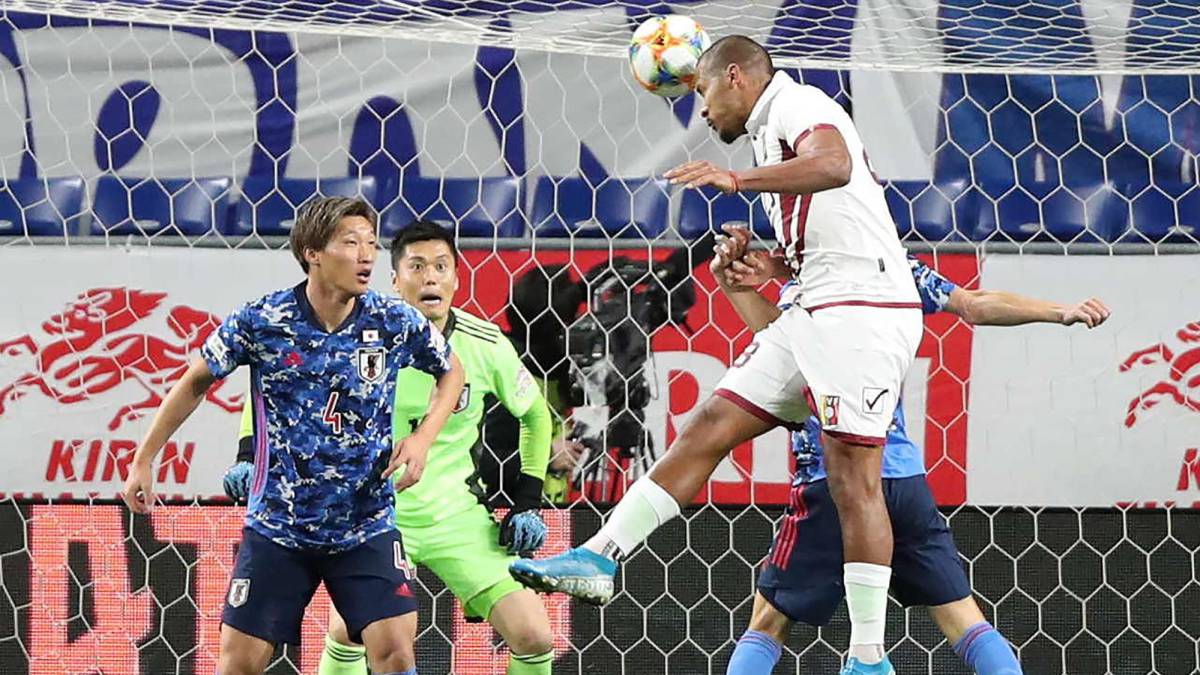 Venezuela beat Japan today, 1-4, in a friendly match played in Japanese territory, in which Salomón Rondón scored a triplet and was the spearhead of a team that will face the qualification for the World Cup in a state of grace. The Vinotinto was exhibited in the match played in Suita (western Japan), its last preparatory meeting prior to the qualifying phase for the World Cup in 2022, and after winning two previous friendly matches held in October against Bolivia (4- 1) and Trinidad and Tobago (2-0) .
Japan, meanwhile, had just won its last four matches of the qualifying round for the World Cup, in which it leads its Asian group, and took advantage of the game to give entry to less common players and young people. The visitors were a gale in the first half, and imposed their strength in the midfield and their gunpowder face to door move to changing rooms with a 0-4 before the astonished gaze of the public that crowded the stadium of Suita.
Venezuela managed to get ahead soon thanks to a beautiful play by Soteldo, who dribbled to his marker on the left wing and hung the ball so that Rondón headed the net. The Japanese then overturned in attack and opened spaces for their rival, who was more comfortable on the grass and created danger on every occasion of counterattack he found.
The blue samurai tried to bash fast plays always with Nakajima as a driver, although they showed no offensive clairvoyance against the solidity of their rival, and barely had a clear chance in the first half in a corner kick. The visitors won all the battles in the center of the field, and scored again after a steal of the ball precisely in the middle area that led to a beautiful wall between Machís and Rondón turned into a goal by the Dalian Yifang striker of the Chinese Super League.
With the Japanese knocked out, another recovery near the rival area allowed Venezuelans to put an aerial ball that Herrera left to Rondón to make his "hat-trick". The Vinotinto followed his own, with a high-pressure recital and attacks with poison that allowed them to get 0-4 before the break, this time with a combination within the area between Herrera and Soteldo that the end finished off with success.
Japan started a second half with intensity that could be made too long, and looked for the goal with a Nakajima start and another Asano play, both unsuccessful. Japanese coach Hajime Moriyasu gave entry to midfielder Yamaguchi, a regular starter, as well as other refreshment men to try to cut distances.
The Japanese thrust bore fruit with a shot from outside the Yamaguchi area, which slipped after bouncing into a defender, although the blue samurai failed to convert other occasions than they had in the second half against those of Rafael Dudamel, who had all the work already done and just waited for his rival in the final phase. Both teams had faced each other for the last time in another friendly match in Japan on almost identical dates last year (November 16), which ended with a draw at
Photos from as.com