"Rodrygo has something different. It's thin, soft, elegant ..."
Veterans of Real Madrid who lived the debuts of Raúl and Butragueño relive those days and give their opinion in AS about the brilliant appearance of the Brazilian.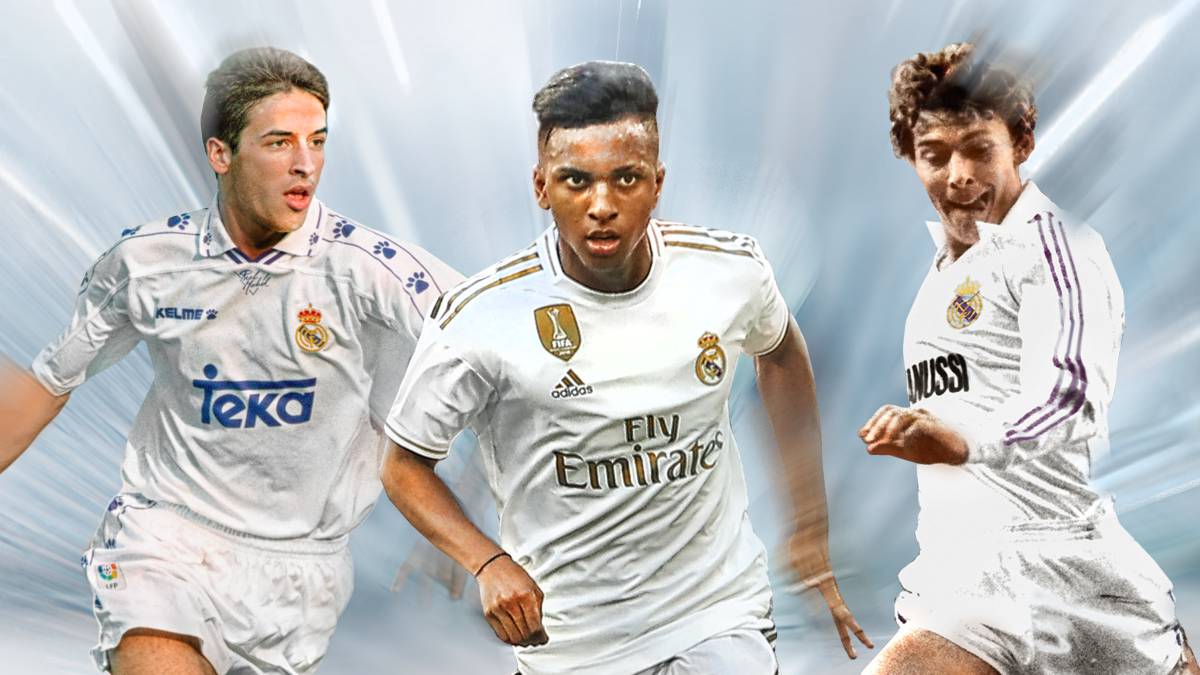 The irruption of Rodrygo has already led to comparisons and the clearest have arrived with Raúl and Butragueño as protagonists. Rodrygo scored three goals in the Champions League against Galatasaray; Raúl did not score in his debut in Zaragoza, but in the next game, against Atlético de Madrid; and Butragueño scored two goals at the home of Cádiz to overcome a game that Madrid lost 2-0 at half-time and that took 2-3,
Glowing premieres that match them, although Real Madrid veterans consulted by AS and who shared the debut with Raúl or Butragueño (or both) ask for calm and avoid comparisons that could harm the Brazilian. Although the general opinion agrees that it has all the conditions to shine in Real Madrid.
Rafa Alkorta
"It seemed that Raul had been playing for years, he had a tremendous personality, he was different. He looked like he had something, and he proved it. Better not compare Rodrygo, we would do badly. He looks mature, knows how to move and has a goal."
Paco Buyo
"Training was already seen in Raul the player he was going to be. In Zaragoza he did everything well except his specialty: the goal. Then he was unstoppable. Rodrygo sees goal with ease, although it is different. You have to take care of it, without hurry" .
Luis Milla
"I played the game as a commentator and I said that it reminded me of Raúl, because of his age, because of the maturity he shows ... It is abnormal for his age. Everything he does on the field makes sense. If Zidane puts him it is because raise the level ".
Santi Cañizares
"I do not think it is good for Rodrygo to compare him to Raúl. In other cases that has not been positive. Even Raúl was relocated a few months. I love seeing a young man like that, but better not to do fireworks."
Vicente del Bosque
"With Emilio came out other very good strikers like Alfonso. And those of the Fifth. When I saw them I thought: I have two showers left. With Rodrygo something similar happens: it is fine, soft, elegant ... It has something different to be go very fast ".
Isidoro San José
"Emilio gave us that game in Cádiz and when a young man like him appears, with new ideas, he is grateful. Let out references such as Rodrygo, which brings great freshness, are necessary. His chances are brutal."
Isidro Díaz
"Butraguño in Cádiz was the great player he was. He knew how to be, it is important, he knew what to do. He looked clear, like Raúl. Rodrygo played a great game, scored and associated very well. But no let's rush things ".
Rafael Martín Vázquez
"When a technician debuts a 17 or 18 year old boy, the word that can define him is maturity. I dare not compare Rodrygo with Raúl or Butragueño, but it is clear that the boy has responded to Zidane."
Photos from as.com