Griezmann faces his most difficult return to the Metropolitan
The French striker is presented with the Barça shirt to which his family was for five seasons as an athletic player.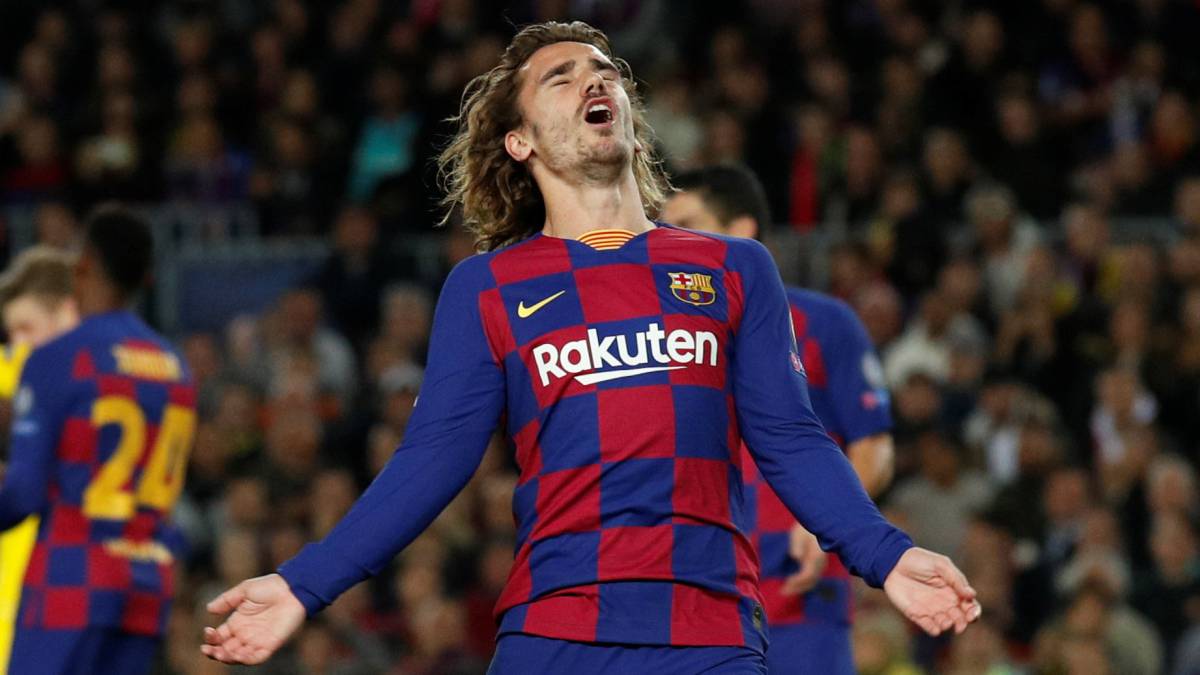 After half an hour of the match against Dortmund, and with 1-0 on the scoreboard, Griezmann threw himself as a beast to steal a ball in the band. He sent it out and gestured with his right arm haranguing the fans. At Simeone.
Camp Nou is not Calderón or Wanda. His times are other. And yet, the action had some acceptance. He was surprised at how much Griezmann plugged in when Dembélé was injured and, above all, how he combined with Messi throughout the game. The Argentine gave him 10 passes in 67 minutes. One of them ended up in goal. The French did not make a miracle double. It was his first great European night at the Camp Nou. After hugging Messi and Suarez, Griezmann arrives optimistically to Wanda to face one of the most emotional games of his career.
The Frenchman returns to face Atlético, that club in which he was on a penalty to make him a European champion and with whom he was the champion of the Europa League and the European Super Cup. And where was idol. A beloved player who left great football seal, but also controversial for his continued winks to institutions such as Manchester United and Barcelona. A player, in short, of which Atlético's fans ended up getting tired. But that gave huge football nights, defeated the biggest in Europe (Bayern, Real Madrid, Chelsea, Barça) and finished becoming a world-class player.
It is a challenge that will test Griezmann. More than his personality, already demonstrated, his feelings. Together with Simeone for a very close relationship and footballers like Godín or Koke, with whom he was more than a companion, it will be necessary to check how he manages his emotions
You know that you may not have the best environment or the best reception. Surely he would like it to be otherwise, but this is professional football and he knows how it works. He already had to return to Anoeta for five seasons with Atlético de Madrid. It didn't go too well. He only got one goal
In fact, in the ten games he played against Real in the five seasons he wore rojiblanco he scored only four goals. And in Anoeta lost three times. For Atlético's fans, curiosity is knowing how they will behave on the Wanda grass. For Barça's, however, it is necessary to give continuity to the image offered at the Camp Nou on Wednesday
His stadium
Since the inauguration of the Metropolitan Wanda on September 16, 2017, where Griezmann scored the only goal of the match to give Atlético victory over Malaga, the Frenchman became the fetish player of the mattress fief. Griezmann left Atlético with 29 goals scored in two seasons in the Metropolitan and drilled the networks in the League, Cup, Champions and Europa League, with magical nights like his poker against Leganés.
No player has managed to get close to his figures. Correa, with 10, is placed as second scorer, where one has arrived this season. A 2019-20 course dominated at home by Morata, which adds four of the eight he has done in Wanda. Curiously, it premiered with Chelsea to become the first visitor to score in the stadium.
Photos from as.com