Garzó still pursues the first title of electric motorcycles
The Valencian arrives second, to 19 points of Ferrari, to the last two races of the year: "I'm going to fight him until the end and, in addition, I run at home."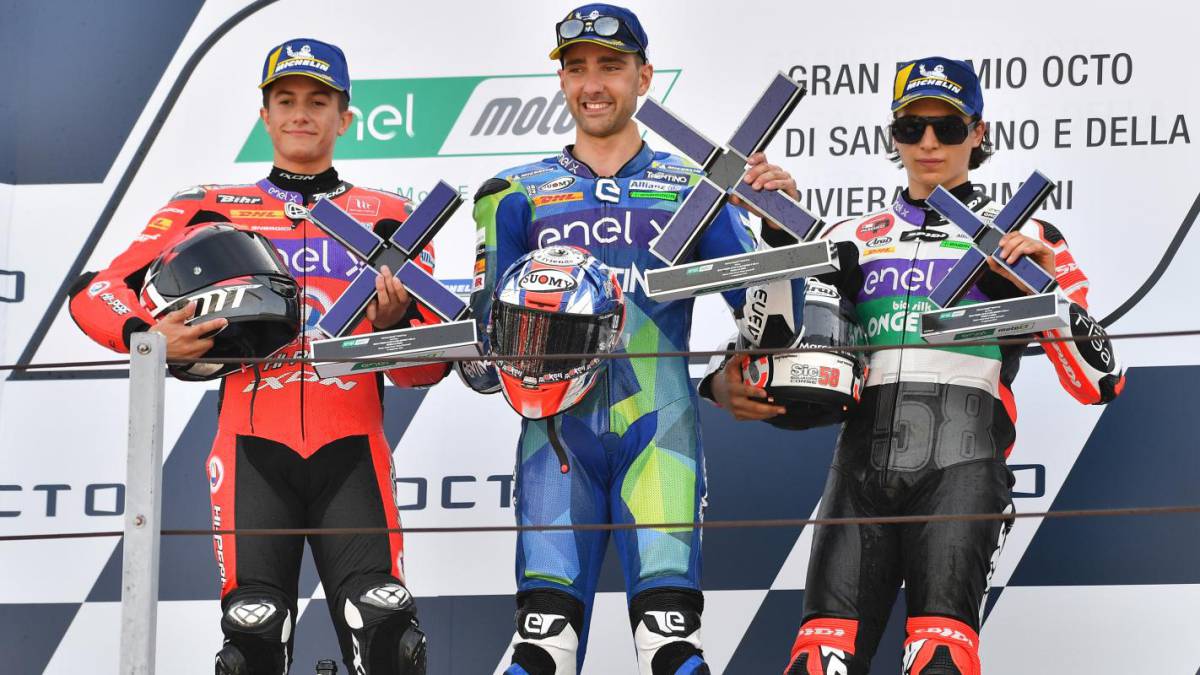 The Valencia GP must still elucidate a title. Those awarded by MotoGP and Moto2 for the Márquez brothers and the Moto3 brothers for Dalla Porta, it remains to be known who will be the first winner in the history of the new MotoE World Cup. And there is a Spanish with victory options. This is Héctor Garzó, who reaches 19 points behind the leader, Matteo Ferrari, but with more hope for what that distance says since Ricardo Tormo will close the season with the two-race race for electric motorcycles.
"It would be very important to win this title because, although the category is not yet well established within the World Cup, being the first champion in the history of electric motorcycles is something important. I'm going to fight it until the end and I also run at home. I am sure that I will be able to fight until the last corner ", announces the Valencian.
The pilot of Tech 3 E-Racing was second in the previous event, that of Misano, where he stepped off the track fighting in the last bars and for a moment it seemed that he would be sanctioned, but he got rid. He says that "that was a career set" and argues that "in MotoE, any movement is multiplied by 20 and the limits of the route are more difficult than in other categories" .
Regarding his disadvantage of 19 points overall, with 50 still in play, he says: "Two races are 50 points and I'm sure I'll be fighting for the podium in Valencia. I don't know how my circuit will be given to him, but the important thing is that I will fight him until the end. If it goes well, very happy. And if not, I will have tried. "
It would have helped, and much, that the difference would be even shorter, that it would not have fallen on Austria's last lap, where he soared so hard that he did not settle for a second that was already his. He remembers it like this: "I have thought a lot about the fall of Austria and I have realized that in this category it is not just about arriving and winning. It is a very short championship and that makes the points worth a lot. In Austria I tried an impossible one and that fall hurts me today. I almost did well, but I didn't know the limit of the motorcycle in water and I think any fast and sane rider would have tried to recover four tenths from the race leader. "
Now that he fights for the first MotoE title, Garzó does not forget his origins: "I started in the small championships. I did the Liga Interscuelas with Quique Baños and Chicho Lorenzo, and the Cradle of champions. I've been with Augusto Fernández, Joan Mir and Iker Lecuona and someone else who hangs out there. My entry into the World Cup has not been in the best possible way, compared to them. I won the Spanish Cup of PreMoto3, I also won in Supersport 600 and the last three years I have made the Moto2 European. There fourth, third and second this year, behind Edgar Pons. "
And expresses a common desire to many grill partners: "I hope MotoE is the springboard to get into Moto2. This year has been very complicated in Moto2. There are no gaps, but there are many pilots that we want to enter and others who are the same who don't deserve to be, but this is the World Cup and things are going that way. It is not according to the best you are, but I hope to give my maximum here so that this facilitates my jump to the World Cup. "
Photos from as.com