"Maverick's future could be Yamaha if it has criteria"
Paco Sánchez, representative of the winner of Sepang: "Today his future may be Ducati, Honda, return to Suzuki, easily, or stay."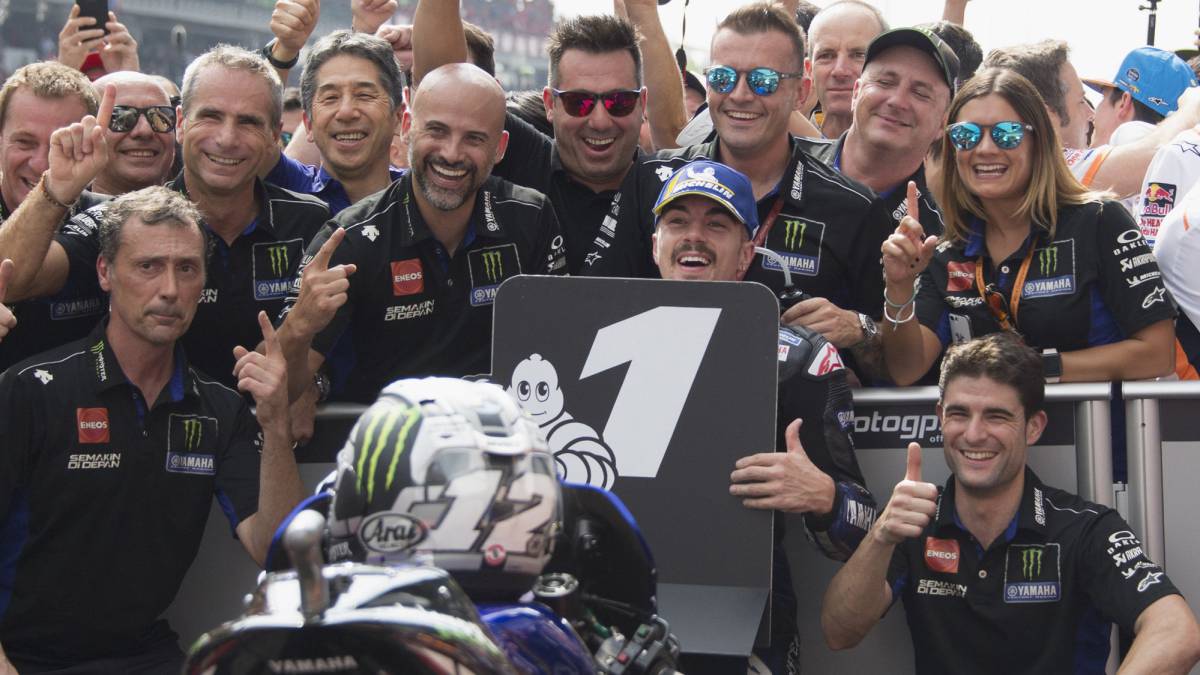 The 2019 MotoGP course is ending, which will give way to the 2020, the battle on the track and in the offices, to ensure the best saddles from 2021. And one of the appetizers of the market is Maverick Viñales, which Like in Ducati, where they recognize that they follow him as well as Marquez and Quartararo, although convinced that Marc will continue in Honda and that Yamaha will not let Fabio escape. The winner of Sepang was asked after the race for interest that awakens in the red box and simply said: "It is always very important to like and we show that we are at a great level, but I live the moment. You don't win every day, so I'm going to enjoy it like never before and tomorrow I will think about Valencia ". His representative, Paco Sánchez, explained much more about the future of his pilot in conversation with this newspaper after the race.
"Maverick's victory at Sepang and the last races he has been doing do not yet unlock the transfer market. I do not know why there are many team managers who see the work of a lap or specific things instead of seeing a global job. Anyway, whatever you do and whatever Quartararo does, we care little, because Maverick is going to follow his path and we are sure that we are going to get him a super competitive motorcycle. The team that runs in the end, be it Yamaha, Ducati, Honda or Suzuki, because really, today its future can be Ducati, it can be Honda, it can be back to Suzuki, easily, and it could be Yamaha, if in Yamaha they know or have criteria. If Yamaha does not have criteria, it will be a problem for them, not ours, and wherever we go, Maverick will do it great, "said the lawyer in an easy translation message: if Yamaha wants to keep it, you have to bet on it and forget it of Rossi or Quartararo for the technical development of the M1 and follow the guidelines set by that of Roses.
More clues of Sanchez about the future of the third of the general, with victories in Assen and Sepang: "I've been talking to everyone for a long time. There are conversations. There are no negotiations yet. This year the market is a bit slower than other years and I think that with good judgment of the brands, who are waiting to see what the new 'rookies' do, what the Moto2 riders do and what happens with Marc, which obviously is The number one in the market. It is normal for him to continue with Honda and we play with the possibility that he will continue with Honda. "
Regarding the possible disagreements that he could see between the pilot and the factory, Mack's trusted man says that "he has never stopped looking at Yamaha in an affective way or thought about leaving Yamaha. Surely the 'inputs' that arrive are more of Yamaha, of having consideration towards other pilots than of Maverick towards Yamaha. Maverick has never underestimated Yamaha or considered another option. My job is to find the best options for him, put them all on the table, and I hope that one of those options is Yamaha, so you can choose the one you like best. But never, never, we have never dismissed Yamaha. " To be continued ...
Photos from as.com