From Marchi, to the driver who almost overwhelms him: "You almost killed me by going first to a kiosk!"
The cyclist posted a text on his Instagram account after the episode he suffered, when a car was close to overwhelming him. "You could have sent me to a hospital ... or a coffin!"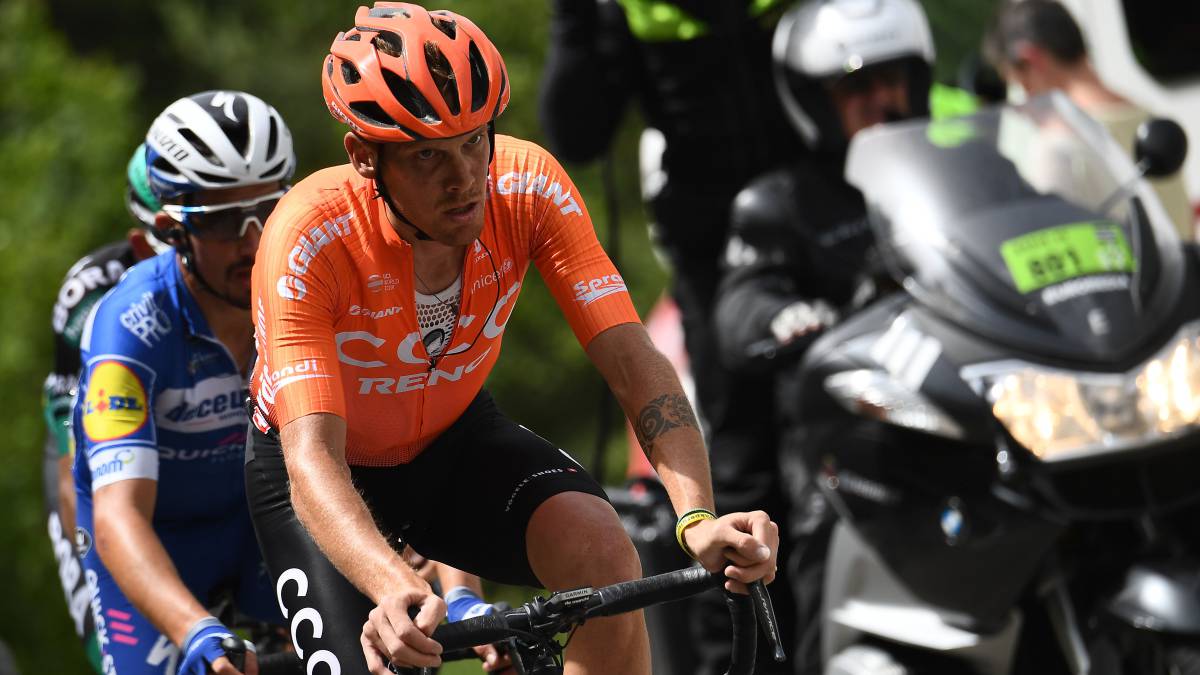 The Italian CCC cyclist Alessandro de Marchi published on his Instagram account the story of the hard episode he suffered while going out to train on the roads of Buja, his hometown, when a car that was traveling at high speed was close to overwhelming him.
De Marchi began with the account of the events that took place on Sunday morning. "I am fed up, literally fed up and nervous with my skin. I still have a sore throat after shouting at the nth driver during the nth 'almost accident' in which I was involved today. I can't take it anymore. Tomorrow today (for yesterday) Sunday, November 17, about 10 am. I leave my every day and go to the center of Buja, going up the slope of 'Tonino 2.' I climb slowly, on the right, without crossing. I perceive how a car is approaching and then I have the feeling that my elbow and left hand overflow. The car, a large Audi, overtakes me at triple my speed, and passes by rubbing me by a few centimeters, I repeat Centimeters ".
De Marchi had to set foot on the ground after overtaking, while another car sympathized with him and stopped the driver who almost ran over him to recriminate the action. "I lost my balance and I ended up on the road and with all my voice I shout at the driver. The same thing is done by the car that follows, a small blue Jeep, who has seen the whole scene, achieves after playing the horn that the Audi stops. From a distance I see that both drivers argue, I arrive where the Audi is and I shout to him that he has been about to kill me and he answers me. "I have not touched you, go to shit!" The CCC rider also told how he achieved the driver data. "I don't have time to answer him and he starts screaming again. Scream to stand 200 meters later in front of a kiosk! I arrive and take a picture of the license plate, the car and the driver (as he goes down to the newspapers) and I hear that the driver still curses me ".
The Italian cyclist wanted to send this message to the driver who almost ran over him and warned him that his imprudence could end with a fatal outcome. "Dear ignorant driver, keep my face that appears in the photo, save the face of the one you have been about to kill this morning. Because, dear ignorant driver, if you get to produce the 'touch me' you told me, In the best case you would have sent me to the hospital or to a wheelchair ... and in the worst case to a coffin! Dear ignorant driver, today with your beautiful Audi A6 metallic gray, you almost killed me ... For coming to the kiosk first! Dear ignorant driver, I hate you with all my heart and I hope you read these lines or that someone who knows your car thinks about you and allows you to see them. "
De Marchi wanted to send a message of thanks to the driver of the other car who stopped to help him. "On the contrary, to the driver of the blue Jeep: thank you for sympathizing with me and helping me. If you are going to read this message or someone who recognizes your car (a kind of blue Suzuki), contact me" .
Finally, De Marchi made a plea for drivers to respect road cyclists. "Drivers in general. Do I deserve this? Is it worth risking skin for the simple fact of rolling down a narrow road or with enough traffic? Or why did I get in the middle of the road and have made you slow down? Reflect "You can kill someone with your car! And you will not only kill a cyclist. You will also kill a husband, a wife, a father or a mother, a friend ...
Photos from as.com