Florentino: "We are forced to try what seems impossible"
The president of Real Madrid, in the delivery of badges of the club: "We are in a process of transformation to win new titles."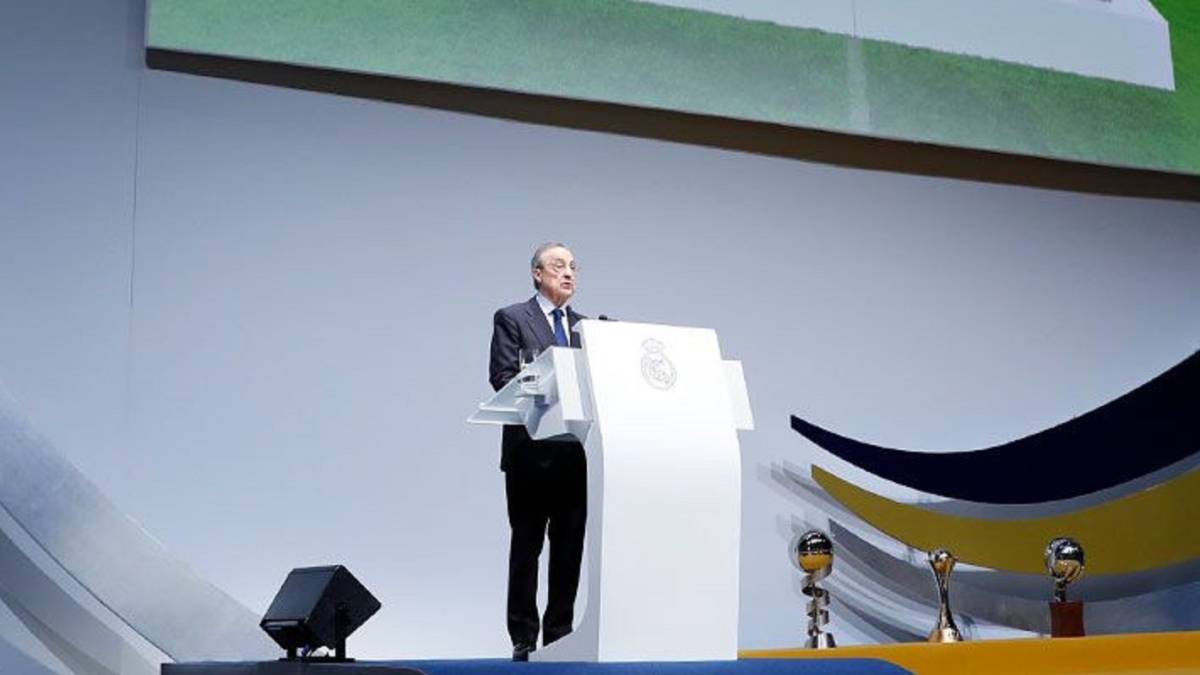 Florentino Pérez, president of Real Madrid, made his speech in the delivery of badges to the members of the white club, held in Hall 10 of IFEMA. Silver badges were given to members with 25 uninterrupted years as white partners, gold to those who have been 50 years old and gold and shiny to those who have been 60 years old. In his address, the white president congratulated the honorees and explained the current situation of the club, appealing to the unity of the social mass.
"Welcome everyone to an act of the most emotional we celebrate every year. We celebrate the loyalty and commitment you give to Real Madrid, to make Madrid the most prestigious club in the world. It is a feeling that has joined you uninterruptedly for 25, 50 and 60 years. You deserve this tribute and I am proud to give it to you. These badges symbolize all the memories and immense joys of your lives dedicated to
Real Madrid. What we have achieved in these 117 years has a starting point: the support of the partners. They are still the best of our club. Being a member of Madrid is a privilege, but also a huge responsibility, we have the obligation to convey this legacy. Values such as teamwork, respect, permanent improvement, solidarity ... Values that have been transmitted through you, generated after generation. Being from Real Madrid is a way of understanding life.
We have experienced one of the best stages in our history, in football the myth has grown with four European Cups, we continue leading the UEFA ranking for the sixth year in a row. We have to be aware of what this means in an increasingly difficult international context. The team has been renewed with additions, we have all the hopes placed in these players. We are in a process of transformation that will lead us to new titles. And we have a staff with players from our quarry, who carry in their DNA the identity of the club.
In basketball, 17 titles have been won in eight seasons, including two European Cups. In each match the team transmits the values of Madrid. What we have lived in both disciplines is unforgettable, I would say almost unrepeatable, but we are Madrid, we are forced to try what seems impossible. That's how we are, and that's how they instilled in us the culture of self-demand. Today we remember indispensable figures, such as our beloved President Bernabéu, Di Stéfano or our President of Honor, Paco Gento, who cannot accompany us but who sends you a warm hug to all those honored (he has recently been hospitalized). And to continue building this recognition, the unity of all partners has been necessary. I always say that our strength is unity, it has allowed us to be leaders ".
The most valuable club and the most valuable brand
"We live an institutional stability that allows us to address the needs and make the necessary self-criticism so as not to fall into self-complacency. We have endowed the club with a modern and effective organization that keeps us leaders among the best clubs of the world We are the most valuable club in the world, according to Forbes and the most valuable brand in the world, for Brand Finance, a universal club, whose owners are its members, proud of our heritage, with exemplary facilities, which began as a dream today it is the best and most modern sports center in the world. And now we want the Bernabéu to be the best stadium in the world, the great stadium of the 21st century. It will be an architectural reference, with the latest technology, an essential source of income for the Real Madrid It will be the pride of the city of Madrid
We live what Madrid is with emotion and passion. We love this shield and this shirt for what they represent. We are proud of what we have achieved on the pitch and also for what we give to society. We have a commitment to those who suffer most. The Real Madrid Foundation is present in 100 countries, has covered more than one million people and every year we make more than 1,000 socio-sports projects. Dear partners and dear friends, I reiterate my congratulations and thanks for all that you have given to Madrid in your lives. You have been protagonists of unique experiences, you are in charge of continuing to build this story. These badges are the symbol of what it means to be the club of the 23 European Cups. Congratulations and thank you very much. "
Photos from as.com