El Cholo did not know how to attack Granada
Simeone took the team to send in Los Cármenes, but it was seen that Atlético players need weapons to know how to attack a team that defends as well as they do.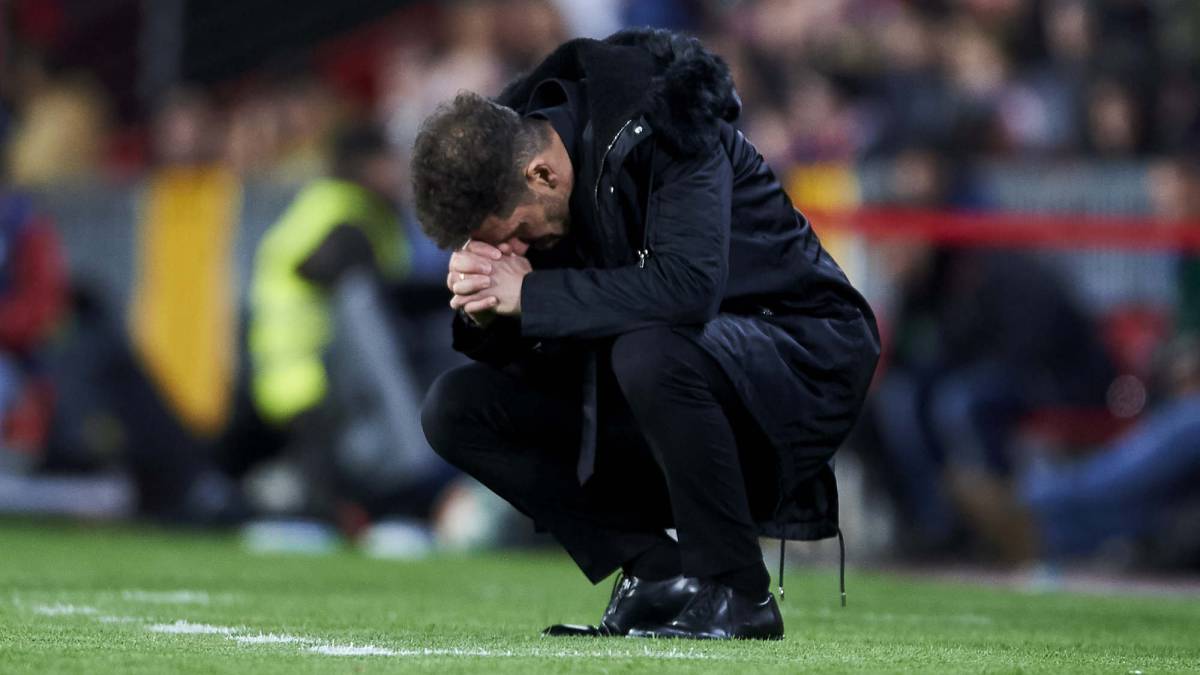 Variants. In three minutes Atlético had generated two occasions, one for the success of the pressure in the creation zone of Koke and Vitolo that concluded the Canary with a shot that deflected the back of Granada and in that corner kick Morata headed to the hands of Rui Silva. These two awkward occasions evidenced a pressing in three quarters of the field with a tactical variant at 1-4-4-2 that at that pressure became a 1-4-3-2-1. While Atlético went for Granada and settled in their field, the defensive variant that consisted of a 1-4-4-1-1 was not seen, embedding both Correa and Vitolo in the center of the field and in the intensive withdrawal to Morata, preventing Granada from connecting with its band men Puertas and Badillo.
Superiority. Atletico went out to send from the minute and play in the opposite field. That was the main reason why he did not throw the first half as he had done in so many games this season. He attacked with six players a Granada that defended with ten players folded its three lines in 30 meters. I needed the sides to do superiority. Lodi joined twice in the first 20 minutes and Trippier did not appear in attack until half an hour of play, putting two goal balls, one to Vitolo, who was on all occasions of Atlético of the first half.
Category. In the 54th minute he moved the Simeone bench giving Lemar entrance on Correa. The Frenchman was placed inside left, where he played Koke and the captain, went to the right side where Correa acted. Atletico was looking for the goal, but he again showed that he lacks automatisms in the offensive phase, that he needs to rehearse attacking plays in combinatorial play as those automatisms work in the defensive phase. But with the high quality players that you have in your squad you attack, arrive and mark. And so came the 0-1, with a measured pass from Herrera to Lodi and a great definition of the side. It was the 60th minute when Atlético got ahead on the scoreboard. Herrera again demonstrated her hierarchy and category. Same as Vitolo.
Rombo. Granada tied for a stand-up ball action poorly defended by Atlético (a new bad choice of markers by Simeone that put Herrera to mark Germán). It also gives the feeling that Atlético needs to rehearse the actions of a standing ball both offensive and defensive. In the 70th minute Joao Felix reappeared in LaLiga. The Cholo did not take him for Vitolo, as was necessary, and entered by Marcos Llorente. The coach of Atlético is aware that he is no longer worth a draw or a visitor. Atlético finished with a 1-4-4-2 with rhombus. In the end, Simeone surprised everyone by removing Vitolo and getting Poveda from the subsidiary. With this change he returned to claim the signing of a forward (what about Saponjic?) And belittle the canary. But with Vitolo and without Vitolo, with Joao and without Joao, what the Cholo must do is work the offensive phase with the same zeal that the defense works because in Los Cármenes it was shown that he failed to explain to his men how to attack a team that defends as well as yours.
Photos from as.com