Celades: "The situation of Mateu Alemany did not affect my work"
Albert Celades faces tomorrow's game against Granada (4pm, Mestalla) with the losses of Soler, Guedes, Cheryshev, Coquelin, Sobrino, Piccini and Diakhaby. Esquerdo, novelty.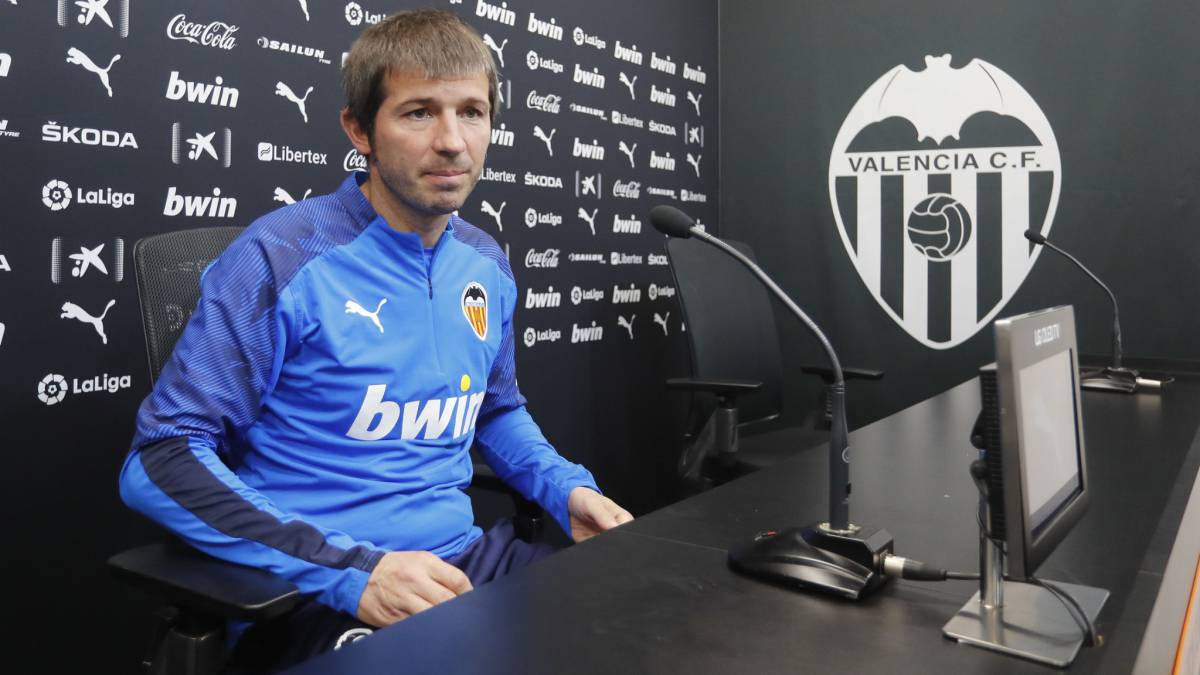 Albert Celades faces the match against Granada with the infirmary up. Hence, he had to summon the midfielder of the subsidiary Vicente Esquerdo to complete the call. Valencia has the casualties of Diakhaby, Cheryshev, Piccini, Guedes, Carlos Soler, Coquelin and Sobrino. Hence the 18-year-old squad player and also Mangala, who premiered on a list against Lille and who is for the first time in a league.
Celades, who hopes to recover several of the injured after the break of selections, "although I can not tell how many because I do not know," predicts a game of "difficulties" against Granada, a team that respects and praises his coach . Celades, who at the press conference prior to the game against Granada has been more loose and thoughtful than on previous occasions, has stressed that the weeks in which Mateu Alemany has left Valencia's exit "have not affected to my work".
Why Esquerdo?
Because we believe he is a boy who can help us and by the composition of the call. He's a boy we like
What is the estimated time for the return of the injured?
I'd love to say it and know it. We do not really know. They are pending evolution. We thought that Guedes would already be playing and it hasn't been that way. The idea is to get people back after the break, but I don't know if at all.
How do you rate Granada?
A very good rival. A newly promoted who is doing very well. If he had won on the last day he would have become a leader again. It is an organized and very daring team when it comes to playing attack. It will present difficulties. I know his coach from Sevilla B. He is doing very well. He has very good players, a lot of speed and talent. It will put us in trouble.
Have you seen Kondogbia more motivated after his goal against Lille?
After the injury he had a hard time recovering his tone, but in the second part of Espanyol and the other day in the Champions League he is again the Kondogbia that we all know. He still has room for improvement and he is aware of it. We try to help you. What we are seeing in recent games is normal for Kondogbia. It is in a process.
There are many injuries and some players still go to Doctor Maestro, how do you see it?
Doctor Maestro is still employed by the club. It is part of the medical services. I think it hasn't changed in that regard.
How do you see Parejo for staying out of the National Team?
We would love to have you summoned, but we respect the coach. I only have good words for Parejo. He is our captain. He is playing every game and his professionalism is tremendous. It is essential for us. It is not easy to go to the National Team because there are very high level players, but for us it is essential. I think he is not worried about that. He is playing at a high level and I think he senses that he is part of that group. It is not easy to enter a selection list. I see him well and focused on his work. The National Team is a consequence of a lot of work time and I see it normally.
Add two wins in a row ...
Hopefully. The last minutes of the last matches is what we would like the team to have. It is a bit the goal we have
How is Carlos Soler?
With Carlos we want to be cautious because it came from a major injury. He had been on leave for two months and it is a damn injury because he has pain. Sevilla's day was hurt again in that ankle. It is not the same injury, but the same ankle. We want to be cautious and we don't want to rush. In the case of Guedes, I said here long ago that it was going to be incorporated, because we thought so. But it was not like that. He still has discomfort and that injury he has had seemed one thing and then it seemed that he had complicated more and required more time. I would love to tell you everyone's deadlines, but if I don't tell them, it's because we don't really know them.
Is Mangala at the physical level of the rest of the classmates?
At the mental level it is one hundred percent. Take time with us. Hardly, after a process like yours, you can play an entire game at a high level. It is one more option.
What happens to the team in the first parts?
The other day, against Lille, it is true that the first part seems little to us. We all have to demand more. The idea was not that, but the rival also puts you in trouble. Lille made us a good pressure, which he had done in other games. It still cost us. In the second we adjusted things better and from there the thing worked better. We want the second parties to go more often and have more continuity.
What would you highlight about Ferran?
He is being summoned normally in Sub'21. I think Ferran, like Kang-in, are young boys and it is best to let them participate normally. They have talent, a lot of future, but the best way for that future to come is not to overpress them. The hardest thing is to maintain that regularity. It is a process that they have to follow.
Hobby support is essential ...
Without any doubt. The other day is an example of what we would like. When the fans push, it is easier for us and harder for the opponent. When we all go hand in hand it is much easier to achieve the objectives. Hopefully we will return to live a good atmosphere, because the game is very important.
Has the situation of Mateu Alemany affected you in any way in the day to day of your work?
It has not affected my work. The truth is that I have worked normally from the beginning. My interlocutor is Jorge López and I have worked normally. It has not affected me at all.
Photos from as.com