Celades: "In no match have we had the level we would like during the 90 minutes"
The coach admitted that his team has shown irregularity during the meetings and said that tomorrow "the team will suffer" due to the wear on Wednesday.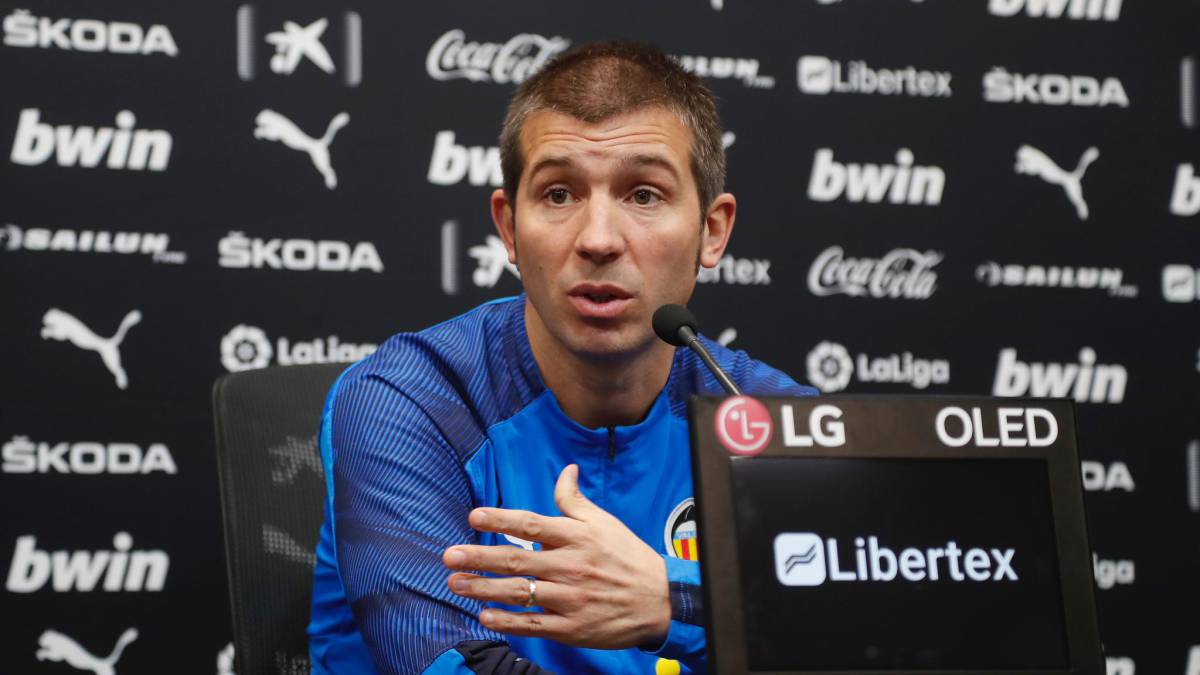 Valencia faces tomorrow a difficult game against Villarreal, after the physical wear it performed last Wednesday. Albert Celades, who appeared in the press room, said that the team tomorrow "will surely suffer" due in large part "to the wear and tear of last Wednesday. On the other hand he said that to win they will have to play very well and be regular although he outlined a nuance of his team regarding that aspect so far: "In no match have we had the 90 minutes the level we would like and we want to achieve that goal "He said
In addition, he talked about the following topics:
Goals conceded: "It is certainly an effective fact that we have conceded 20 goals, more than we would like."
Physical wear: "It is evidence. The players made a great effort but hopefully they can be back in the best conditions tomorrow. "
State of the dressing room: "At the end of the game the players were a little sad because of the effort, which had been very big and did not achieve victory. Regardless of that, we highly appreciate the effort they made to play against such a good opponent. But it is certainly frustrating when you don't get the numerical result but in everything else we are very happy for what the team did. "
Risk of forgetting LaLiga: "Hopefully not. Now we have a parenthesis until the Ajax match in which we may also be able to recover players. Our task is for players to be focused on tomorrow's game. It is true that the meeting in the Netherlands will be important because we play round, but there are still two weeks left and we have to think about tomorrow. "
How to maintain the level of the Champions League ?: "Hopefully we can show the same image. It is a pleasure and enjoyment for everyone to play like this, not only for those of us inside but for the people. One of our greatest pride is to make the fans enjoy. There are players who are playing more minutes than we would like and we value very much how people are helping them, Parejo is an example of them, since they are playing everything. Tomorrow we will surely go through difficulties due to the wear on Wednesday and we will need people again. In no match have we had the 90 minutes the level we would like and we want to achieve that goal.
Gayà: "You can get where you want. He is one of the captains, he is a great player and he is being a very important player with us and with the National Team. Despite being a young player, he has a lot of maturity and is already a footballer with a lot of present. In the field he gives us a lot and as one of the captains too, it is also an example for the quarry and it helps us a lot because it transmits the values of the club ".
State of the injured: "Right now we do not know if players like Gayà, Jaume Costa and Garay can arrive, this afternoon we will see" .
Opportunity for Correia: "The situation is what it is, there are many players who have played a lot. In the case of Correia we are happy with its performance but we have to choose the one we believe can help us more and in the last meetings we have chosen Jaume Costa ".
Hobby Commitment: "We are very satisfied with your support and more considering that there have been times that we have not reciprocated. Regardless of the results, this group of players deserve support for the commitment they show. For us it is a great joy that people get hooked. "
Confrontation of the Álvarez brothers: "For the part that touches me, Quique and I are very friends, we have played together and have maintained the professional relationship. It is a joy to have a friend close by, the situation will be special for both of us. Calleja is a good colleague. "
Kang-In: "It has been tested this morning, both he and Jaume. Costa has nothing, but Kang-In seems to have an injury. Then we will pass medical part, what is certain is that tomorrow it will not be able to be ".
Valuation of the club: "From outside Valencia is seen as a great player from LaLiga and Europe. Everything I saw and knew I could see as a coach. I am very happy to be able to share every day with the players and professionals that surround the club. "
Analysis of Villarreal: "My opinion is very good, they have a great team with excellent players. It is not just an opinion of mine since it shows what they have said with many players in the National Team. In fact, in the last call they were the ones who contributed the most. We will have to play a very good game to overcome them. "
Parejo State: "We talked to him, yesterday we were talking to him, but he is very calm, he has a lot of personality. He does things that are normal for him but not for the rest because he is a very good player, we are very proud to have him ".
Photos from as.com