Carmelo Anthony misses eight triples and the Blazers sink
Lousy game of Oregon, which are already one of the four worst teams in the entire NBA. Tristan Thompson, determinant for the Cavs.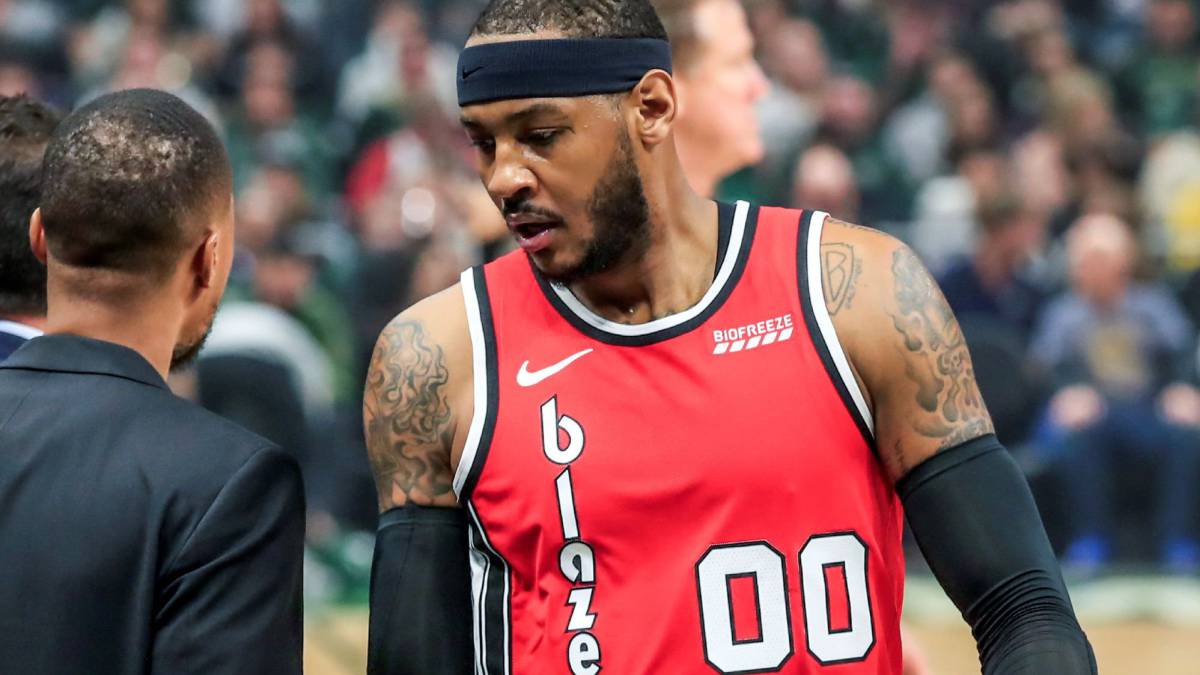 This season was the change in the hierarchies and the redistribution of the wealth map (sports) of the NBA ... and go if it is, at least in the West and if you look at a classification that close the two protagonists of the last conference final, Warriors (3-14) and Blazers (5-12). An 8-26 set that, with everything that has happened to them and continues to happen to some Warriors on sabbatical, has more crime in the case of the Blazers, who wanted to sneak into the ring contenders after a summer in the sealed the continuity of Damian Lillard and CJ McCollum for a new guaranteed total of 414 million for six seasons. The Blazers will be the team of Dame and CJ ... or they won't be. And, for now, they are not. Not after a summer in which they played rotation a lot but did not improve it. The change for the change, with Jusuf Nurkic still on leave for an injury that can mark this project, is not enough.
And the Blazers hit bottom in Cleveland (110-104), where they visited some Cavaliers who came from six straight losses, the last one a night before, in Dallas and for 42 points. And they played without Kevin Love, which is in rumors of transfer to Oregon since one reaches memory. And where they could lose for more, because their rival remained 32% in triples despite many releases completely released and added 50 points in the paint, where he dominated the rebound at pleasure (31-18), with Tristan Thompson exercising Total player (25 points, 9 rebounds) against a starting inner pair (without Hassan Whiteside) formed by Carmelo Anthony and Anthony Tolliver. Give chills. Although neither Osman nor Sexton nor Garland shone, the Cavs seemed always more intense and faster, despite playing back to back, and they took a very valuable win for them after always sending in the score.
Advantages of ten or eleven points more or less comfortable and kneaded by Jordan Clarkson (6/6 in triples, 28 points), almost evaporate at the end, when it went from 100-88 to a 100-95 ball for the Blazers. Carmelo Anthony missed a triple key and Thompson later sentenced with a hook and a matte. Melo, in fact, failed his eight shots of three and stayed in 11 points with a 5/14 total in pitches, a sad game in which he helped a Lillard who played with his back touched and was noticed a lot (23 points in 20 shots, at least he tried), and a McCollum who jerked his team (20 points) in some stretch of the second half. But there are already four defeats in a row, six in seven games and ten in twelve for some Blazers that spoiled their (at least) good performance in Milwaukee two night before, and that are now a drifting franchise, at a time simply horrifying the which, and is the worst, you can not guess great solutions if you take a look at your roster. For now, that's what there is
Photos from as.com