Boos and beating: Nightmare for Butler in Philadelphia
Richardson, former of the Heat, was the best of some Sixers who crushed Butler's team on his return to a city that received him with anger.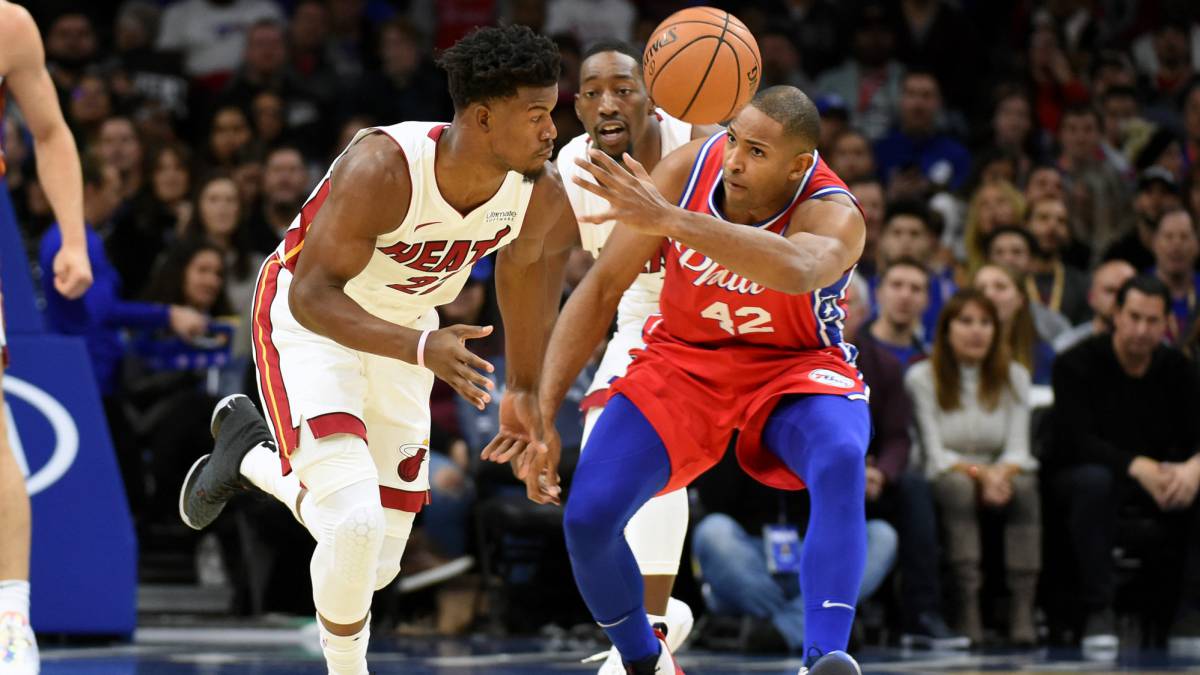 Jimmy Butler, number 30 of the draft (2011) who became an all star (four times already) and a nomadic star (Miami Heat is his fourth team in four years after six in the Bulls) returned to Philadelphia, where he left regular and through a sign and trade in which the Sixers stayed with Josh Richardson and he signed for four years and 142 million in Miami, where he could be the Sun King and not a luxury pawn at the service of the Process (Joel Embiid, Ben Simmons. ..). A priori he lost competitive power and embraced his role as bad of the film, after his horrible departure only a few months before Minnesota and after playing just 55 Regular Season games with some Sixers 2018-19 that will always be what could have happened if ...
If, basically, Kawhi Leonard would not have gotten that thriller shot at the close of the seventh game of a conference semifinal that threw the Raptors into the ring and ended the Sixers season.
In the days before he returned to Philadelphia, Butler acknowledged that he still thought that (the Bucks ran out of gas, the injuries massacred the Warriors), their Sixers could have been the champions if that Kawhi shot had gone off, which It seemed to be done a couple of times before finishing in the hoop. But a few belligerent words towards his ex did not placate the anger of the fans of the Wells Fargo Center, which received Butler on his first visit with the Heat in an absolutely hostile climate: furious whistle in the presentation, boos every time he came into play and revelry with every failure. And it failed a lot.
And his Heat, which came ahead in the classification of a frankly interesting East in his noble zone, left his usual competitiveness in South Florida and were swept away (113-86) in a match in which they already lost by 20 in the first fourth (closed on 28-13), for 20 to rest (55-35) and for 41 to eleven minutes from the end (100-59). One of the most interesting encounters of the week ended in tremendous beating, with the finest Sixers, at night that both teams played in second from back to back, and already with four straight wins, a brilliant 7-0 on their track and a 11-5 total that is improving its discreet start and leaves half a game of Miami Heat (11-4) and a Jimmy Butler who this time was not comfortable as bad of the film: 11 points with a 4/13 in shots and 2/8 in a first quarter that set the tone for the rest of the game and in which the Spoelstra team stayed in a miserable 5/22 against the bestial defense of the Sixers, who begin to carbure in attack and look like what They are for many: the big favorite in the East even ahead of the most spectacular Bucks.
Only Tyler Herro (20 points) and Goran Dragic (18) put on a horrible night of the Heat, in which they did not work without Kendrick Nunn, nin Duncan Robinson (the inventions of this Spoelstra course) or the excellent Bam Adebayo (12 points , 5 rebounds). The Sixers devoured their rival with Josh Richardson, a former with less morbidity than Butler, taking the spotlight this time: after leaving Miami after four years, he aired his former team with his best game in the Sixers, 32 points, 4 assists and a 6/7 in triples. This is all easier for Tobias Harris (19 points, 8 rebounds) and Joel Embiid (23 + 11). And so the Sixers are a team that scares and that is certainly above a Heat that, in any case, are much better than they seemed in a game that, of course, should not have left precisely the bad boy Jimmy Butler.
Photos from as.com