Baptist, in the name of Ximo
The nine in the world, arrived without intention of playing after living "the last moments" of his father's life. "I would have pulled my ears if I don't"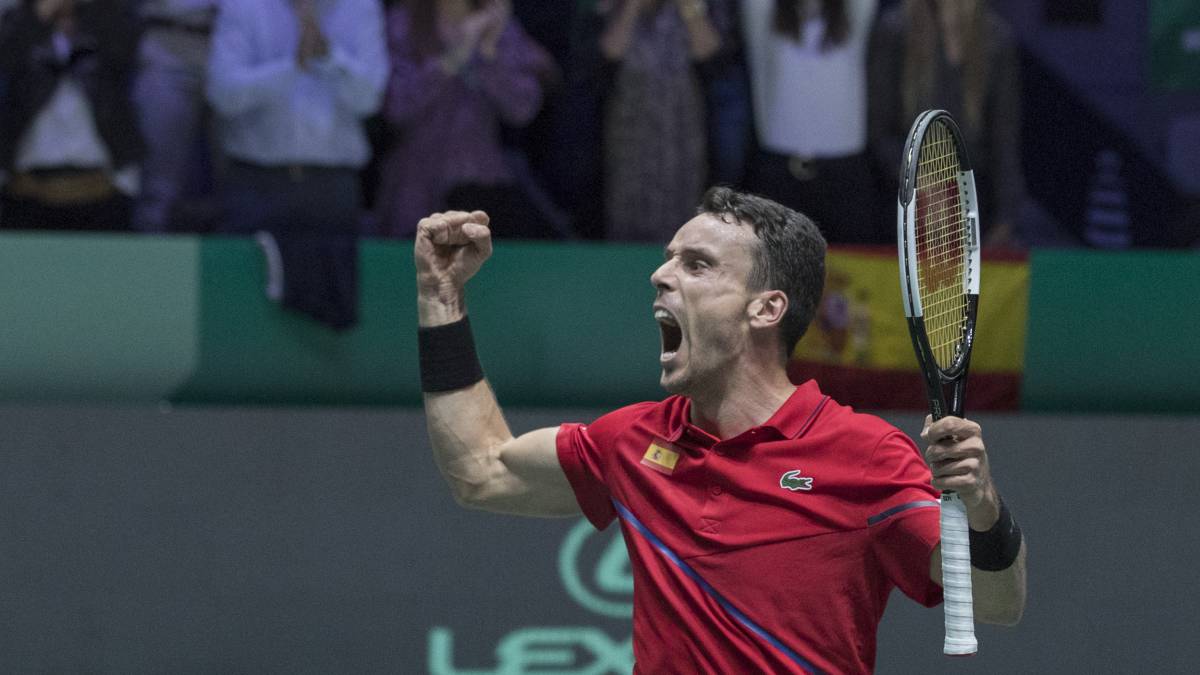 Roberto Bautista returned to Davis in the name of Ximo, his father. And Davis returned the courage in the form of victory over Felix Auger-Aliassime. Last Thursday, very early in the morning, the world number nine coach, Pepe Vendrell, put the team on alert. The health status of the tennis player's father was serious. And Roberto, with the understanding of all his teammates, decided to travel to Castellón to be with him the last hours. "I was lucky to live his last moments of life," he said yesterday. In the afternoon, he died
Bautista is a great fan of horses. He has a stud with seven, in which he finds peace and with whom he charges batteries in the countryside. But in his passion he also gave it a setback. His father did not recover from a serious accident when he fell on the back of a truck while trailing with bales of straw to feed them. It was shortly before the Rio Games, which he attended without wanting to make it public and Rafa Nadal and Marc López dedicated their gold afterwards.
Shy and polite, Baptist flees from being the focus of attention. But Davis placed him below. On Friday he was in permanent contact with the team. "He sent us many messages of encouragement," said Nadal, who defined him as a "strong" person. In contact with Bruguera, he learned that Pablo Carreño had suffered a contracture before Guido Pella and that Marcel Granollers suffered back pain that forced him to infiltrate (in the end, he did not play against Great Britain when he had been Nadal's partner against Croatia and Argentina). And he decided that he had to return. He took a step forward despite losing in his premiere against Andrey Rublev (on Wednesday he won Nikola Mektic). He took the risk.
"My father would have given me a jerk of ears if I stay at home. I had to take a step forward and that is what I have done after the personal misfortunes that have touched me," he said with a lost look.
His teammates had respected his place in the presentation of equipment and wanted to fill that void. On Saturday morning he returned and was willing to play against Canada. He had a wound in his heart. But his physique was fine. He understood that focusing on tennis would find relief.
"Personal ups and downs have made him stronger," says his coach, Pepe Vendrell. Shortly before Roland Garros started last year, his mother Ester died suddenly. Bautista played in spite of everything and since then, points to the sky in each important victory. "It changed my life, but I can easily think of tennis only when I am on the court and that has helped me suffer less in my private life," he said in an interview. This Saturday he marries his girlfriend, Ana Bodí. One more reason to rejoice.
Bautista has always been available at Davis, when they came badly. And this year he has finished nine in the world, the best place of his career, reaching the semifinals of Wimbledon. That weekend he celebrated his bachelor party, which he postponed with pleasure. In Madrid, he found comfort in tennis. In the name of Ximo.
Photos from as.com