"We are more convinced to the Bernabéu than in January"
The coach of the Royal Society is clear about the recipe to repeat victory against Madrid: "Not being cautious, you have to go for the real game."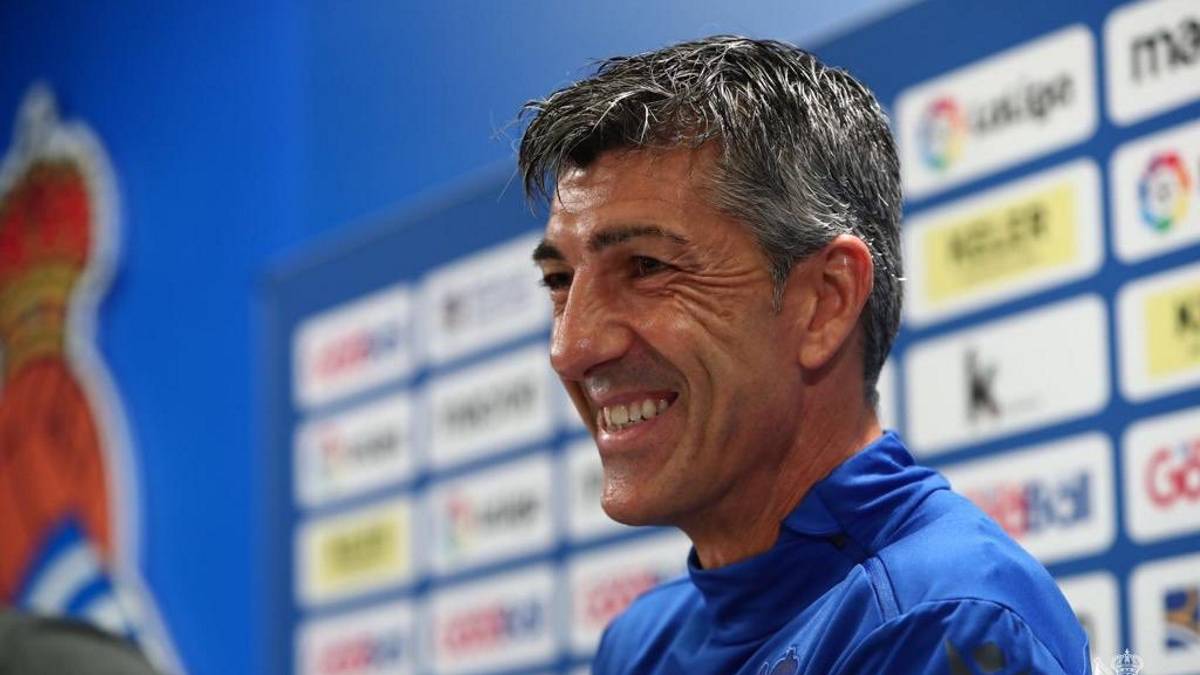 "Aspaldiko". With that word, together with a wide smile, he sat in the press room of Zubieta Imanol Alguacil, a Real technician, in the previous visit to Santiago Bernabéu. "How long" said the Oriotarra, wanting football after the league stop. Not for less, his team is excited, and he is no stranger to that illusion.
-Already looking forward to returning to the competition ...
There is no doubt, there is a desire to play and more being the game that is an attractive game and is in a great moment, with its players very fit. It is a very important game in a very good moment of the rival team and we face it with great enthusiasm to be able to inflate the tooth.
-Does Øardard and Merino sign up for the Bernabéu?
Before training I asked if they were all prepared. And we train 24 players, only Illarramendi is injured. And in that sense it's very complicated for me, but it's great news. The two are physically well prepared. Ødegaard we have been cautious about the injury and we have given him his time, and he has been working with the team all week, apart from what he has done individually.
-Do you dream of repeating triumph at the Bernabéu?
It would be exciting. Also at the moment they are. But we go with all the intention, because we are also in good time and the players are determined. But then there is always suffering and those who manage to get something is based on suffering and that Madrid does not have its day. But luck must be sought with work, head and heart.
-Does the Real serve what he did in the victory of January?
What's up. Nothing nothing. The two teams are totally different. I understand that we go with more confidence and more convinced to be able to get something out of there, but that doesn't mean anything, and we still come with a car, because they are able to do it against anyone. The context is different, but we are convinced that we can win, because to win there there is no other way than to go for the real game.
-So the first thing is to convince yourself that you can beat Madrid?
Not only with that it is valid. You have to throw football, aggressiveness, be together and suffer, good pressure, attack .... And then you have to be lucky too. But we are convinced that we can do well.
-Are you worried about the lack of effectiveness of the Royal?
The team is doing many things. Of course there were parties in which we have suffered, it is logical. And it is true that we are missing in the last three quarters that pass and completion, and be effective, and that is where the games are won. But having those occasions is how results are achieved.
-With everything you said will the most cautious Real go to the Bernabéu?
It is that if you are being cautious, with the level that they have, 100 times, in 99 they will dominate you and generate occasions. If you are going to be able to expose them, they can also kill you. There is a little courage and boldness when deciding what to do and when to do it. Because I understand there will be times for everything.
-What would it mean to close 2019 with three victories against Madrid?
Nine points. Nothing else. He is one of the greats, but they are nine points. In the end we play against Madrid, but it is one more game in which to get all three points. And that's it.
-What did you think of González González's designation and his replacement for injury?
I understand that I would have done well, a shame that I was injured.
-Where do you see the key to the recovery of Real Madrid?
Let's see, I think that of the first six games they win four games and draw two. And for me they do very well. It is true that he had a couple of setbacks, but I still see Madrid himself, but perhaps in the last games in defensive block he does not receive many occasions and that speaks well of all the potential he has. I have no doubt what we have to do, knowing that Real Madrid is going to get us into our area at the moment, because trying to push up will always be impossible, because there has been no team that has done that.
-How did you see Ødegaard on his return to Madrid?
He is a very calm boy, what he has focused on is recovering from the injury with a great commitment, it's nice to see such a player to recover. I have no doubt that he wants to play, but not because it is against Real Madrid, but because he likes to play.
-How did you see Isak on his return from his national team, with whom he received racist insults?
I spoke it, but not much either. It is not the first time, unfortunately. He takes it easy and I think he's a stable boy. And in that sense it is very good.
Photos from as.com